Late late-August 2019 Hatching News
.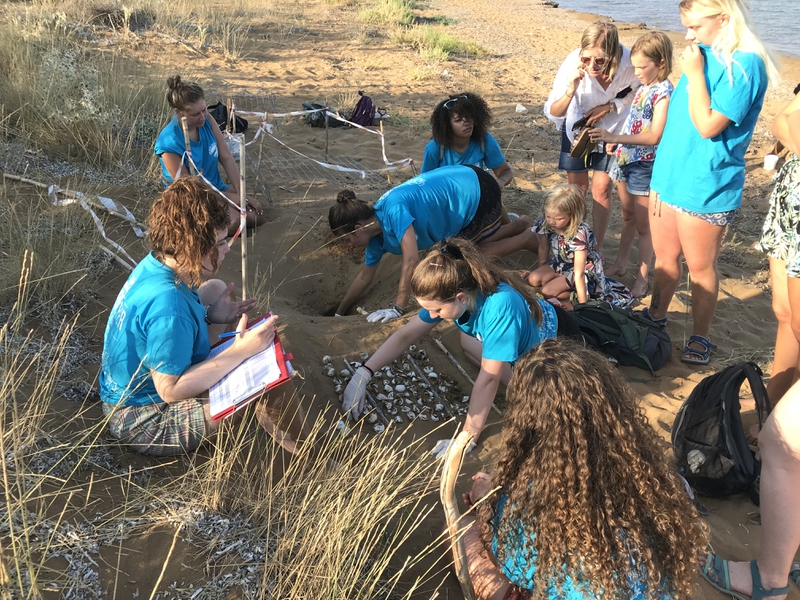 It's been a busy week of inventories over in Lixouri, with at least one occurring each day. Our record so far is six inventories in one day! An inventory is always an interesting task because you never know what you might find. For example, two inventories that were conducted simultaneously on Kounopetra gave us very different results. One nest was extremely successful, with 69 out of 72 eggs having hatched successfully. On the other hand, the second nest only had about 20 eggs out of 80 that hatched successfully. Roughly one-third of our nests have been fully inventoried, another third is currently hatching, and we're still waiting on that last third. It won't be long!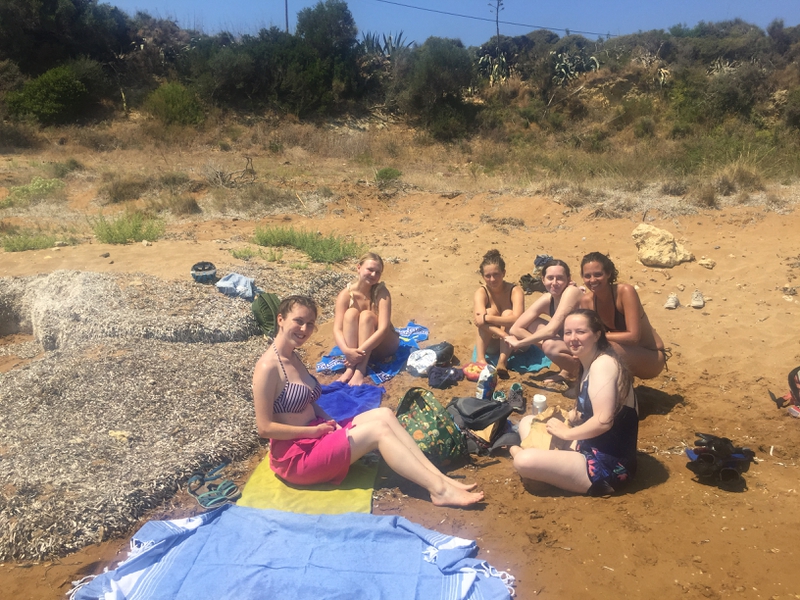 The team was very sad to say goodbye to our previous group of volunteers but excited to welcome a new group to Lixouri. It's always hard to say goodbye, and while no group can ever really be replaced, each new group is special in its own way. Our new group has already taken on the challenge of our infamous cycle to Vatsa and Kounopetra, which happens to be particularly impressive right now due to some rather intense hot weather.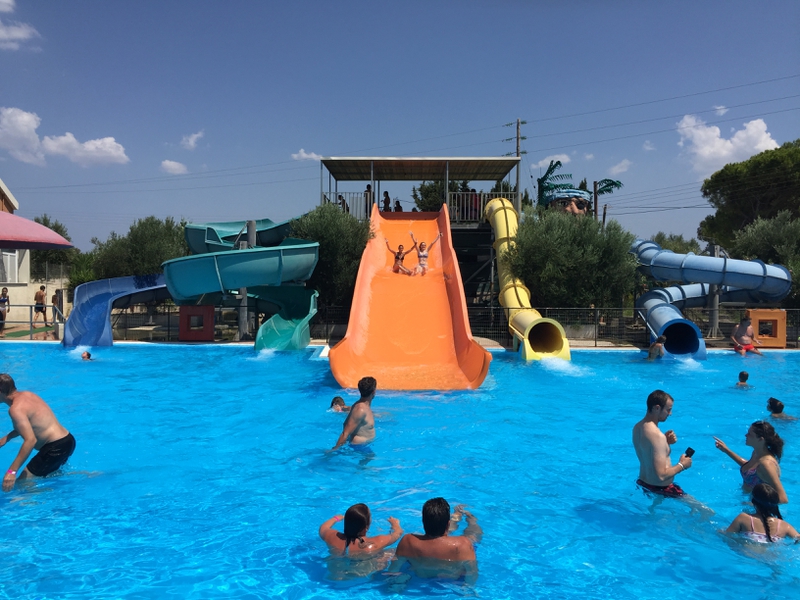 Our volunteers made good use of their days off this week, with some taking a glass-bottom boat tour that included stops at a small island, a lovely cove, and a water park. Of course, there were also plenty of beach days and trips to the bakeries! We probably had the most fun, however, during an impromptu face mask and henna night. After removing our clay masks, everyone's faces looked even more bright and beautiful than normal, and our henna tattoos really brightened up our arms and legs!
Written by: Nick M.
Argostoli Field Station
Two weeks seems to have flown by as we have said goodbye to yet another group of volunteers, but we ended on a high note with our meal out on Friday. However, the hatchlings didn't seem to get the memo as we did not manage to have an evening without hatchling emergencies! An hour before we were supposed to be ready a team of field assistants and volunteers were called out to Eglina beach where hatchlings were rapidly emerging. Some were dead at the scene, but we got to work straight away with a top egg check on the nest in case any others were going to emerge.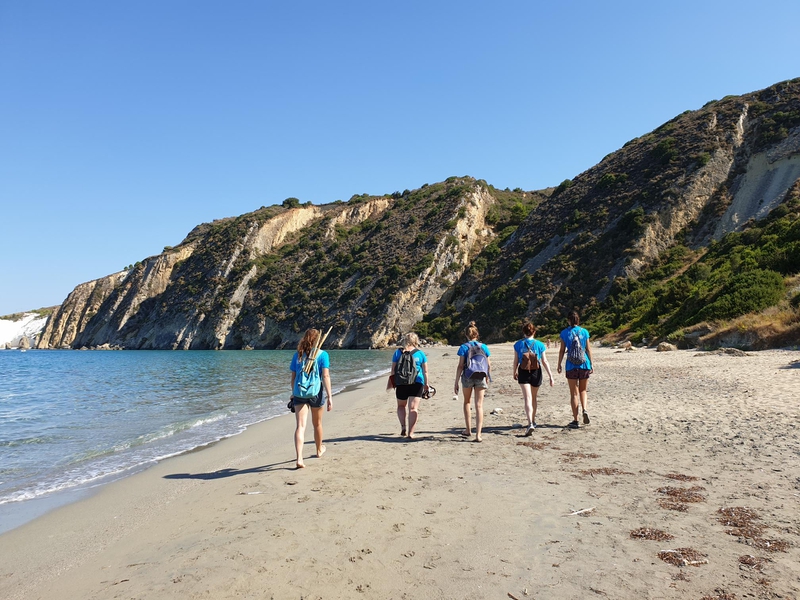 Nineteen hatchlings were found and we got them to sea as quickly as possible (unfortunately having to take some straight to sea as they would not crawl down the trench). Luckily, the hatchlings all seemed to be strong swimmers and were monitored as they made it out.
However, it was not over yet. After returning to the villa and having a speedy shower and clean up, we received another call informing us that one of the hatchlings had washed-up on Megali Ammos beach. The (slightly) fancier clothes were quickly switched back to our good old blue t-shirts and we headed down to the scene, finding a hatchling who was moving his flippers oddly and kept flipping onto his back.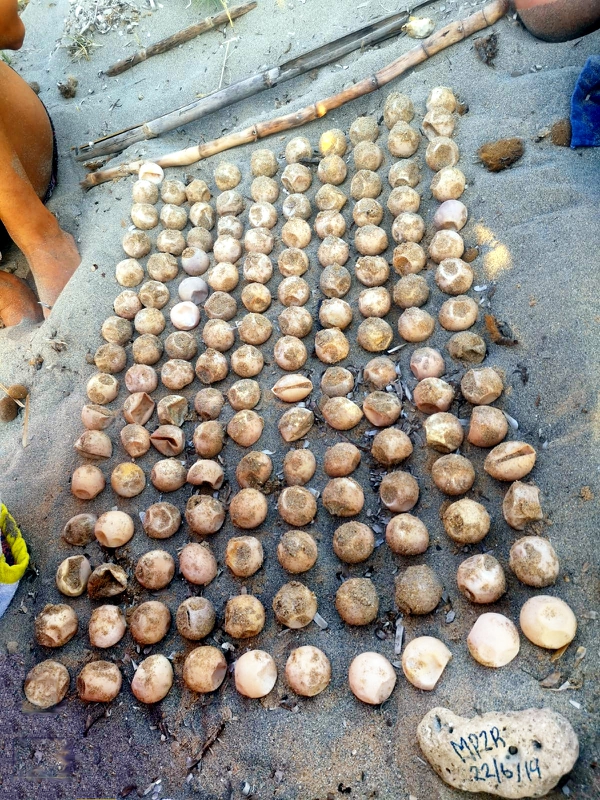 The hatchling was reburied so that hatchling rescue could test him on the trench again later on, but after this failed there had to be a late-night pick up to bring back the hatchling for rehab. At this point, he decided to liven up too much to be kept safely overnight, and so he was taken for a midnight stroll onto Miniés beach to be reburied and released in the morning. He finally swam out and we can only hope for the best!
The week has been an exciting one, both on shift and off. During free time, volunteers have scattered around the Island to explore, and while some have made it as far as Assos and Fiskardo, others have stayed closer to home for cliff jumping at Ai Chelis. For the luckiest few, a snorkeling trip to Lassi included sighting a female turtle, calmly foraging before the awed onlookers.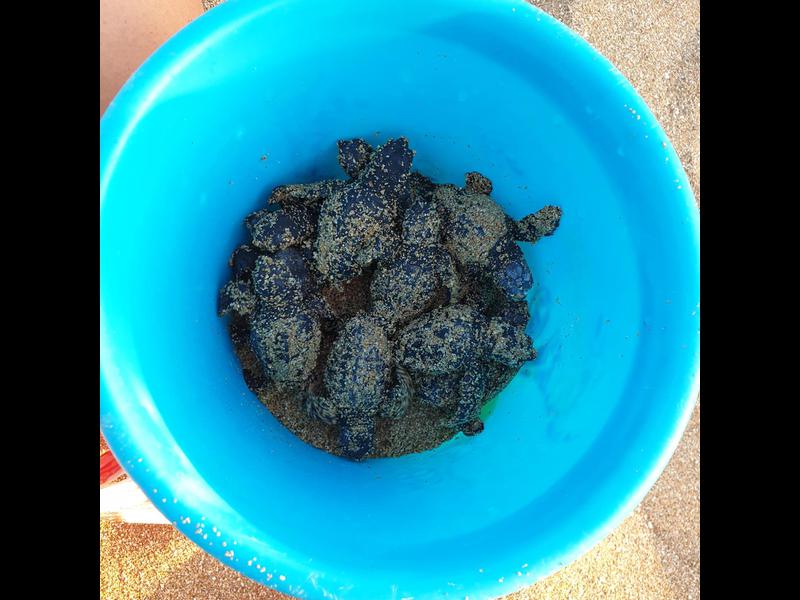 As is the nature of conservation work, days off are often (pleasantly) interrupted by turtle activity. On Friday, volunteers relaxing on Megali Ammos jumped from their towels and used them to shade hatchlings as they crawled to sea. While it's incredible to lend a hand to these babies, midday hatchings continue to be a major issue as the season progresses.
Our most active beach by far is currently Megali Ammos, which is keeping us busy around the clock, with volunteers on night shifts rarely disappointed. This week alone, the seventeen nests have produced hundreds of hatchlings under the cover of darkness- including a count of seventy in just one night.
All this means that inventories are steadily increasing, and after observing as many as possible, some 'four weekers' are now starting to lead them. Nestled in a cove between Ammes and Eglina, Saint Nicholas is both picturesque and deserted, so when we arrived to carry out a partial inventory, we were surprised to find a beach barbeque in full swing. Despite this, we released fourteen hatchlings to the calming voice of Bob Marley and reburied thirty-five more, who made it safely to sea a few days later. This level of responsibility, though daunting, is incredibly exciting, as the data we gather is crucial to understanding the unique Mediterranean Loggerheads, who are smaller than their Atlantic relatives.
Though some of our harbour residents are somewhat dainty, Wednesday's sighting surpassed any expectations. While patrolling the bridge, Simon spotted a juvenile turtle that he estimated to be just a few years old. It's not unheard of for these youngsters to swim, often from Lixouri, into the Harbour as they head towards the open sea, but shockingly, this was a Green turtle. Naturally, we struggled to contain our excitement, but this soon turned to concern. As Green turtles prefer the warmer waters of Cyprus, increased sightings in this area can possibly be due in part to the rising sea temperatures. We can only hope that this turtle's visit to Argostoli Harbour was a short one.
Written by: Sophia C. and Molly H.
---