Late May 2019 Nesting News
.
Lixouri Field Station
This week Lixouri saw the first activity of the nesting season. A total of nine sets of tracks have been recorded on Meggas Lakkos. As we are currently based in Argostoli, we were fortunate to be alerted to this activity by tourists. Upon viewing the tracks and taking measurements, it was decided that three of these emergences required further investigation. One track was particularly interesting as it had been obscured by human activity. This meant that any escarpments or dappling (typical characteristics of nesting) were concealed.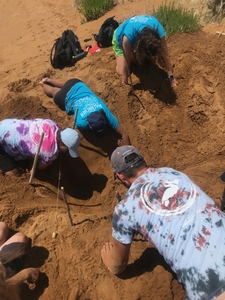 After carefully digging the suspected nests, it was concluded that these emergences were, unfortunately, all 'no attempts'; the turtle returned to sea without digging an egg chamber or making a substantial effort to nest. This can occur for numerous reasons - the beach may be too narrow, there may be obstructive rocks and plastics, or the female may be spooked by light pollution or sudden movement. Whilst successful nesting did not occur on these occasions, the growing frequency of emergences means that our first nest is imminent!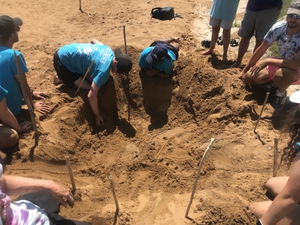 Aside from this activity, Team Lixouri have been busy preparing for the nesting season and the arrival of our first volunteers. At tagging events in Argostoli harbour, we have been training for night surveys by practising measurements and the application of PIT and metal tags. Meanwhile, we have also been building bikes and bunk beds in preparation for the opening of the new Lixouri field station. We cannot wait to welcome our largest group of volunteers yet!
Argostoli Field Station
After discovering the first few nesting female tracks of the season over in Lixouri this week, those of us in Argostoli are still eagerly anticipating our first emergence – hopefully any day now! Since our last update, the team has witnessed mating in the harbour on 2 separate occasions; a rare occurrence so late in the season but fascinating to observe!
At the tagging event on Tuesday, we were able to tag and perform health checks on 5 turtles and are hoping to do the same for any other untagged individuals we spot during the upcoming event this Friday. As you may remember, for the past week and a half, we have had an injured male turtle staying with us under close observation after being involved in a serious boat strike that affected his buoyancy and ability to use his back flippers. Elijah, as he is now known, was taken to the rescue centre in Athens on Thursday morning, where he will receive more specialist treatment for his injuries and we hope to have some further positive updates on his wellbeing very soon.
We just said goodbye to our first volunteer of the season but are ready to welcome a new group of volunteers to the project this weekend. We are so excited to see what the next few days hold for us and hope to be finding our first nest in Argostoli very soon!