Late September 2018 Hatching News
Argostoli Field Station: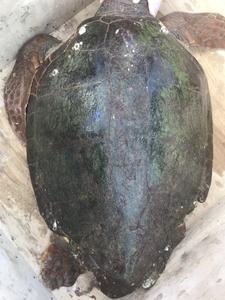 Another tagging event came along this week. This time we had almost perfect conditions down at the harbour for turtle spotting, with lovely calm seas and little wind, and were fortunate enough to spot and catch Kostas, one of our best-known male turtles. Kostas is the largest turtle in the Argostoli harbour and as size corresponds to age, he is the oldest too (his carapace size indicates he is in his late 30s or early 40s). Even without his size, he is very recognisable due to some old damage to the rear of his carapace, and a large scar on his face from a fishing line entanglement – these injuries serve as a constant reminder of the human dangers faced by turtles.
Another familiar face was also spotted and checked: Halfie. Halfie is a female turtle, earning her name from her lack of part of a rear flipper. We found she had grown since her last health check, showing that this is not in any way a disability for her and doesn't affect her feeding. As well as these well-known turtles, we managed to tag an untagged male. There have been a few spotted in the harbour recently, suggesting that new turtles may move through at different times in the season.
Away from adult turtles, we aren't running short on hatchlings. A nest inventory on a nearby beach provided a great opportunity for the whole team to head down and help retrieve over 40 hatchlings from the egg chamber where 33 had emerged the night before. It's not very often that our whole field station goes to one beach together, so this was a rare treat and enjoyed by all.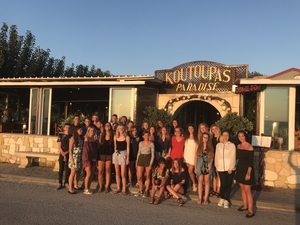 Our hatchling rehab is also proving successful. Our longest patient, Finn, has been with us for 3 weeks and has got a special place in all our hearts. He's now happily swimming all day long, and like any growing child has a seemingly endless appetite.
Stay tuned for more updates and goings on next week as we welcome our last group of volunteers for the season!
- Simon
Lixouri Field Station: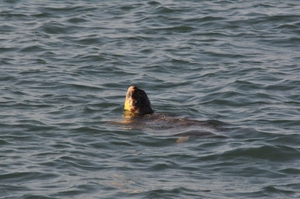 Despite nearing the end of the season, there's still lots going on in Lixouri! This week our wonderful volunteers have been sleeping on the beaches during their hatchling rescue shifts on Vatsa and Lepeda to help overcome the troublesome issues caused by light pollution. Another nest mass hatched on Vatsa with 71 hatchlings emerging during the night. After rallying the whole team together for a partial inventory the following morning, another 29 hatchlings were helped to sea under the watchful eyes of the volunteers, making this another very successful nest for the Vatsa area! Not only did this provide an opportunity for the whole team to learn how to perform an inventory but it enabled our volunteers to see hatchlings for the first time! There were happy smiley faces all round which was an absolute joy to see!
Along with this nest, three other nests have begun hatching on Kounopetra, Megas Lakkos and Lepeda beaches. All of these nests had mass hatched owing to the high temperatures we've experienced this year. However, it enabled the team to put their skills into practice as they were able to perform partial inventories to remove the hatched eggs, release trapped hatchlings and rebury unhatched eggs! The nest currently hatching on Lepeda beach had been relocated, as it was too close to the sea, and had been showing signs of early dipping in the previous week. Despite this, the nest is proving to be very successful with 96 eggs hatching out of 113 so far!
Over in Lixouri harbour, our turtle spotting shifts have brought much excitement. A turtle has been spotted consistently in the evenings. When swimming close enough to that harbour wall, we were able to identify the turtle to be an untagged male and has been seen foraging on bivalves along the harbour walls. Team members have been fortunate enough to take photos and videos of the turtle to help in identifying the turtle in future and has now led us to believe that it is the same turtle making an appearance each day!
There's still lots more planned for next week! Team Lixouri will be heading over to Argostoli harbour to gain hands-on experience in tagging turtles and performing health checks and with another four nests left to hatch, it's going to be an exciting week!
- Sarah