Late-September 2019 Hatching News
.
Lixouri Field Station
The number of nests in Lixouri continues to decline! We're down to just three nests on Vatsa, three on Kounopetra, four on Megas Lakkos, one on Loggos 4, one on Lepeda, and one on the Cape. A mere 13 nests left out of 87! By the time the next news update rolls around, we expect to be down to just two nests. To say the end of the season is in sight is an understatement. Luckily, there are still plenty of opportunities for our last group of volunteers to help out with inventories, monitor hatchling tracks, measure light pollution, and perform hatchling rescue.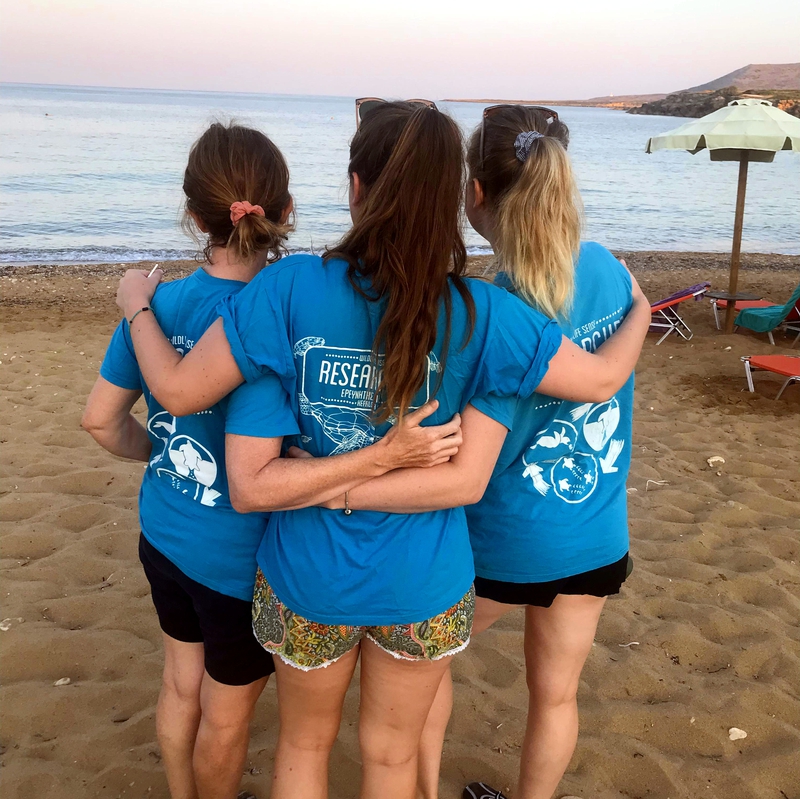 The team also had a chance to visit Argostoli for a tagging event. This is always fun and interesting for Lixouri because we don't have many opportunities to interact with or even see adult turtles. This was a good one – we were able to work with four turtles!
On a more somber note, we received a call about a dead adult turtle in the surf on Megas Lakkos. A couple of team members drove over and located it with the help of the tourists who made the call. It's always sad and unfortunate when a turtle dies, but this one felt just a little bit worse because it was one of our tagged turtles, Parker. A large propeller, most likely from a very large boat, struck his carapace and inflicted a massive wound. After collecting our data, we moved Parker to the back of the beach and put tape up around him. Meanwhile, per regulations, Nikos informed the Port Police of his location, and they later came by to retrieve the body. It's all a solemn reminder that human activity prematurely ends the lives of turtles all too often.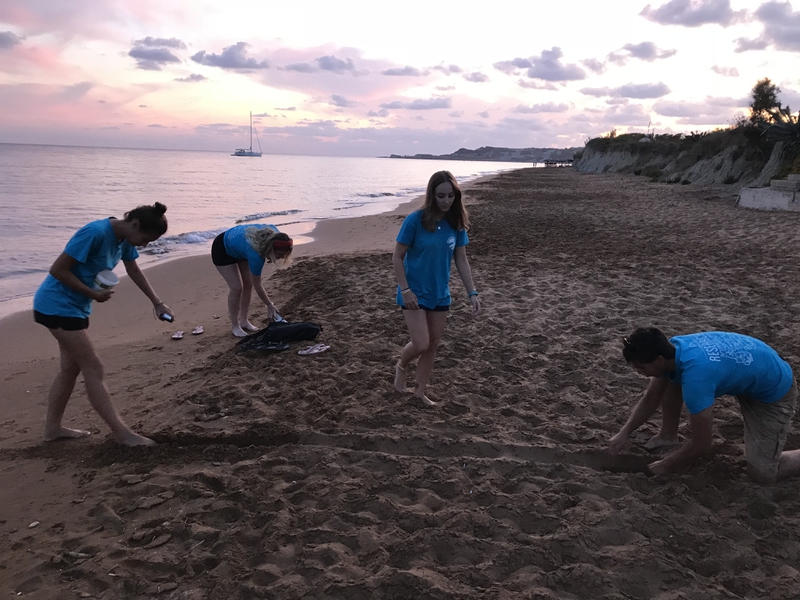 We had some help this week from the Fantastic Fearnleys, the family of one of our field assistants, Soph. They lent a much-needed hand during a few inventories, keeping watch over several hatchlings that needed help going to sea. Thankfully they brought plenty of Wildlife Sense experience with them, as Georgia was a previous volunteer and Chess was a field assistant last year. And Fiona learned fast! They were only here for a few days, but they'll always be a part of the team!
We also had to say goodbye to Owen, our field assistant who is famed throughout the project for his legendary handiness, cycling prowess, and infinite patience. Owen heads home briefly to Oxford, then will travel to Falmouth to begin his master's program. We already miss you, Owen, and wish you the best of luck!
Argostoli Field Station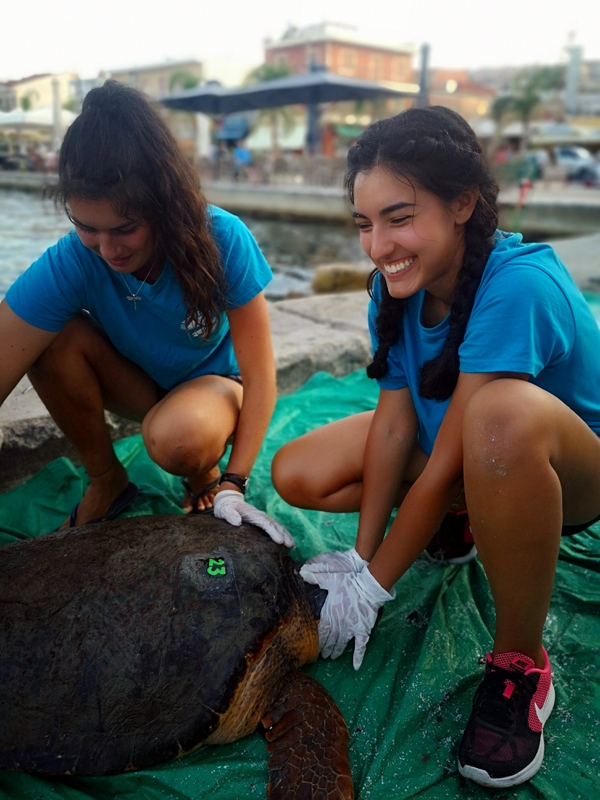 With only one-quarter of our nests remaining, the Argostoli base is rapidly winding down. However, our team is also getting smaller meaning more work is needed from everybody! Morning surveys have carried on in all three of our areas, although morning harbour shifts have now been combined in order to accommodate fewer people.
Meanwhile hatchling rescue has continued to see a steady trickle of hatchlings with occasional masses requiring many more to be brought out the following mornings! Hatchling rehab has also been in demand with many hatchlings checking in for the night and swam out the next morning, including a couple with flipper abnormalities, and a couple of abnormally small ones.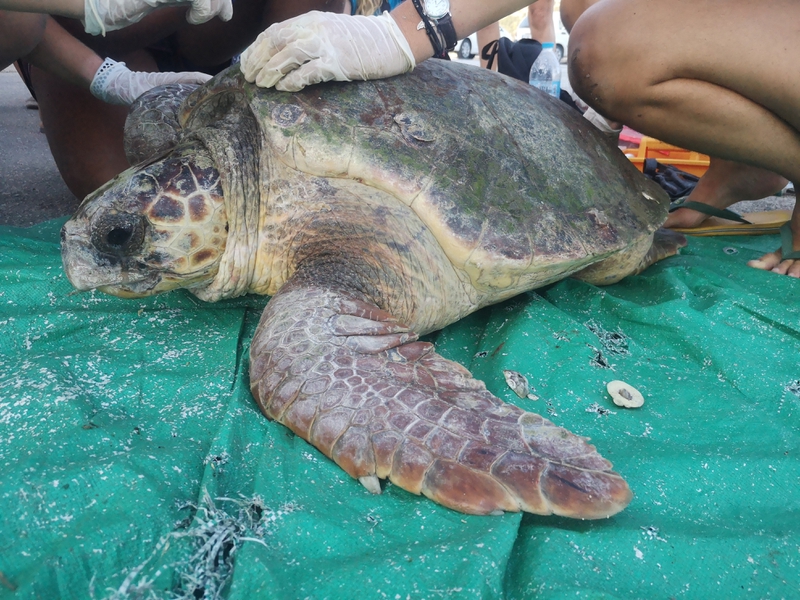 Another tagging event was held on the harbour last Wednesday. We brought out 4 turtles over the evening (Syna, Daedalus, Wallace, and Fred), all of which have been previously tagged although some had not been brought out this year. Health checks were carried out, with a notable number of large barnacles removed from Syna including a noticeable one on her head that we usually use to identify her by! However, she now has a freshly epoxied green number for easy identification. Syna is a frequent visitor to the harbour and is spotted on shifts most days of the week. Upon examining her, we noticed something to be wrong with her cloaca – a possible prolapse – which we will be monitoring with the veterinarian in the following week.
This week has also seen some visits to our nest on Agia Kyriaki near Zola, where Holly and some of the volunteers carried out an inventory, and Poppy went back to carry out a solo full inventory later in the week with the remaining eggs. Despite some tampering with the protection, the eggs were found and the nest finished up, meaning that our activity for this beach has been concluded for the season.
Our activities for the week have included the Mega Quiz, with a round created by each field assistant and leader, including a very amusing 'Caption This' round based around questionable photos of various members of the core team around the villa. Days off have seen volunteers travel around the island as usual – a car of volunteers even bumped into Poppy and me in Assos proving that Kefalonia really is a small place!
The end of two weeks seems to have come by very quickly for this group of volunteers and we will be sad to see them leave. Our next group is significantly smaller so hopefully, they will throw themselves into the last two weeks of the project as eagerly.
Written by Sophia Coveney
---