Low Nest Count for Mid-September 2018 Hatching News
Lixouri Field Station: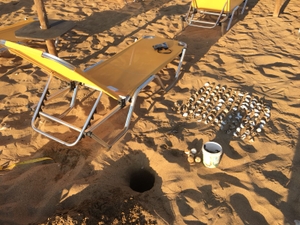 We've seen some unusual activity this week in Lixouri! The temperatures are remaining high for this time of year, enabling nests to incubate rapidly on our dark beaches. As a result, two relocated nests on Lepeda are currently dipping much earlier on day 39 compared to mid-season nests. Dipping occurs when hatchlings hatch out of their eggs and begin making their way to the sand's surface causing a dip to be seen in the sand. It won't be long until we see hatchlings emerge from these nests!
Over at Vatsa, our morning survey team recently made a tarnished discovery when they were greeted with a magnitude of disorientated hatchling tracks on arriving at the beach. Baby Turtles had hatched during the night and were confused by lights from a nearby restaurant and hotel complex resulting in the crisscrossing, looping and zig-zagging array of tracks across an entire section of beach. After a lot of sweating and time spent searching, the egg chamber was located and found to contain 112 hatched eggs out of 117.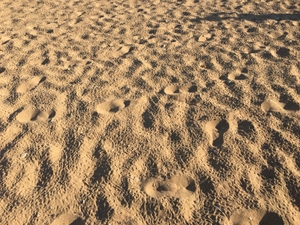 Ordinarily, this beach has hatchling rescue shifts that protect nests from light pollution however, the project was unaware of this nest existing as it was masked by sunbeds. Fortunately, after counting the tracks and hatched eggs, we realised that almost the entire clutch had eventually made it to sea. On the plus side, this is a new nest for the total count in Lixouri bringing our total up to 72 nests! An additional unexpected bonus was that this nest was very successful in regards to hatchling success. However, it highlights the severe problems the turtle population of Kefalonia face with regards to light pollution.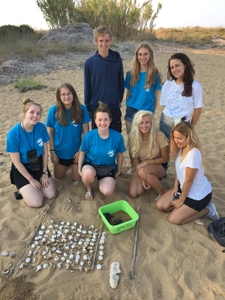 On a more positive note, one of our smallest recorded clutches on Kouneptra of 25 eggs has begun hatching within the last 2 days. So far over 60% of the nest has emerged with these hatchlings crawling safely to sea. Usually, small clutches struggle to incubate consistently so we're pleased to see everything happening naturally so far!
In regards to turtle spotting, a turtle has been seen consistently in lixouri harbour almost every day! Our team are aiming to photograph the turtle and determine the sex. Hopefully, we'll be able to identify this turtle soon!
More news for you next week!
- Sarah
Argostoli Field Station: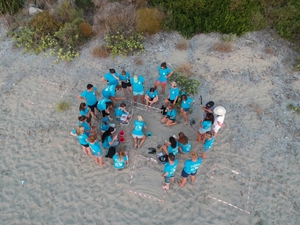 Despite the ever-decreasing nest count (we now have just 5 nests remaining out of our original count of 59), we are not running short of hatchlings. This week we have had mass hatchings on three consecutive nights on Minies beach! Over 100 hatchlings have been safely helped to sea by our hard-working hatchling rescue shifts, making for a great start for our new researchers. Many of them were so excited to see some baby turtles that they rushed down in the middle of the night to join the hatchling rescue team on the beach. It's wonderful to see our volunteers so enthused, and just goes to show the dedication we all have to make sure each turtle has the best possible start to life.
One of these mass hatchings occurred on the first night that we had hatchling rescue monitoring the nest, the nest hatched at the earliest possible time on day 45. The following morning we conducted an inventory of the nest to check the remaining eggs, and were delighted to be greeted by 25 more hatchlings waiting in the egg chamber, and a few more just beginning to emerge from their eggs.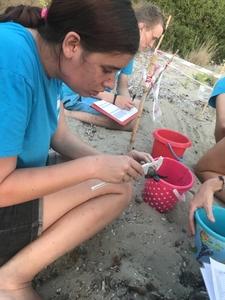 Not content with just emerging at night, we've also had some hatchlings during the day. Thankfully one of our eagle-eyed morning survey teams spotted the tracks and some tiny heads poking out of the sand, and they were able to dig out the waiting babies and save them before the day got too hot.
Sadly this week we've had to say goodbye to Chess, a beloved member of our team here. She's returning home to start her master's degree in landscape architecture. She's been an irreplaceable part of the Wildlife Sense family and will be sorely missed by all of us. We wish her the best of luck with her studies!
- Simon