Meet the Intern - Haley Drecksage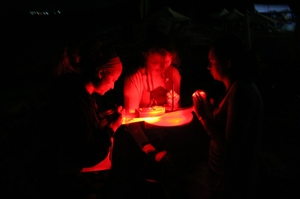 Hello, my name is Haley Drecksage. I am currently studying marine science at Coastal Carolina University, located in South Carolina, USA. This past summer I worked a four-week internship at Wildlife Sense gathering preliminary data to study the effects of light pollution on the island of Kefalonia. With my degree in marine science, I hope to work in marine conservation, so having the opportunity to work with Wildlife Sense this summer was truly a rewarding and educational experience.
Light pollution refers to any artificial light source that can be found on a beachfront premise. The presence of these lights can have quite detrimental effects on sea turtle populations, as they mimic the ambient light that comes from the moon. When hatchlings are ready to emerge from their nest they will do so at night, and will use the moonlight reflecting off of the water to direct them to sea. When artificial light sources are present, hatchlings may become misoriented or disoriented away from sea, often resulting in death of the hatchlings. This particular study focused on the loggerhead sea turtle population, whom only nest every 2-3 years, so you can imagine why light pollution can be such an issue.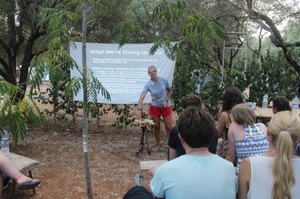 Light pollution surveys took place usually about three times a week, and typically began around 9:30 pm. A group of volunteers, myself, and either Nikos or a field leader would drive to one of the six nesting beaches being studied. This included Makris Gialos, Ammes, Minies, Megali Ammos, Ai Helis, Platis Gialos, and Lourdas. Using a methodology designed by Wildlife Sense, we would survey the length of the beaches, measuring with a spectrophotometer to see if a beach had light pollution present, and if so how much of the beach was polluted. All readings were recorded along with the time, date, and moon presence.
Within the month of my internship, we found that every beach we surveyed had at least one artificial light source present. Some of these sources included but are not limited to: beach bars, house lights, hotel lights, spotlights, etc. Although all of the listed beaches did in fact have a source present, the light meter did not always pick up a reading. This may have been in result of the light source being blocked from the meter by a sunbed, or an umbrella, or even a cliff. This may have also resulted in using a meter that was not quite sensitive enough for this study.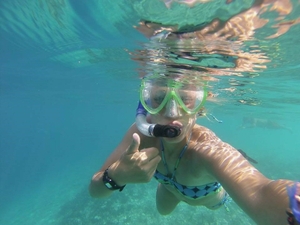 Some readings were as low as 0.01 LUX, while other readings reached as high as 21.7 LUX. When collecting data it was extremely important to note the source of the light in order to determine if action on a particular beach was necessary. For example, if the moon was out and the skies were clear, the meter would pick up a reading from the moonlight. As I mentioned earlier, hatchlings use this ambient light to direct them to sea, so presence of moonlight is certainly not an issue. However, if the source was a large spotlight from a beach bar, we know that may cause problems for emerging hatchlings, and therefore should ideally be removed, or dimmed.
Most often the light sources that were found were in fact artificial. The beach containing the highest readings was Minies, with Lourdas in a close second. The difference between the two was that although Lourdas had much lower readings, it had artificial light sources along the entire beach. Minies however, had much higher readings, but they were only found in one particular spot on the beach. I am highly interested in furthering this study in order to gain a numerical value of what exactly is "too much light." Pairing this data along with hatchling data will hopefully help us reach that value, and in turn be able to take action in making these beaches a safer environment for the hatchlings!
I would like to thank Chanel and Nikos and the rest of the Wildlife Sense team for all their help and patience when gathering my data. It was a summer I will never forget, and an experience that will absolutely help me further my career in marine conservation!