Meet the Intern - Hannah Bancroft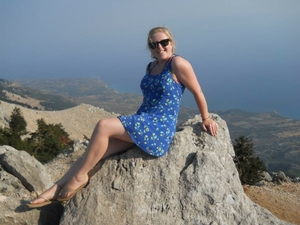 Hello, I'm Hannah Bancroft and I am just about to finish my five week internship with Wildlife Sense in Kefalonia, Greece. During my internship I have been carrying out research into the effect of light pollution on nesting loggerhead sea turtles. It is already well documented that light pollution causes adverse effects on hatching sea turtles including disorientation, often resulting in hatchlings being unable to locate the sea. Despite this, very little is known about the effect of light pollution on nesting adult sea turtles and whether artificial light sources near the beach deter nesting attempts or emergences onto the beach. Megali Ammos beach, located next to the airport runway, was selected as the beach to be studied due to its beach-bar and two sets of apartments. Data was collected from daily morning surveys throughout the nesting season. As part of the morning survey, GPS data from all nests, nesting attempts and non-attempts was recorded, allowing data points to be plotted on a satellite image of the beach.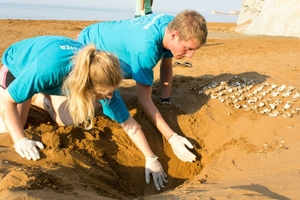 During my internship I attended weekly light surveys, this allowed me to visit the beach after dark and produce light-polygons (GPS points forming a multi-sided shape) which represent light hitting the beach from artificial light sources. This then allowed nests/attempts/non-attempts that occurred within areas experiencing light pollution to be established. The results were very interesting; although most emergences (58.33%) and most nests (53.33%) were outside of the light polygons, a large number of emergences and nests occurred within areas of light pollution. Possible reasons for this include the orange colouration of lights present on Megali Ammos; previous studies have suggested that white light has a more profound effect on both hatchling disorientation and disturbance of nesting adults. Also, there are a vast, complex array of variables thought to aid nest site selection in loggerhead sea turtles; many of which are poorly understood. It is thought that amongst others, the slope of the beach, sand type (pH, particle size, water content, organic content, shelliness), presence of humans/dogs, beach length, ordinal aspect and beach width are all important factors other than the presence or absence of light pollution. This means that nesting sea turtles may well prefer darker areas, yet they may be willing to sacrifice this for better sand quality and/or a wider beach, for example. Without extensive experimentation and the ability to control these variables (which itself is virtually impossible) we can only suggest that the light pollution on Megai Ammos beach, Kefalonia did not cause sufficient distress to deter sea turtles from nesting or emerging from the sea in these areas.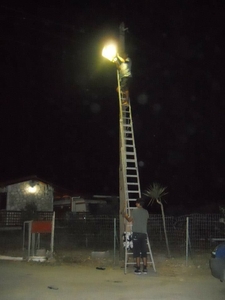 During my weekly light surveys, we also determined whether nests approaching their due date needed boxing (a box placed over nests suffering light pollution allowing hatchlings to be transferred to darker parts of the beach before making their way to the sea) and used to opportunity to speak to beach bar/ apartment owners in an attempt to encourage them to switch off lights affecting nesting beaches. One street light which lit up a section of Megali Ammos beach was also successfully shaded on the beach side to darken the beach. I have thoroughly enjoyed my time here in Kefalonia and am proud to have contributed to the important research completed by both Chanel and Nikos in an attempt to save this endangered species.