Meet the Intern - Suzy Lemoine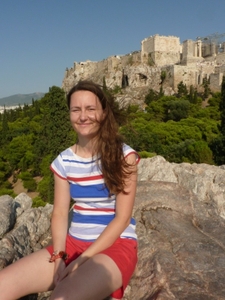 Argostoli harbor is a place in Kefalonia where you can hope to see sea turtles. These ones are no longer anonymous thanks to the initiative of Wildlife Sense's volunteers.
I'm Suzy Lemoine, a French student from the agronomic School of Engineers VetAgro Sup, and I have predominantly worked on harbor identification during my internship. This project dealt primarily with the classification of the turtles that regularly frequent the harbor. This research is important as it allows us to observe the activities and behaviors of each turtle, as well as monitoring the frequency of their presence in the harbor. It allowed us to calculate an approximate number of turtles and also helped us to understand whether they return annually to the harbor. This identification is also an opportunity to involve the local population as well as tourists in turtle conservation with the assistance of an informative board listing the turtles.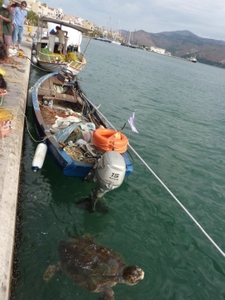 The identification was based on the collection and sorting of more than 200 photos of turtles during the months of June, July and August, 2013. Photographic identification is a natural way to recognize turtles with good results. This methodology compares the scales found on the turtles head (Julia Reisser et al. 2008) because they are all unique. In the harbor there is a small population of turtles, so my ID was done primarily by comparing the position of barnacles on the carapace, the shape of the carapace, the sex of the individual and others distinguishing features (e.g. scars on the face). Finally, the development of templates using the facial and profile scutes, as well as features of the carapace were used to aid recognition.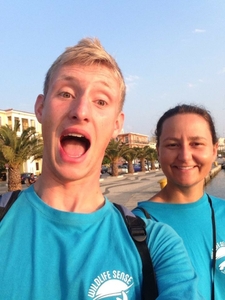 How many turtles do you think there are in the harbor? Maximum 12 turtles? Actually, so far this season, there have been 27; 15 males and 12 females. They have been seen in this area for a period of three months with an average turtle sighting of only 6-8 turtles of these 27 per day. This means that there is some rotation and diversity in the harbor population during the summer. Moreover, some of turtles that were seen in June have been re-sighted again at the end of August after a long absence. Currently it is possible to see Manos, Artemis or Gorgios as well as Barb, the famous turtle from Zakynthos, when they come to the harbor for their daily snack. Come and meet the turtles, they are waiting for you! But are you going to be able to recognize them?
Suzy Lemoine
Julia Reisser, Maira Proietti, Paul Kinas, Ivan Sazima, Photographic identification of sea turtles: method description and validation, with an estimation of tag loss, 2008