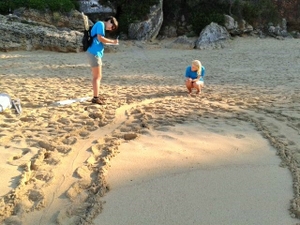 Nesting season has been progressing successfully over here in Kefalonia. This week we were joined by our second batch of volunteers. Our multi-national appeal has continued with volunteers coming from as far away as Hong Kong and America, and what a week they've experienced. We have located and protected 6 new nests (11 total); a fantastic figure we are proud to report so early into the nesting season. We were also thoroughly pleased to witness that after a series of intensive training sessions, several of our newest volunteers were successfully able to locate and protect a nest by themselves. Additionally there were 35 emergences observed and recorded where the sea turtle didn't nest. Many of these emergences were found in the Lixouri area, a new, and clearly critical addition to our regular monitoring schedule this year.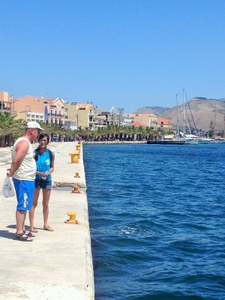 Two highly successful nest relocations also occurred this week. We try to avoid nest relocations, when possible, as we like to leave nests in their naturally selected sites. But, in some cases it is necessary to move nests away from unsuitable locations, for example if a nest is too close to water, too close to pedestrian walkways or laid too close to the beach surface and therefore vulnerable to desiccation. In this case, the nests were too shallow and too close to the sea, both factors that could detrimentally inhibit embryonic development.
With the help of Wildlife Sense interns and researchers we have also been able to strongly continue with our several research projects, including work on light pollution, sediment characteristics, animal behaviour and photo ID. From this we hope to further our understanding of the biology of the Kefalonian loggerheads.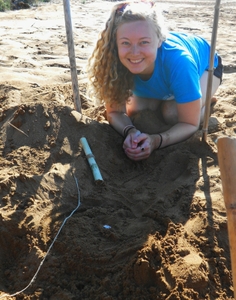 And to top all of this off the highlight of the week was undeniably the successful rescue of two of the local harbour turtles. One from a fishing net and one from a fishing line. Our regular monitoring of the harbour population allowed for a quick identification of the turtles in question. Such an achievement demonstrated the importance of good teamwork, something we pride ourselves on here at Wildlife Sense.
In conclusion, we had a hugely successful action-packed week here in Kefalonia, with hopefully many more to follow.
Written by: Laura Bartlett-Short