Mid-October 2018 hatching news
Argostoli & Lixouri Field Stations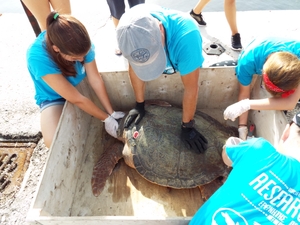 The last week has arrived but the action hasn't slowed: we've packed up the Lixouri field station for the season (Harry and Sarah have joined us in Argostoli), relocated a nest from Lourdas, and had two tagging events.
On Monday our volunteers helped to inventory and close down the Lixouri field station, before conducting a final sand-sifting shift on Kounapetra beach. The plastic problem faced by the oceans globally is particularly apparent on Kounapetra, where nurdles carpet areas of the beach. In a few hours we managed to remove several hundred thousand of these plastic pellets from a single part of the beach, and yet hadn't made a significant dent in the huge numbers all over the sand. This is a heartbreaking illustration of the plastic problem faced all over the world.
The weather has been unsettled, with much more cloud and wind than earlier in the season, and sporadic rain showers. These bring high waves, which washed up a dead turtle on Megali Petra towards the end of the week. After assessing the corpse, we identified it as a young adult male with major trauma to his carapace, indicative of boat and/or propeller strikes. The massive wounds had split his carapace open and may have fractured his skull, something that takes a huge amount of force. While he did not appear to be a known male we had tagged previously, the threat of boat collisions to our resident turtles is very high due to their close association of boats with food in the harbour – it is very fortunate that we do not see these injuries more frequently.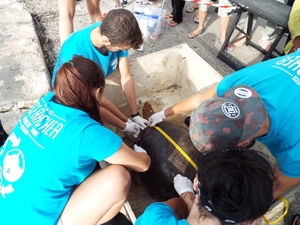 On a more positive note, our nests and adult turtles are still doing well. The final Argostoli-laid nest has finished, and we have gained a nest from Lourdas which was at risk of inundation, meaning our final 3 nests are all from other places on the island. Finn, our rehab hatchling, is still piling on the grams and is eating more and more each day.
In between rain showers we were joined by some of the Lourdas team to hold two tagging events. We caught two untagged turtles – a male and a female - as well as Chip (a familiar harbour male) and another tagged male. Both untagged turtles were given a clean bill of health after the removal of many barnacles and were safely released back into the harbour. Chip was found to have some leeches present around his tags and in a wound on his tail, so we released him but will need to monitor him over the next few weeks to ensure he remains healthy. To help with identification we added some lovely pink nail polish to his carapace, which I'm sure will make him the talk of the harbour among our resident turtles.
As we wave goodbye to our final volunteers of the season, we would like to thank them and everyone else who has been involved with the project this year. Our volunteers make all of this possible, and we truly appreciate all the time and effort you have all committed to the turtles. You guys are the best!