Mid-August 2019 Hatching News
.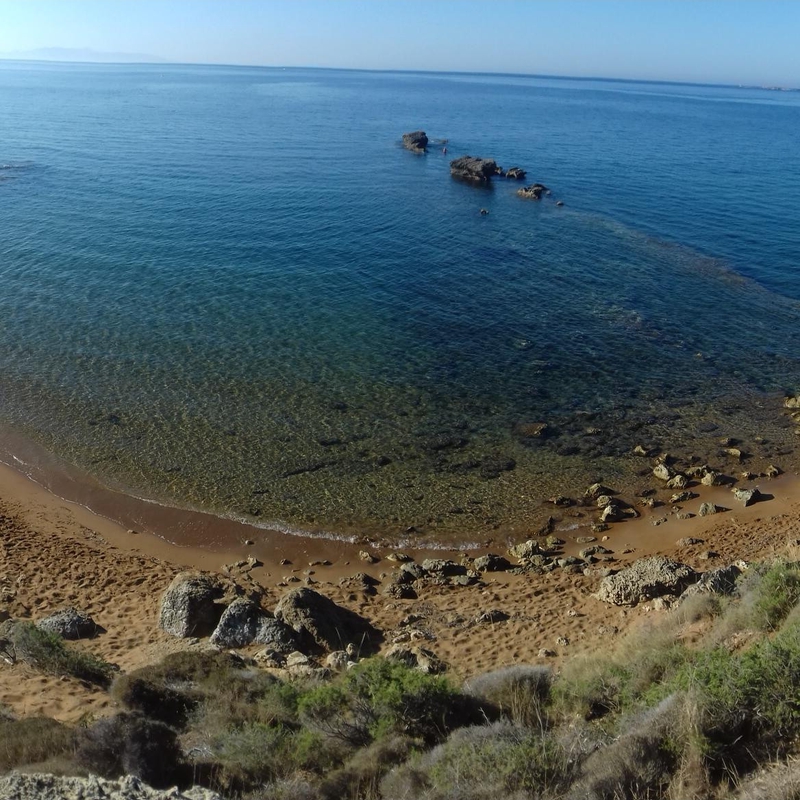 Welcome to our new volunteers! All 17 of them have been busy learning the ropes, going through training, and getting settled in. Of course, this means that most of our previous volunteers have left. We'll miss the joy, enthusiasm, and great work ethic that they brought to the project. Come back next year!
Two groups of volunteers took the bus over to the far side of the island to spend a day in Sami and visit Melissani Cave. The cave features a beautiful lake, and part of the roof has fallen in to allow plenty of sunlight to pour in. It's a lovely place, and tour guides take visitors on a 15-minute boat ride around the lake. One of our groups arrived just as several tour buses from a massive cruise ship arrived. They had to wait for about an hour to enter, but it was well worth it!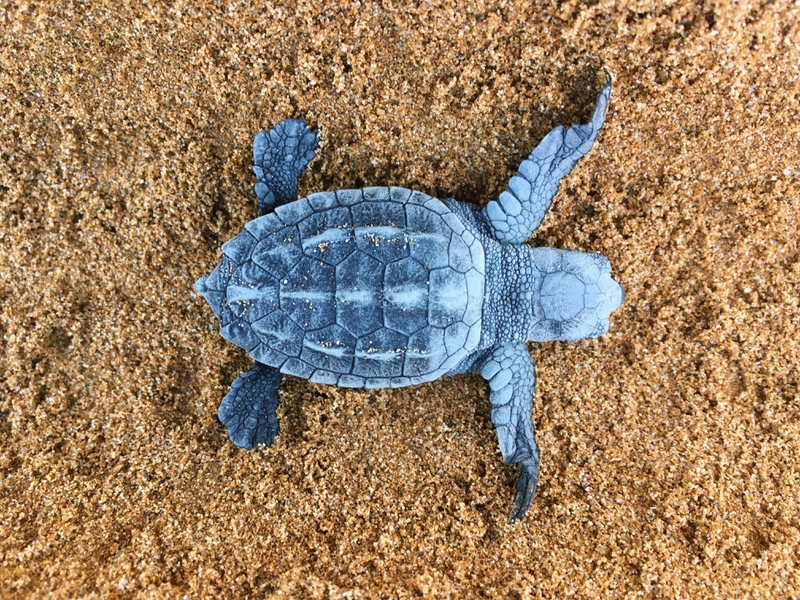 During our meal out, which we hold the night before a group of volunteers leaves, we announced the winners of Harry's photo competition. Grace walked away with the top prize, a snazzy green water bottle, after submitting her spectacular photo of a hatchling. Kelsey came in second with a dramatic photo of a dog looking off into the Lixouri harbour. Congratulations to both of you! And stay tuned for the winners of the next competition in a couple of weeks!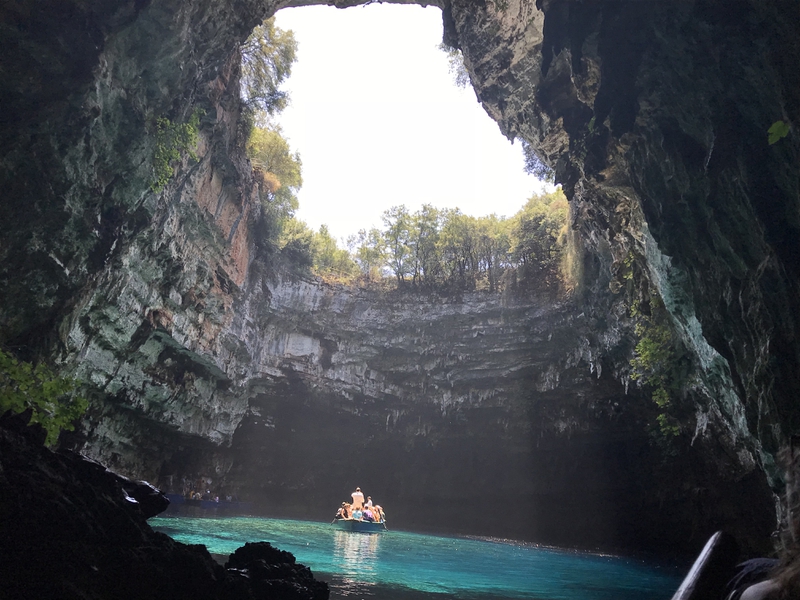 The total Lixouri nest count is now up to 87. The new nests were actually laid earlier in the season, but for various reasons, we weren't able to locate them during our morning surveys. We located them this week when we found hatchling tracks in the morning. A nest like this is called an FBH or Found by Hatching. Sometimes it is quite easy to identify the exact location of the nest when this happens, which was the case with an FBH on the Cape. Other times, it can take a few hours of digging. Kate, Heather, Sarah, and Nick spent quite a while looking for an FBH on Kounoupas. The nest was laid up a slope that was covered in seagrass, obscuring the hatchling tracks. It was hard work, but finally locating the nest was quite the reward.
Keep on crawling to sea, hatchling readers.
Written by Nick Miller
Argostoli Field Station
It has been another eventful week for the Argostoli team. On Sunday we saw most of our volunteers leave and welcomed another group who are settling in well. They arrived just at the beginning of a heatwave so we are hoping for it to cool down later in the week!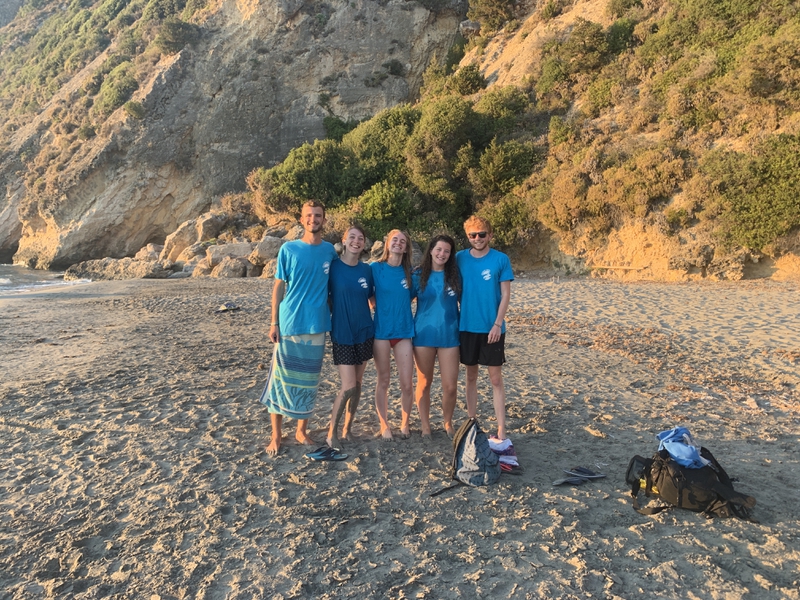 Unfortunately, this week has seen many daytime hatchings on Ammes, Eglina, Megali Ammos, Makris Gialos, and Avithos beaches. On Tuesday hatchlings emerged at 5:30 pm on Eglina beach. The team were alerted by a tourist and rushed down as soon as possible, but unfortunately, five hatchlings were dead on arrival due to the heat. Fifteen more hatchlings were then released, a difficult feat whilst shading them from the scorching heat and trying to control beach goers getting in the way of the hatchlings. Four of the fifteen were too weak at first and had to be helped far out into the sea, but the other eleven made it out on their own.
These daytime hatchings have been occurring at a range of times, some in the morning and some late afternoon. The key thing is that these hatchings should not be happening at this time – it is far too hot and many hatchlings die (and even more would die if we were not there). This may be happening partly due to the very high temperatures, and also due to vibrations caused by beachgoers on busy beaches. We try to save as many hatchlings as we can, but unfortunately, under these conditions, some will not make it.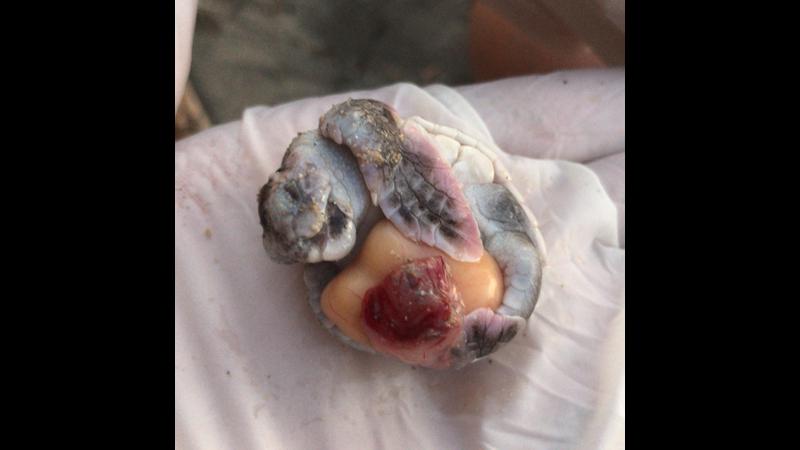 Meanwhile, on Monday, a tourist called in with a turtle sighting on Miniés beach. The sighting was very close to the shore and one tourist suspected an injury, so some of our members (including myself) went down and snorkeled out to try and find the turtle. After swimming out some way, we managed to locate the turtle foraging and luckily the turtle was completely healthy – in fact, we managed to read off the tag and identify the turtle as Rita, who was tagged in the harbour earlier this year! We swam at a distance with her for a bit before returning to the shore very buzzed and having got some excellent footage of the turtle.
The team was also called out to a dead turtle on Monday at a spot about halfway between Argostoli and Lixouri. As we were about to set off, we got the call about the possible injury and headed out there, and so we didn't make it there until the following morning. Unfortunately, by this time the turtle had oddly disappeared, but we believe it was washed up on Lepeda (a Lixouri beach), as the Lixouri team found one with injuries that matched the description we had been given (a blow to the head and a fishing line through the mouth). However, after combing the beach we started to find bones amongst the white pebbles which were clearly turtle bones. They turned out to be bones from a turtle stranded at this point earlier in the year, and so we brought what we could find back and attempted to put them into a formation (although it was far from a complete skeleton!).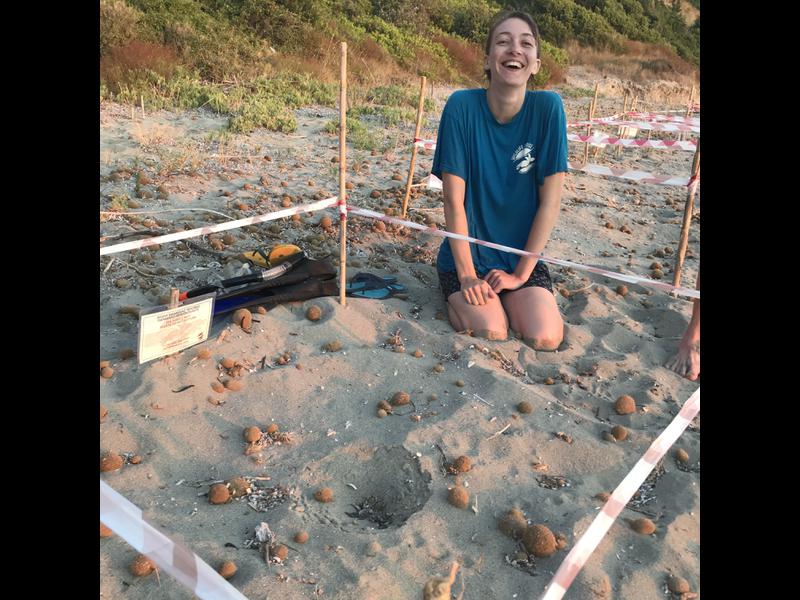 Inventories have also been a common occurrence this week. Tuesday evening saw an inventory on Miniés carried out by Poppy in which we were helped by some members of the Lourdas team. Two inventories were also carried out by Simon and Holly on Wednesday morning, one on Megali Ammos due to a mass hatching, and one on Miniés.
Meanwhile, amongst all the busy turtle news, two of our Field Assistants got married this week at Skala - congratulations to Jack and Becky!
Written by Sophia Coveney
---