Argostoli Field Station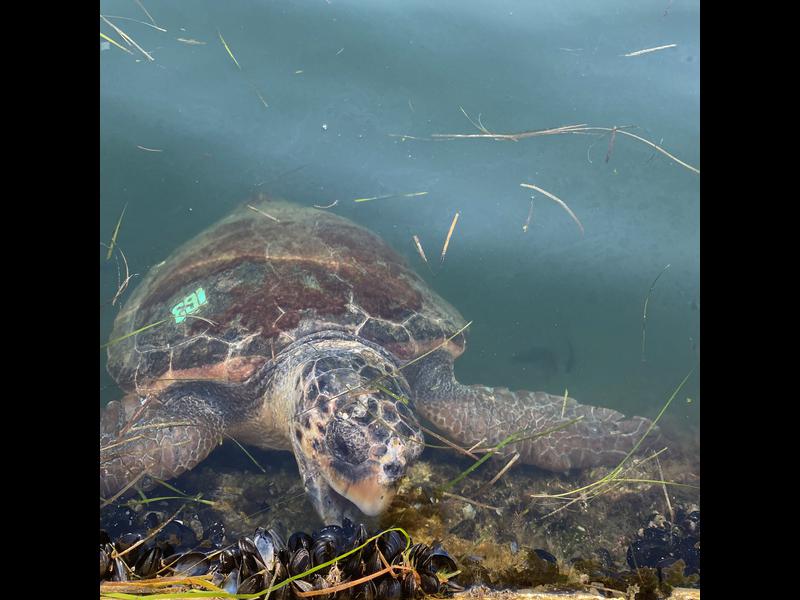 Things are picking up here in Argostoli with our current nest count now at 64! In the last two weeks, we've said goodbye to a group of our 2- and 4-week volunteers and welcomed a new group who have immediately been thrown into some very busy morning survey shifts now that nesting season is in full swing.
We've had a few particularly busy mornings, with a total of 6 nests found across the Avithos and Airport survey areas last Friday. Then, on an Airport morning survey this week, the team found 3 nests and one additional set of tracks on Megali Ammos alone! Our Avithos team on Friday also found some more tracks from Stumpy, the turtle missing a rear flipper. We haven't seen any tracks from this turtle for a couple of weeks now, so we're very happy to see that she's back making some more nesting attempts!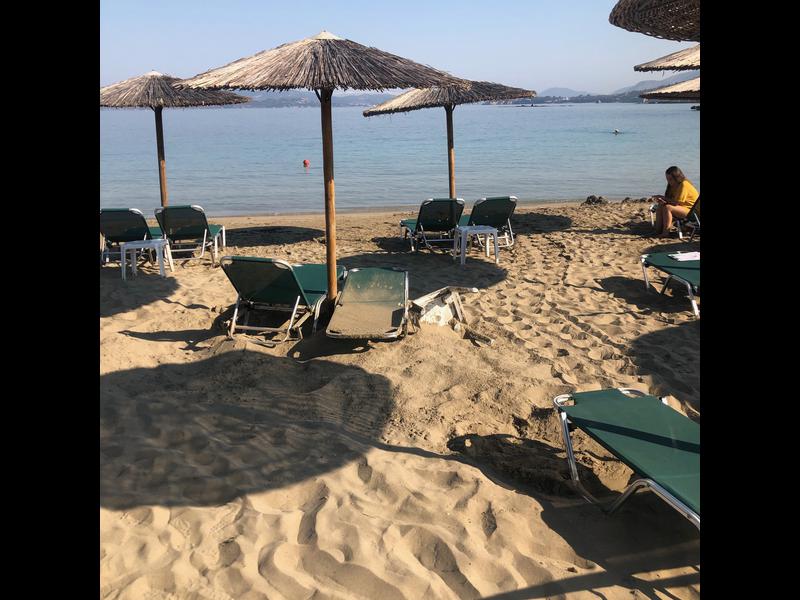 Ammes and Eglina beaches have had their first nests of the season this week. The nest count on Eglina is now up to three, including one nest found close to a beach bar after a turtle threw a sunbed out of the way to lay her nest. Speaking of turtles destroying things, our team was very concerned one morning when one of the protected nests on Megali Ammos appeared to have been removed, before realising that a turtle had crawled up the beach and taken out the protection on her way during the night!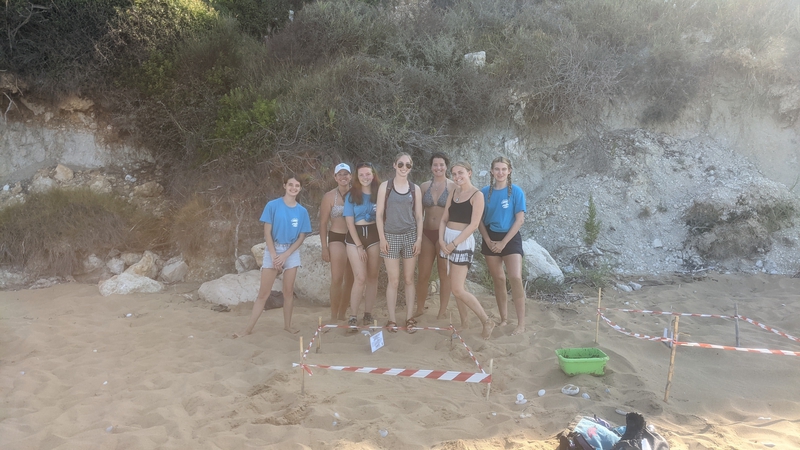 The team have also found some nests on some of the more isolated beaches in the area recently, including a nest on Cape St. Nicholas found by Harry last week. Chanel and Annya also went out on paddle boards to survey Liakas beach on Wednesday and found a nest very close to the sea, which was then relocated to a safer spot on Avithos with the help of the morning survey team.
A few of our tagged turtles have also been sighted down at the harbour this week. Skliro, who was first tagged in 2017 has been spotted by our volunteers on an evening harbour shift and Halfy, one of our tagged turtles missing part of a rear flipper, has been seen sporting her lovely new green numbers during the morning harbour shifts.
In core team news, Nikos, Poppy, and Jodi rushed out on a "wild hatchling chase" on Tuesday afternoon after receiving a call about hatchlings in Pessada but thankfully this turned out to be a false alarm. This was much to the relief of the team who, while excited at the prospect of the first hatchlings of the season, were very glad not to find any out on the beach in the midday sun! We've also said a (possibly very tearful) goodbye to field coordinator Harry, who has gone back to the UK after 6 weeks at the project. On a happier note, field leader Poppy has now made it out to Kefalonia!
The team has also been busy with relocations as we've been seeing a fair few nests laid too close to the sea where they are at risk of inundation. Last Thursday, members of the core team went down to the Lassi beaches and relocated 3 nests at the same time. It was a big team effort involving moving two nests from Makris Gialos and Platis Gialos onto Paliostafida beach, where they're now all positioned at a safer distance from the sea.
Aside from turtle spotting and nesting craziness, our new volunteers are settling in well and have also had time for some activities during the evenings including a henna night on Wednesday which was a big hit.
To finish off with some more good news, on Monday we heard from the rescue centre in Athens regarding two of the injured turtles we've sent over to them recently. We were pleased to hear that Eriksen, who was found in Argostoli harbour with a line coming from his cloaca has now had a successful surgery. Ithaca, a turtle the team picked up in Fiskardo last Wednesday has also had a large hook lodged in her oesophagus removed. They'll both have some rehab time at the rescue centre ahead of them before being released so we hope to see them back in Kefalonia soon!
Written by Jodi Morgan
Lixouri Field Station
With tracks now recorded on almost every morning survey beach, things are as busy as ever at the Lixouri field station. Our nest count now stands at 32, and that number is increasing each and every day. With the recent heatwave having passed, we breathe a (slightly cooler) sigh of relief as there is less risk of extreme temperatures affecting shifts. Volunteer safety is of the utmost importance here at Wildlife Sense so it was a week of encouraging sun cream, shade, and siestas! Our volunteers worked incredibly hard despite the sweltering heatwave, partaking in their usual morning surveys, harbour shifts, and night surveys.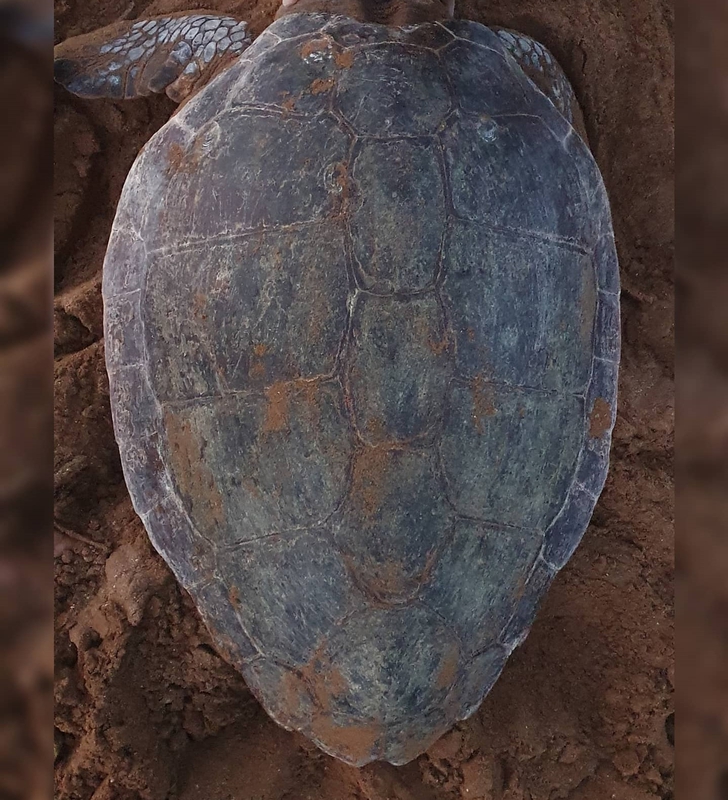 Night surveys have been very eventful in the last few weeks with both old and new turtles witnessed nesting. A turtle named Michelle, who was recently evaluated at an Argostoli tagging event, was seen nesting on Megas Lakkos a few weeks ago, and we have microchipped and tagged five new turtles since! One lucky set of volunteers also got to see a nesting female, last sighted by Wildlife Sense in 2015, on her way back to sea. Field leader Josh replaced her old metal tags and retook all measurements. Incredibly, this particular turtle was recorded to have a curved carapace length of 92cm- a Lixouri night survey record! It is truly amazing to know these turtles return to our beaches year after year to continue to lay those all-important eggs.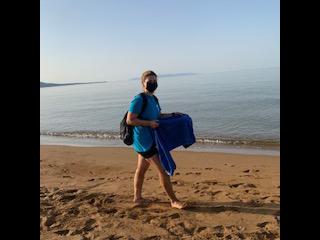 As peak tourist season approaches, the development and extended opening hours of beach bars and restaurants can often cause issues for sea turtles. The installation of sunbeds and umbrellas, as well as bright white lights, can all influence a nesting female's decision to come onto a beach and lay her eggs. With limited space on beaches, and in a desperate bid to lay, these loggerhead turtles may choose suboptimal areas of the beach, which aren't ideal for successful incubation of the eggs. Due to this, the team has been performing many emergency relocations of nests laid too close to sunbeds, beach bars, or the sea, including one relocation which was done during a night survey. The turtle, known to Wildlife Sense as Danielle, laid her nest a mere four metres from the sea. With the daunting wet sand line rising with the waves, the team set to work in the dark, and successfully carried out a relocation of the eggs to move the nest to a more suitable location. The original egg chamber possessed centimetres of water pooling at the bottom, confirming the urgent and necessary nature of the relocation.
A new shift which we've recently undertaken in Lixouri is our now regular, beach clean. Every evening, a team of volunteers goes out to one of the local nesting beaches and picks up any litter left behind by beach-goers or washed in from the sea. Each shift has successfully returned with at least three full bin liners of waste. At Wildlife Sense, we wear our blue t-shirts with pride when working on the beaches, and it is hugely important to us that the nesting beaches remain free of pollution to never negatively influence a turtle's decision to nest.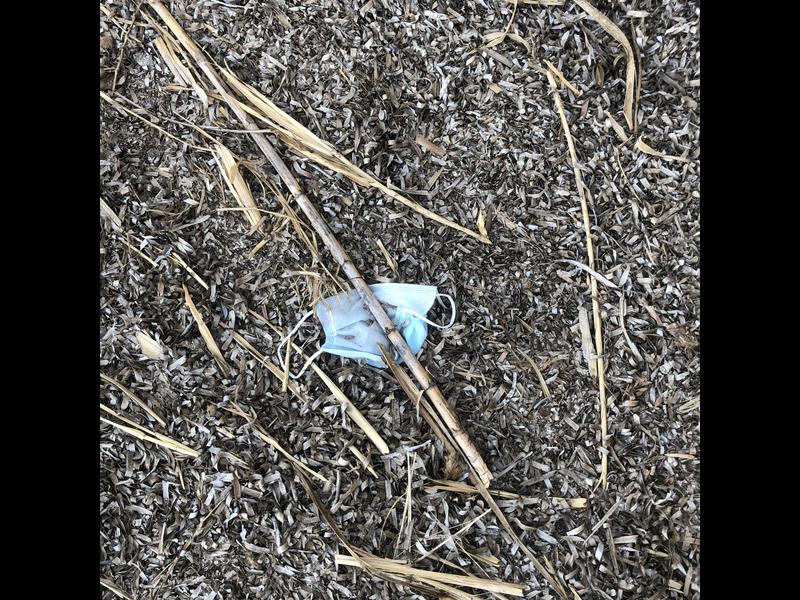 While in a sense, it is highly rewarding for our volunteers to return home with vast amounts of litter that they have removed from the beach, it is important to maintain the idea that this litter should not be there in the first place! We highly encourage everyone to take home their rubbish and dispose of it in a suitable manner. After a lovely day at the beach, no one should leave anything behind but their footprints in the sand!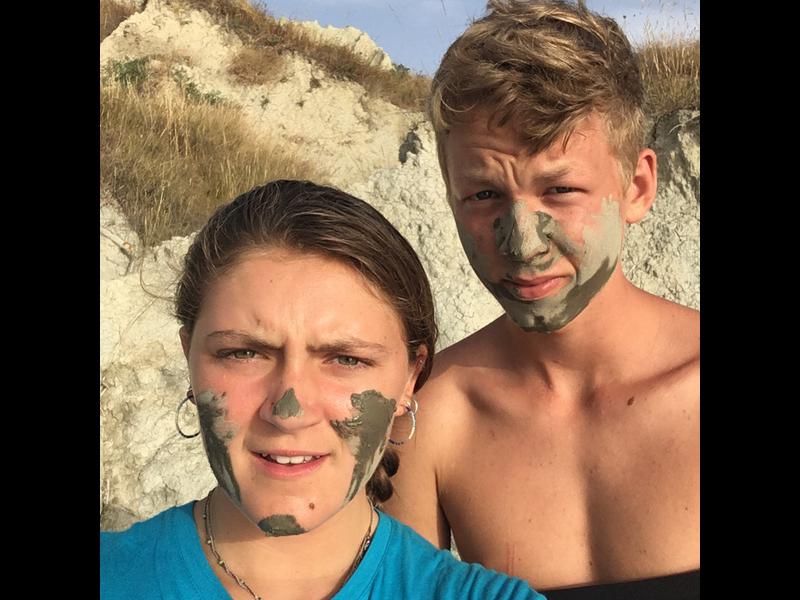 As always, goodbyes have been tough as we see off many more hard-working, enthusiastic volunteers. Working and living in close proximity with such like-minded people means unbelievably strong bonds are formed quickly. We've been so lucky to have such energetic volunteers, both keen on helping the turtles as well as enjoying the social aspect of Wildlife Sense. Recently, our group activities have included basketball, relaxing yoga evenings, photography competitions, as well as the odd Megas Lakkos clay mask facial after shift! We wish our departing volunteers all the best and hope to see them all again in the future.
Written by Alison Considine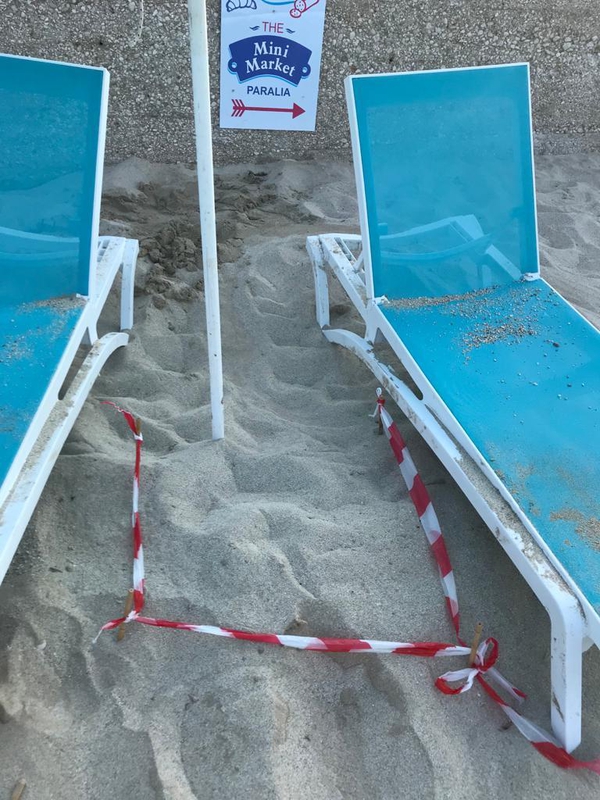 Lourdas Field Station
Welcome along to our second report from Lourdas area showing the activity on our lourdas beach patrol areas. Has it been busy? as there been activity? Are there many nests? In a word it is undoubtedly a resounding YES. The group members are finding nests, most of which originate on lourdas itself, and that means the added work of a relocation from Lourdas to Kanali beach.
Emergence tracks are ten a penny at the moment. There are nests discovered in between sun loungers, and close to umbrellas. The female turtles are really making it difficult for our members to locate the eggs, so many nails and fingers are quite sore with the digging as our members try to locate the nest.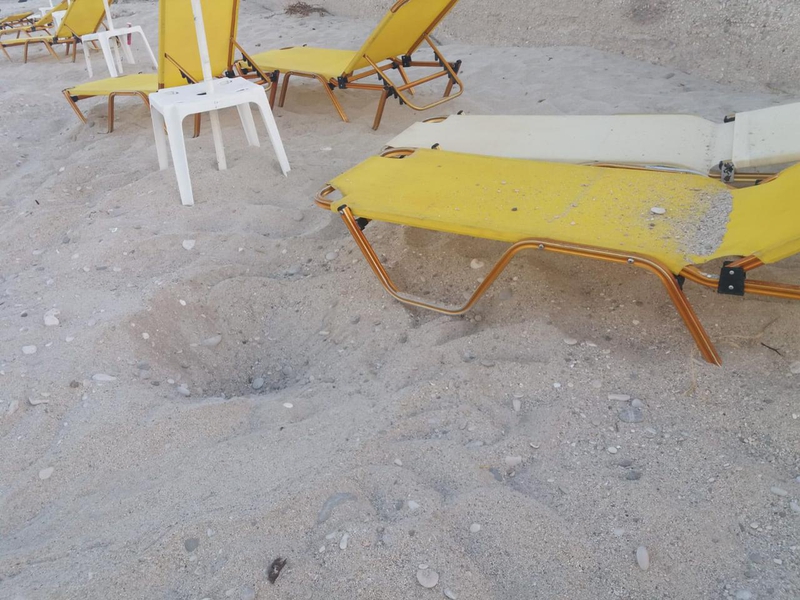 To date the totals on our beaches are as follows:
North Sissia 2
South Sissia 2
Trapazaki 6
Kanali 8
Lourdas 22 (record number!)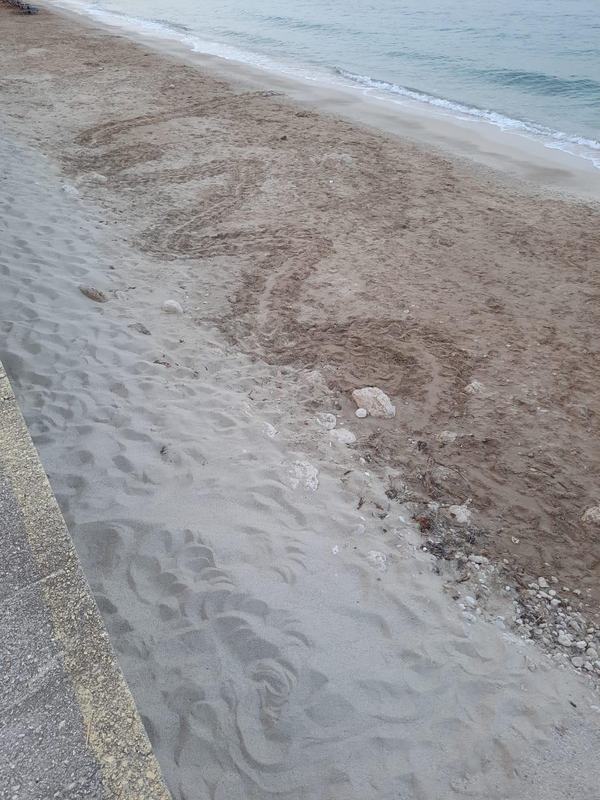 North and South Sissia beaches are under the guidance of our member mick Kinsey ably assisted by Vasiliki
The record number of eggs relocated in Lourdas area is from a nest on Trapazaki where 161 eggs were moved by Marc and Rebekah, assisted by Lorna and Ray, from said beach to Kanali.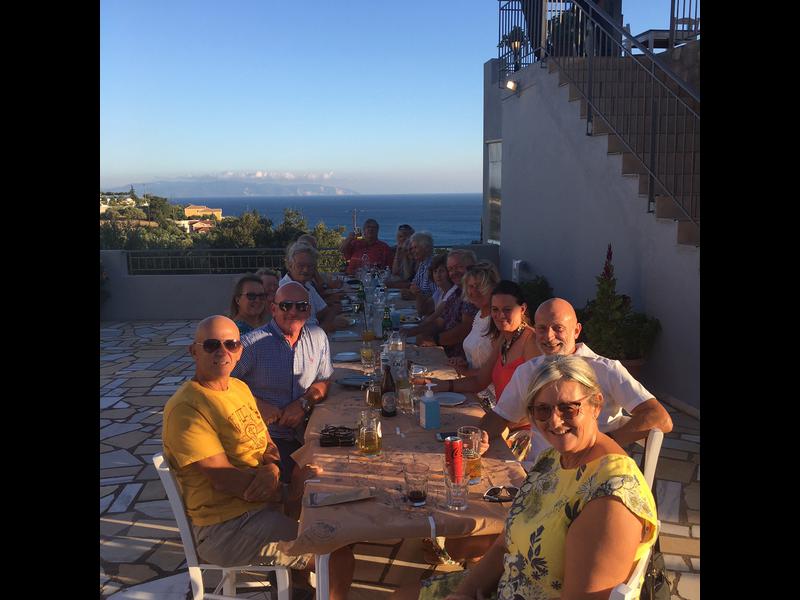 Our leader Lorna Gilbert sends out thanks to everyone in the team. A social gathering was had last night and I include pictures from that function and some of the sneaky ways the turtles make it difficult to locate buried eggs.
Written by Keith Venables
---