Mid July Nesting 2022 News
.
Argostoli Field Station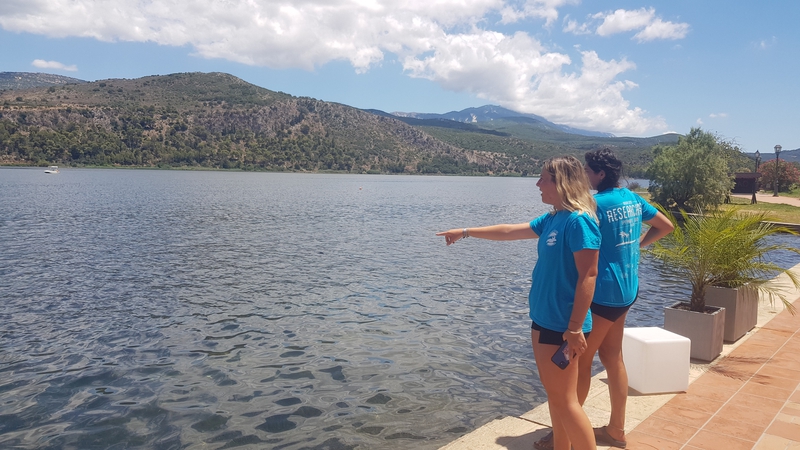 This week we welcomed a new group of enthusiastic volunteers who arrived ready for a very busy week! We have had 15 new nests this week bringing our total to 55 over the whole of the Argostoli field area. Additionally, we have had 13 relocations due to nests being too close to the sea. To add to the craze of this week, the rainy weather brought many challenges with it. With weather like this tracks become harder to identify and the high waves mean some of our nests' locations become unsafe and have to be moved. However, our volunteers' motivation and high spirit have not wavered.
Excitingly, we have had our first nests on many new beaches. This included two nests on Minies, one nest on Eglina, which was then relocated, one nest on Cape St Nicks, and one nest on Lourdas beach. Cape St Nicks is not normally included in our walking morning survey due to its difficult access location. However, we carry out regular drone surveys to spot tracks on this beach. This is how the track for the nest on this beach was originally found. In the evening of the day the tracks were seen, a team went out to survey the area and pinpoint the location of the nest. As the tracks were not fresh when our team arrived there were many difficulties in identifying the details of the tracks. When people are on the beach during the day the sand gets moved and tracks get covered in footprints making it very difficult to see the attempts. After much discussion on the process and direction, this particular female took on the beach we were able to successfully locate and protect the nest. This highlights the importance of our morning survey teams being among the first on the beach every day.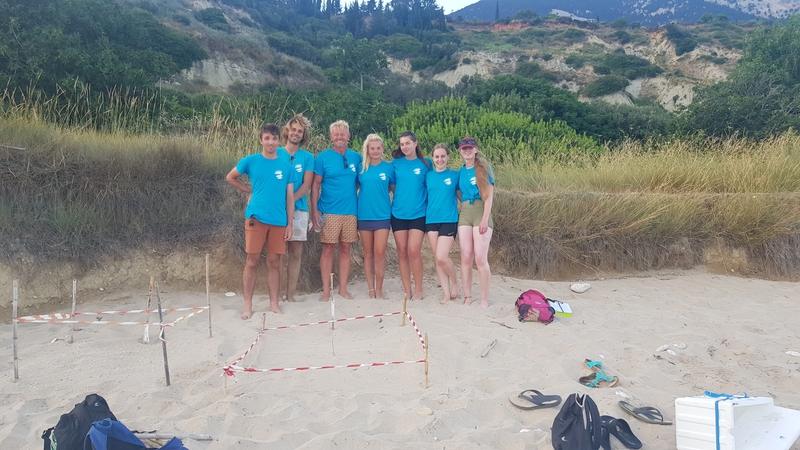 Further adventures in our busy week included a relocation of a nest on Lourdas. This particular nest needed to be moved due to its location being in an extremely human-populated area. This nest was therefore moved to the beach next door where it has a much better chance of survival. Unfortunately for this nest, 7 out of 94 eggs had already been broken for unknown reasons. However, the other 87 eggs were safely relocated and we're excited to see how they do in their safer location!
Our harbour shifts have continued as normal this week. The new volunteers have been learning how to collect data on adult turtle interactions and foraging behaviour. All while becoming more familiar with the Argostoli harbour and town. As well as this, they carry out visual health checks in case a turtle has an injury, or hook/fishing line attached to them. Luckily this week, a volunteer spotted a fishing line and hook floating in the water attached to some seaweed. This was a very good spot as we can remove it from the water before it becomes entangled with a turtle and causes injury. Unfortunately, this hook and line were carried under the bridge and we did not regain sight of it. But, later on in the week, we spotted the same fishing hook and line entangled around a rock. It was then that we were successful in removing the line with the aid of a rake borrowed from a restaurant owner and with the help of a friend of Wildlife Sense who came out on his boat where he was a lot closer to the water and able to untangle and remove the line. This gives us great relief as we know there is one less line in our harbour which could injure the turtles.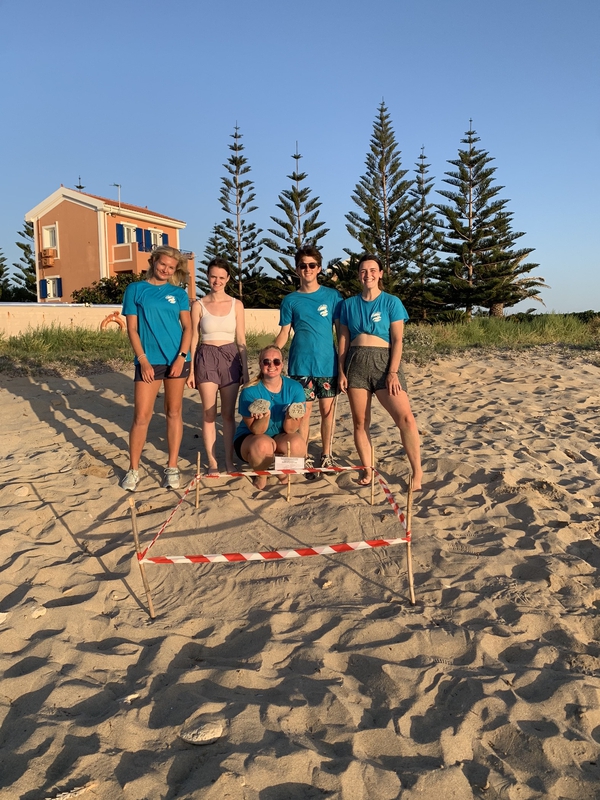 Not only have our volunteers been busy on shifts but they've also been participating in activities such as beach rounders, an evening swim, and a scavenger hunt. We were delighted to see the enthusiasm and creativity our volunteers had for this and look forward to another week of fun!
Written by Anna Judson and Emily Anderson
Skala Field Station
The 4th week is coming to an end. We have welcomed the 6 new volunteers and this time we will be all girls! The training is over, and the team have already seen a common eagle ray and its baby and a jellyfish.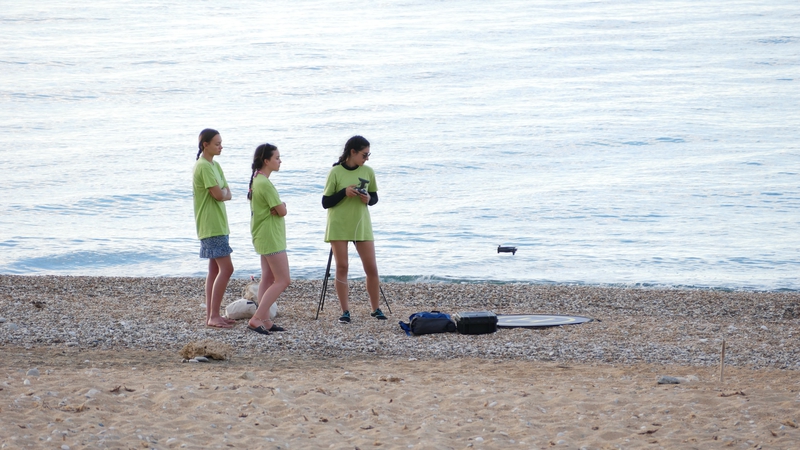 Regarding the progress of the project, the Posidonia study is going well, we are starting to have a good surface surveyed. We had the chance to discover a good number of fish species living in the Posidonia such as the Damselfish (a small black fish very present in the Posidonia), octopus (very impressive to see especially when it changes color), a cuttlefish (which did not appreciate our presence and expelled ink at us), a parrot fish and of course 4 amazing loggerhead turtles with which some of us observed at a distance!!!!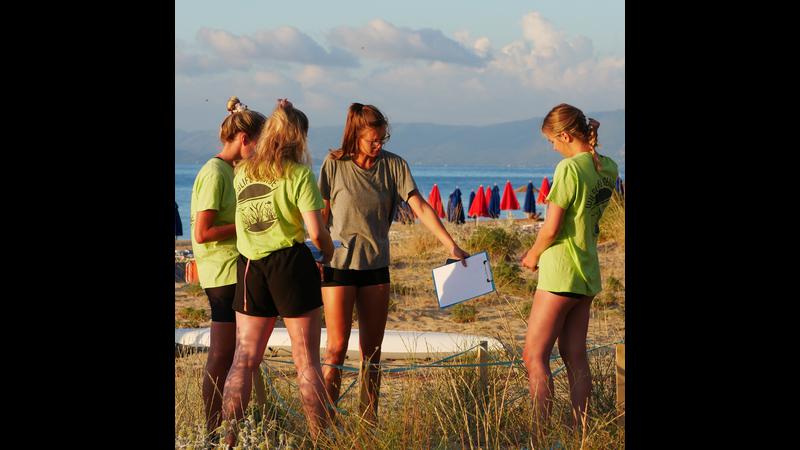 We also identified 8 new plants species like Cyperus capitatus (which we confused for a fortnight with the Schoenus nigricans), Cistus albidus (in May it has purple flowers, but it is now more difficult to recognize as it has lost its flowers) or Glaucium flavum (a pretty plant with large blue leaves and yellow flowers). We are proud to have collected more than 20 big bags of waste on the beaches of Mounda and Skala!!!
---