Mid-June 2019 Nesting News
.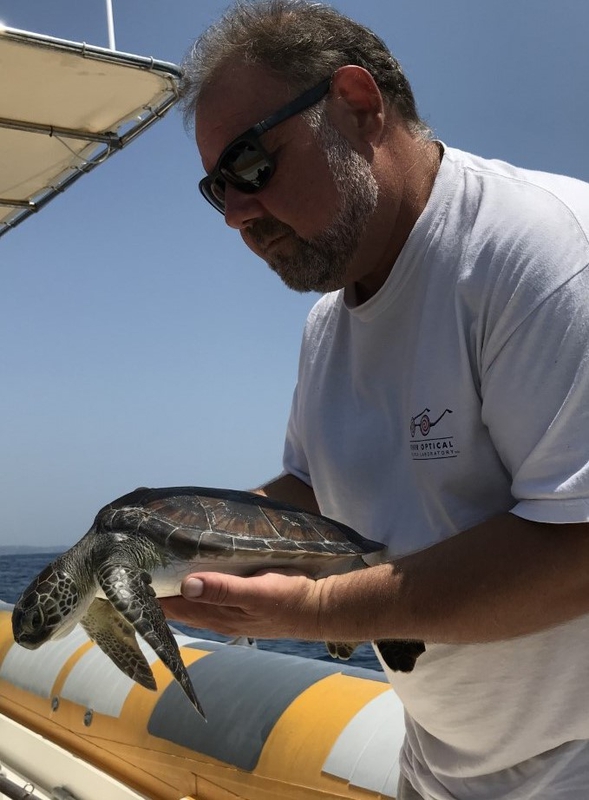 We have been very busy in the Argostoli area recently, with 10 new nests laid within the last 7 days. This brings our total nest count up to 14! Megali Ammos beach currently has 6 nests – the highest number on any beach at this time – closely followed by Minies with 5. Interestingly, 3 of the nests on Megali Ammos and all of the nests so far on Minies have been moved there from other beaches in the area, due to proximity to the sea or high-water levels in their original locations. We have had 2 emergency relocations this week, where we have had to move nests following moisture checks revealing eggs submerged in water at the bottom of the egg chambers.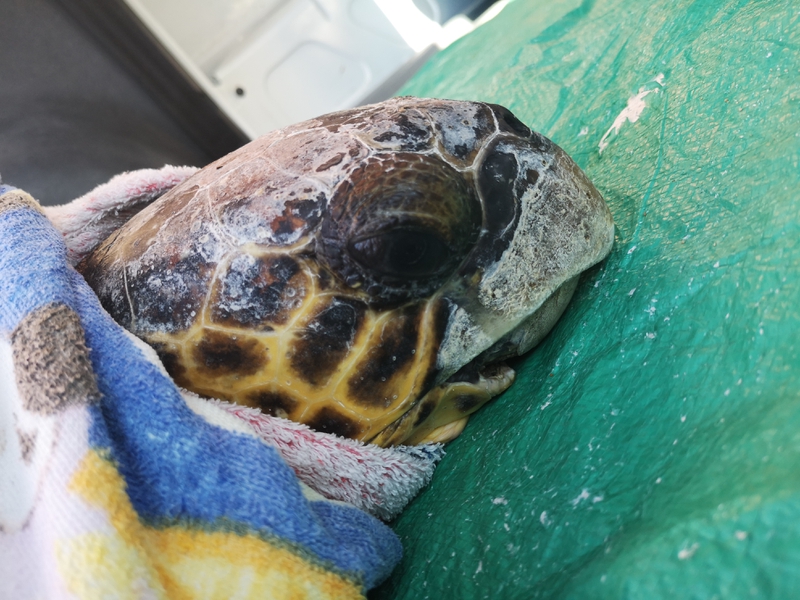 Recently, Quinn's wounds have been cleaned and cleared of much necrotic tissue by the vet. A small piece of the carapace that had become necrotic was also removed from around the largest wound in order to minimise future risk of entanglement in fishing nets and lines. Now that their injuries appear to be healing well, we are happy to share that Quinn is set to be released on Friday 21st June and will hopefully live safely in the ocean with no further complications. Similarly, Duke, the small green turtle we had been monitoring was released and we were able to capture amazing footage of them swimming away deep into the sea.
We are really excited to find out what the next week will bring and to see if we will continue finding nests at the rate we are now!
Lixouri Field Station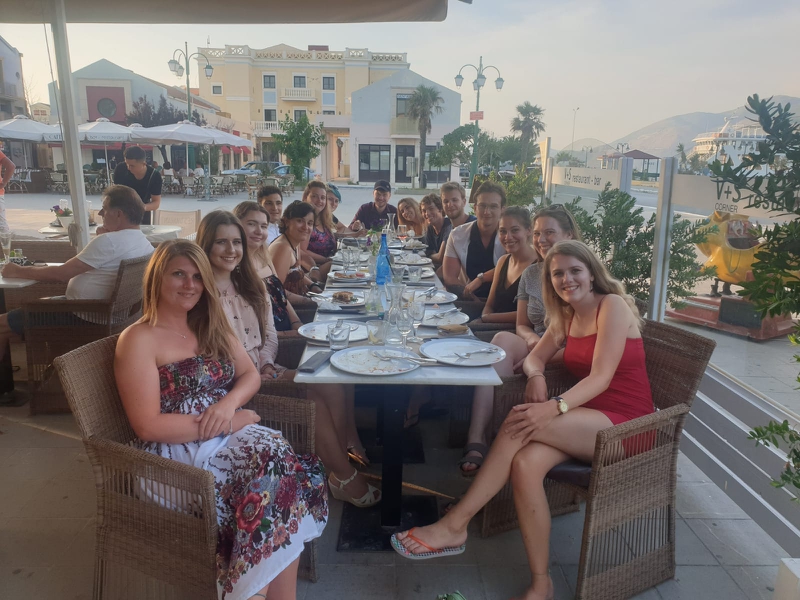 This week saw four nests in the Lixouri area bringing our total up to 11. Nests were protected on Kounoupetra, Megas Lakkos, and Lepeda during morning survey shifts. The Night Survey team witnessed both Megas Lakkos nests being laid and were able to observe the careful processes of rear flipper covering and camouflaging that nesting females undertake to ensure the safety of their clutches.
Volunteers from the Lixouri and Argostoli projects took part in a protest against oil exploration in Western Greece and the Ionian Islands. Alongside numerous rowing and sailing boats, we kayaked out into the Argostoli Bay to join Greenpeace's Rainbow Warrior. A huge banner was cast off of the boat and aerial photographs and videos were taken to capture the occasion. Oil drilling would be extremely detrimental to Kefalonia's loggerhead turtle population so Wildlife sense was incredibly grateful to be able to support Greenpeace's mission. Thank you to Kefalonia Outdoors for joining us and allowing us to use their kayaks!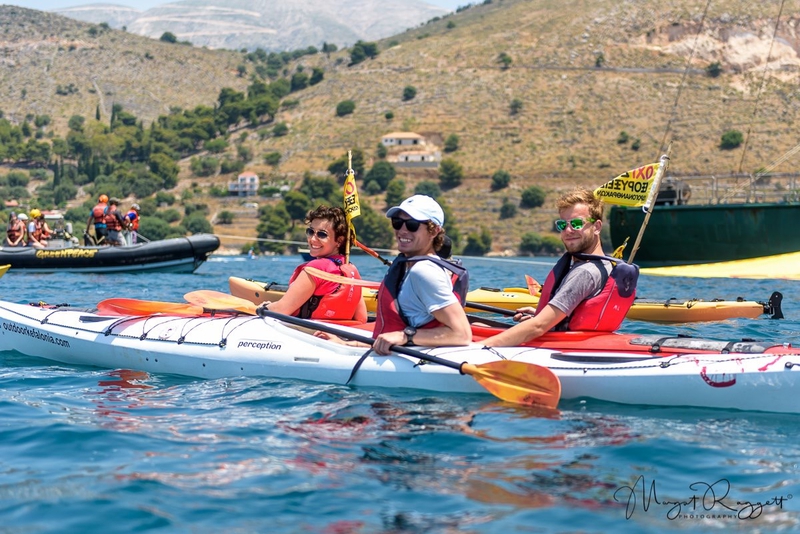 World Sea turtle day fell on 16th June. To mark the occasion team Lixouri took part in a beach clean on Loggos beach. In just a couple of hours, a vast amount of glass, plastic and general refuse was collected. With a frustratingly high volume of plastics washing up on our nesting beaches, we look forward to the introduction of legislation against single-use plastic next year.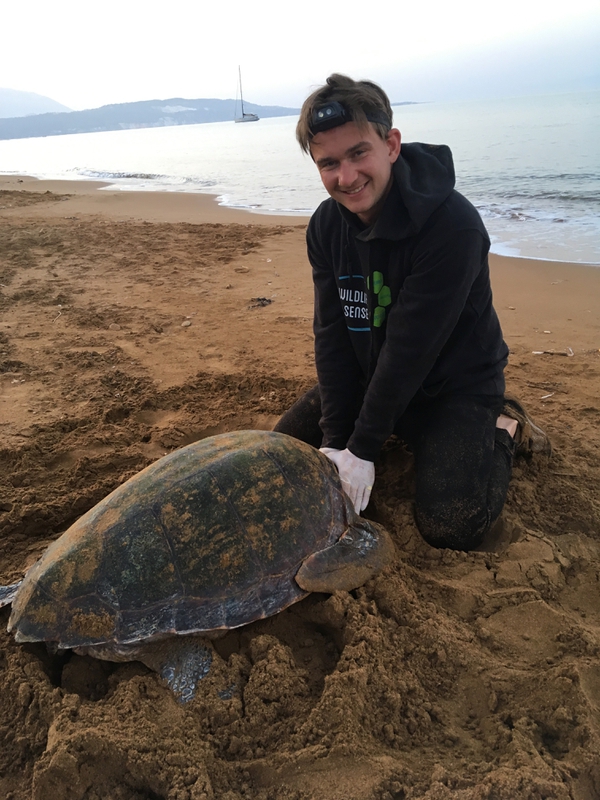 Unfortunately, this week saw another dead turtle in Lixouri. The stranded individual was an adult male who had died due to an extremely severe boat strike. The size and nature of the injury suggest that the sea turtle had been hit by the propeller of a cruise ship.
On Tuesday we said a sad goodbye to our first group of volunteers. It was great to be joined by such a bubbly and enthusiastic group! Training is now well underway for new arrivals.
---