Mid-May 2019 Mating News
.
Lixouri Field Station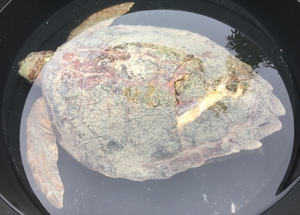 This week we travelled across to Lixouri with our visitors from Le Rosey School. Our busy day began with a morning survey on Megas Lakkos. After teaching the students about nesting patterns and night survey shifts we patrolled the beach, looking for any signs of turtle activity. Whilst no tracks were found, we were able to retrieve a large amount of plastic that had been washed up in the recent storms. Annya and Chanel created two fake nests so that the students could put all that they had learned into practice. After finding 'the drop' (the looser, less compact sand above an egg chamber) the students were able to find the buried 'eggs'.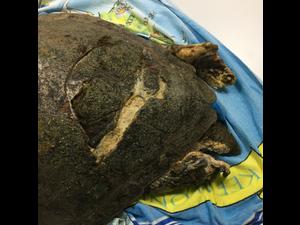 After travelling round to Xi for mud masks, we moved on to Petani beach. A highlight of the day was a nesting themed relay race. The students got competitive as they dug abandoned egg chambers, extended body pits and nests before crab-crawling back to sea.
Team Lixouri were incredibly excited to be back and are looking forward to officially moving across to the field station next week!
Argostoli Field Station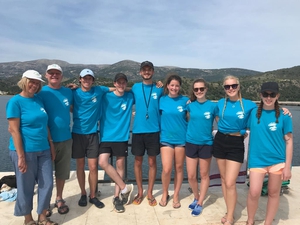 This week in Argostoli, we have been working with a group of students visiting from Le Rosey school in Switzerland as part of a school project they are completing. The students helped us to collect data on surveys of our nesting beaches and also got involved in 2 of the tagging events we recently held at the harbour. On Saturday, we were able to examine and perform health checks on 4 turtles found in the harbour, including a tagged female named Ophelia. Ophelia showed very lethargic behaviour and had a heavy barnacle load covering her carapace and flippers, so was brought back to the accommodation and kept in a freshwater tank to rid her of parasites. After perking up and regaining a good appetite for squid and shrimp, Ophelia was successfully released back into the harbour waters a few days ago!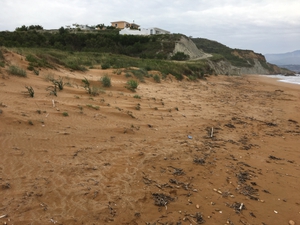 At the tagging event on Tuesday, we were able to check on 5 turtles, including Barb who is one of our biggest and most well-known harbour turtles. Unfortunately, we also found a male turtle who has been involved in a serious boat strike incident, leaving him with substantial carapace injuries, paralysed and partially severed rear flippers and a cloaca that has been left open with necrotic tissue within and surrounding it. He was spotted from the harbour bridge with some buoyancy issues and was transported immediately to our accommodation, where he is currently in a freshwater tank and has had X-rays performed at the animal hospital in Argostoli. We are hoping that he will be able to live happily despite his injuries and be able to be released again soon!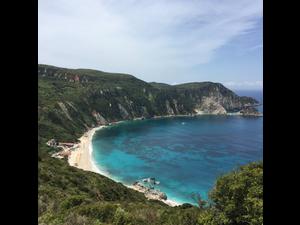 In other news, we are still eagerly awaiting our first nest of the season and there is lots of anticipation around when the first emergence of a nesting female may be. Our first small group of volunteers have arrived and have had a busy few days with training and getting stuck in with their first few activities. Before the school students departed, we had the pleasure of hosting a BBQ for them and our volunteers and a great time was had by all!