Mid-September 2018 Hatching News
Lixouri Field Station: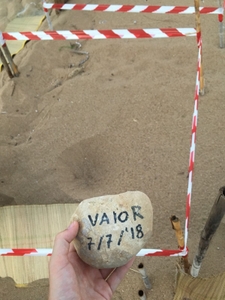 It's been another busy week for hatchlings and inventories! Nine nests have hatched over the course of this week with numerous mass hatchings taking place. It was an action-packed night last Friday as, during an evening inventory, two other nests began hatching. Our team worked effortlessly to ensure all hatchlings made it safely to the sea! Vatsa hatchling rescue shifts have come to an end for now as all our nests on Vatsa North have now hatched! Two nests remain on Vatsa South which are due to hatch next week, so hatchling rescue shifts may be required to start up again. Watch this space!
Team Lixouri was also lucky enough to observe the tagging events and health checks over in Argostoli harbour. As we have been working with so many hatchlings it was amazing to see the adult turtles. Our volunteers loved being part of such an important event and were amazed at seeing how big the turtles can grow too!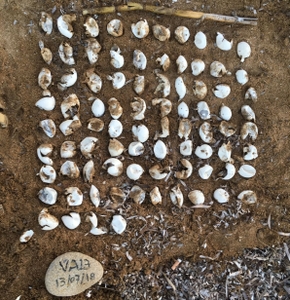 Our volunteers have been enjoying their well-deserved days off by visiting beaches in Lassi and spending time by a local pool. There have also been many visits to the local bakery and ice cream shop to taste all the delicious treats!
In other news, we have begun a new harbour shift of our own in Lixouri! Turtles have been spotted on a few occasions here in Lixouri which is usually a very rare event. To investigate this further, we have begun turtle spotting by patrolling the harbour a few times a week to see if we can catch a glimpse of any turtles. Hopefully, we will be able to work our if turtle appearances are a regular occurrence or not. Keep an eye out for any updates!
- Sarah
Argostoli Field Station: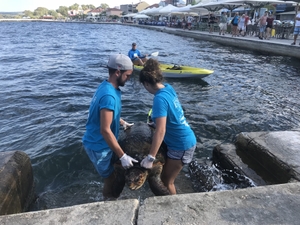 Another successful tagging event was carried out by the team on Thursday, with 6 turtles health checked and two new turtles, Joey and Omar, tagged. Switching things up a little, the tagging event happened during the early evening. Going back through our records from past years, we noted Oddy was checked over during another evening tagging event back in 2017, putting weight towards the idea that different turtles frequent the harbour at different times of the day. We were also joined by co-founder, Nikos, and visitor to the project, Paul, who brought a kayak along to with them to help us with the spotting!
During the event, one turtle, Babis, was found to have a fishing line trailing nearly 2m from his cloaca. Babis is now at the rescue centre in Athens to be rehabilitated there.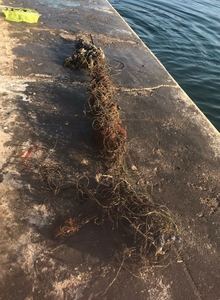 Fishing lines continued to be a good problem for us, as early the next morning on harbour patrol, a turtle named Belle, who had been given a full bill of health the previous evening, was found struggling to remove herself from a bundle of abandoned fishing lines that were caught on the harbour floor. Belle was freed from the lines very quickly but the incident highlights how important the harbour patrol shifts are and also the scale of the problem that lines and hooks can be for our turtles.
Away from turtles slightly, Team Argostoli have had a great few evenings, with many of our volunteers taking part in our activity nights. From movies, to a very competitive quiz, to a entertaining charades night, it's been great to see so many volunteers come together at the end of their busy days to socialise and build friendships!
More from us next week!
-Chess
Lourdas Field Station: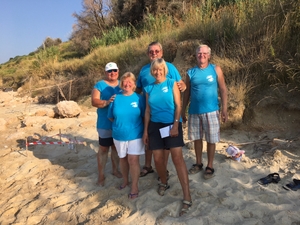 Well, the word at the tip of our lips at the moment is BUSY, BUSY, BUSY.
Hatching is in full swing. With plenty of inventories taking place, our volunteers under the leadership of Lorna Gilbert and her husband Ray have been busy.
John was a welcome returnee to the fold and his first job was an inventory to a nest that was way overdue. He dug down to find dense sand, he dug down a little further and entered the egg chamber which revealed a swarm of little hatchlings looking up at him, saying thanks mate and then proceeded to the sea. In total 50 hatchlings were gently removed out and taken to the sea, with much help from startled and surprised holidaymakers.
What percentage of success we are having is not yet fully comprehended, so further results are awaited. Holidaymakers are attending our successful Turtle talk on a Tuesday at Klimatis on Lourdas beach, for which we thank the owners for allowing us to use.
-Keith