Nest numbers almost surpassing last year's!
The last few weeks have been yet another busy period for both our volunteers and the sea turtles alike. With 127 false crawls and our total nest count up to 44, nesting season is well and truly underway here in Kefalonia. Recent nest relocations have allowed us to determine the current mean clutch count as 102.2 eggs – a rise from Kefalonia's average of 88. This means that we have around 4,300 turtle eggs currently incubating on our monitored beaches from Lassi to Lixouri – a fantastic figure that reflects the hard work performed daily by volunteers on our morning beach surveys. With only one in 1000 sea turtles surviving to reach adulthood, our conservation efforts have therefore helped secure the survival for at least 4 loggerhead turtles of the future. For a species with the survival odds stacked against them, this is a great figure and one we can only aim to increase in the future.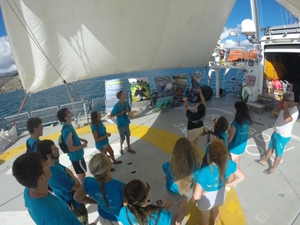 Elsewhere, our volunteers have been busy in Argostoli harbour where we have seen a further two turtles dehooked in the last week. Whilst turtle rescues are an exciting and invaluable experience, the dramatic increase from last year are beginning to raise concerns regarding the effect of local fishing on sea turtle health.
Meanwhile in the harbour, we have been visited by Greenpeace's Rainbow Warrior, campaigning against drilling for oil in the Ionian Sea. One of the most environmentally-friendly boats ever built, Wildlife Sense volunteers were lucky enough to have a guided tour around the boat, from the bridge to the landing strip, learning about the goals of their campaign. To have the opportunity to learn about other environmental issues and an international conservation movement was both an educational and enjoyable afternoon for all involved.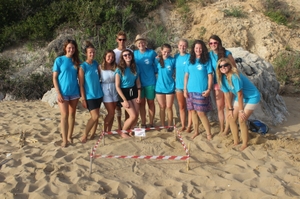 In conclusion, with the nest count quickly approaching the total from last year, nesting season is proving to be both a very successful and busy time here at Wildlife Sense. A new group of volunteers has just arrived and the excitement is set to continue for many more weeks to come.
Written by Sophie Mayes