Nesting update: July 19, 2017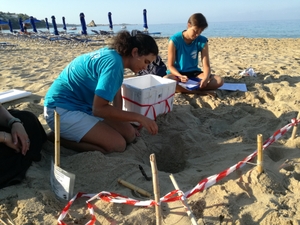 Argostoli
This week we had one new nest on minies, one on Megali ammos and one on Makris gialos. The turtle that nested on Megali Ammos crawled through the protected area of another nest on the beach and laid her eggs behind it. The nest on Makris Gialos was relocated because it was too close to the sea. St. Nicholas beach remains busy with five emergences just on Sunday night.
Lixouri
This week our team in Lixouri hasn't seen many turtles on night survey but the morning teams are busy with emergences and nests as the turtles are choosing to visit other beaches! On Megas Lakkos we've had five emergences, two of which were nests. One of the nests was laid by a newly seen turtle which is very small and clean - which means she is a young turtle. Her clutch and eggs were also smaller than some of the other nests. This could even be her first year nesting. The other nest was laid on a stormy night and was relocated further along Megas Lakkos as the original egg chamber was surrounded by clay.The final emergence was done by a returning female; Michelle. We were very excited when we found her, hoping she would lay her second nest on ML. However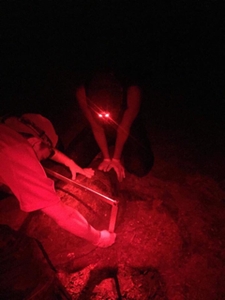 The final emergence was done by a returning female; Michelle. We were very excited when we found her, hoping she would lay her second nest on ML. However too all our surprise she ventured across the bay and decided to nest on Megali Ammos- one of our survey beaches in Argostoli! We are slightly disappointed she didn't return to us but happy she successfully nested for the second time. The nest we had on Xi last Tuesday ended up being relocated, to our hatchery on ML, due to the depth of the top egg being too shallow.
We've had no emergences on Vatsa but two emergences on Kounopetra - both no attempts. We also had our first nest on Kounopas on the Lepeda area. It was an interesting emergence, to say the least. She crawled onto the beach and dug three separate eggchambers every few metres before she finally laid her eggs in the sand.
The tagging event on Friday was also very exciting. Our volunteers got to show off their restraining skills they learned on their busy night surveys the previous week. They all seemed excited to help tag the turtles and monitor this important foraging population.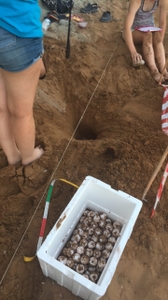 Finally, we are entering a very exciting week in Lixouri. Our first nest has passed its 45th day of incubation. Hopefully, we will have hatchlings by the end of this week!
Avithos
This week we have had 3 nests in the Avithos area and relocated 4 of our nests! This week the sea has been moving out further and we have managed to find a new beach next to Avithos where we found a nest! We had to relocate it due to it being too close to the sea and we found it to be full of water. We went further around and found nests with protection put up by a member of the public with a sign on! We were happy to see that other people were helping us protect the sea turtles!
Our night surveys have been busy too as we had 2 nesting turtles on Megali Ammos, one that had nested there earlier in the season, and the other had nested in Lixouri earlier in the season!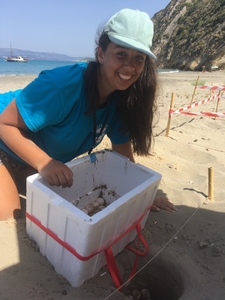 A few words from our volunteers...
"I arrived in Kefalonia on Friday and was helping tagging turtles in the harbour that afternoon! I was taught how to restrain a turtle and how to properly measure their carapaces. The next evening I had a night shift where we looked for tracks and nesting turtles. I was lucky enough to see a nesting female in my first 5 minutes on shift. This turtle was already tagged and unfortunately had an injury from a boat strike on its carapace. After we took measurements I checked for leeches on its plastron. Then we let it head back to sea and marked its nest for the volunteers on the morning shift." - Charlotte
"Over the past few days, we have taken the ferry to Argostoli in order to explore more of the island. As a group activity, we went snorkeling in a quiet cove near Fanari, discovering hidden caves and beauty spots. Whilst doing so, we shared our knowledge on the marine creatures we found, jumped off rocks into the sea and had fun swimming around. A few of us also visited the light house that can be seen from Megas Lakkos beach when we do surveys.

"The day before this we took part in the tagging event at the harbour. This involved spotting untagged turtles and helping perform health checks when turtles had been lifted out the water- it was really interesting to be part of!" - Hannah