Nesting update: July 26, 2017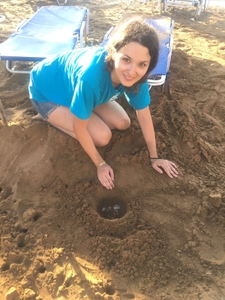 Argostoli
Earlier this week we received a call from Argostoli alerting us to a sea turtle that didn't seem to be well. She was lethargic and covered in leeches, and after a thorough clean-up she was moved to our rehab station. There were no obvious external injuries, but she was really weak and had no appetite. We took her for an x-ray, which didn't show any ingested hooks or foreign objects.After 6 days, she was showing no signs of improvement, so it was decided that the best option was to send her to the Athens rescue centre for further care and rehabilitation.
It's not all doom and gloom however, as this week saw the return of the famous Barb! The team had been missing her presence at the harbour this year, and were greatly relieved to finally see her after a suspected nesting stint on the beaches of Zakynthos.
An exciting new initiative for Wildlife Sense has begun with the arrival of research student Giulia Cerritelli from the University of Pisa. Her research involves the development of cost-effective trackers for Loggerhead turtles, to facilitate organisations like Wildlife Sense in collecting location data on sea turtles. Of the harbour turtles, the notorious Artemis and colossal Kostas were selected, and each were fitted with a satellite tracker. Hopefully we will soon learn more of these turtles' activities and the other regions that they might frequent.
The Argostoli beaches have had some more turtle crawls this week, with a total of 8 emergences and 3 more nests. Often the nests have to be relocated to safer locations. This week we performed a double relocation onto Megali Ammos on Thursday evening.
On Sunday night, some of our team went to a traditional Greek dancing festival in Argostoli. Groups from three regions of Greece came together to perform traditional Greek dances. One of our volunteers also had the privilege of seeing an octopus and a turtle while snorkelling in their free time.
Lixouri
We have some very exciting news in Lixouri- the first nest on Megas Lakkos (ML1) has begun hatching! On the night of the 22nd she the first track was spotted between 00.20-00.50 by night survey. 2 more tracks were then spotted during the early hours of the morning and a further 22 tracks observed by morning survey- they were even lucky enough to watch 6 hatchling emerge and make their way to sea. One more track was spotted on the night of the 23rd and around 18 recorded the morning of the 25th! We believe the nest is still actively hatching! Our second nest in Megas Lakkos (ML2) is also showing dipping as it has entering the 45-55 day average incubation date window! We will be looking out for more tracks and hatchlings from that nest next week! In terms of adults turtles it's been very quiet this week. Right at the beginning of the week we had a new female emerge twice in one night. We named her Lilo as during one of her attempts she ploughed through a pink inflatable lilo! Since then we have had no other turtles or emergences on Megas Lakkos. We've also had nothing on Vatsa or the whole Lepeda area. However we have had 6 emergences on Kounopetra- 5 no attempts and 1 abandoned egg chamber. We hope he turtles have had a nice break and will be returning to our beaches in the coming week!!
Avithos
Team Avithos have have had another busy week with relocations. We have had 4 nests in the Avithos area. We have relocated 3 of the nests to Minies due to them being too close to sea and we were worried about them becoming inundated. The other nest was found on the new beach we discovered last week, it is 10m from sea so we are keeping an eye on it. To get to the nest, you have to climb over high rocks or go by the sea. This makes it incredibly difficult to reach by foot making a relocation very tough. Therefore we are visiting the beach every few days to do a moisture check to ensure it doesn't become inundated. Night survey have had 2 turtles this week, one of which nested and our night survey team got to watch the whole process.
A few words from our volunteers:
Hi my name is Lucy, and I am volunteering with Wildlife Sense for one month over summer! I'm only into my second week so far and have already had some amazing turtle experiences! I have just graduated in physical geography and plan to continue studying marine biogeography and go into marine animal tracking, so my time here has also been useful for my career. Within just a few days I was lucky enough to find a nest, help out with restraining and tagging a frisky turtle, and see a turtle while snorkelling (which very rarely happens!) All in all, you could say I've had a turtley awesome time! 🐢 - Lucy
"I have been at wildlife sense volunteering for nearly two weeks, and I've had the best time! On all of the morning surveys I've participated in I've either found nests or helped with relocations. The highlight of my trip has been the night surveys, on my first night I saw a turtle laying her eggs which was amazing, the second night I watched a turtle moving round the beach trying to find the perfect place for an egg chamber. I got the opportunity to help restrain and measure the her and it's something I'm never going to forget. It's nearly the end of my time here and I really don't want to leave." - Caitlin