New sea turtles visit Argostoli bay - and we tagged them
.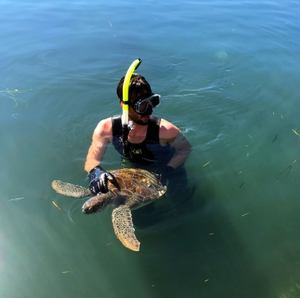 Right before the start of the nesting season, we've had a number of tagging events in which our teams measured, tagged, and health-checked 34 sea turtles. This included 26 new turtles and only eight that were previously tagged by Wildlife Sense. One of the newly tagged turtles was a green turtle. This is a different species from loggerheads (Caretta caretta) which do not nest in Greece but only visit while foraging.
Unfortunately, one turtle (named Timon) was found tangled in fishing line and hooks. After spending more time at the surface of the water, Harry was able to easily identify and catch Timon to be further examined. Upon investigation, the line had wrapped around both front flippers and the neck beginning to cause lacerations. Luckily, the line was easily removed and Timon was happily released back into the harbour. Had this line not been removed, further detrimental effects would have pursued including the possible entanglement of an additional turtle, especially as he was exhibiting signs of mating behaviour. This highlights the threats that sea turtles face but hopefully we won't have many more of these stories this season!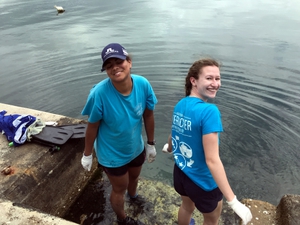 On a much happier and exciting note, the project was able to health check and tag it's first ever green sea turtle!! This was particularly exciting as green sea turtles have been making appearances with numerous sightings in the harbour over the past few years - believed to be foraging on the abundant sea grass. Green sea turtles are incredibly fast swimmers, with this individual being aptly named Phelps! Well done to our project co-ordinator Harry for being able to finally catch one! There are many other differences between loggerheads and green sea turtles including variances within the carapace including its shape and scute patters in addition to differences between head and jaw shapes. Phelps' curved carapace length measured at 53 cm which was indicative of a juvenile aged turtle. Many other greens have been identified through the Wildlife Sense photo I.D project with an adult male frequenting the harbour most often. Let's see if we can identify and tag any more greens throughout the season!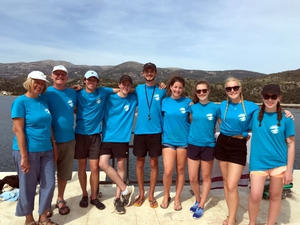 We have welcomed our first volunteers of the season and we can't wait for them to get stuck into the action.
There's no news on nests just yet, but it won't be long until the first nest is laid! More from us next week, but keep checking our Facebook and Instagram pages for any updates!