Old male turtle found with fishing line from cloaca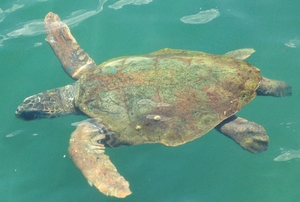 Yesterday, Saturday 19th July, was an incredibly busy day for the team at Wildlife Sense with yet another sea turtle rescue from Argostoli harbour. Initially spotted on Friday 18th July during our daily behavioural study shifts, a large male was observed with a fishing line trailing behind his carapace. The very next morning, equipped with knowledge from a training session with Chanel, the team were prepped and ready for locating and the possible rescue of this injured turtle. At around 10 am the turtle was spotted and speedily captured in the water by Nikos and a team of volunteers.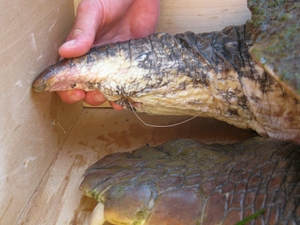 As soon as the turtle was safely caught and examined, it was immediately obvious that a more complicated rescue mission would be necessary. With a treble hook observed in the plastron and a line protruding from the cloaca, the team knew this would not be a simple de-hooking on the harbour side. Instead, once in the safety of the turtle box, the decision was made for the turtle to be taken away from the harbour for further monitoring and treatment. At a safe location, with the turtle calm and controlled, protrusion of the line from the cloaca was confirmed and an immediate release was deemed no longer possible. The reason why internal lines are much more dangerous than other injuries, such as that of an external hook, is the possibility of entanglement in the turtles' intestines. This was encountered last year, with a female turtle known as Artemis requiring x-rays and surgery to save her life.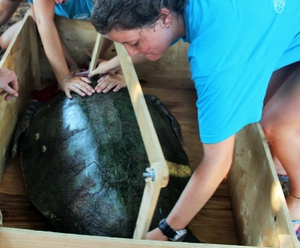 The turtle, an incredibly large male with measurements of a 90.5 cm curved carapace length and 64 cm tail, is one of the largest ever experienced by Wildlife Sense. Previous research on Mediterranean turtles by Casale et al. (2011) indicates the turtle to be very old – perhaps up to 60 years of age! The "grandpa" turtle is now being carefully fed a fish diet high in oils and under close examination. Meanwhile, the whole team are busy hoping the line and possible hook with be successfully passed until further assessment.

Written by Sophie Mayes