Our first nest of the 2015 season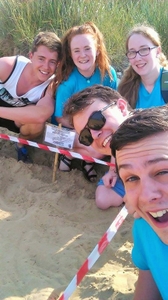 Our first nest of the season was found early this morning (2 June 2015) by our research team on Megali Ammos beach. This beach has always been a popular beach for sea turtle nesting so it comes as no surprise that she had chosen to lay her eggs on this beach out of the others in the area. Last year we had a total of 7 nests laid on Megali Ammos and 21 in the Svoronata area alone. As mating season now comes to a close, nesting season will slowly begin to pick up with more and more nests laid every week, until it peaks around mid-July.
To add to the excitement, our field station in Lixouri has also seen 5 non-nesting emergences thus far on Megas Lakkos. A sea turtle will usually emerge out of the sea up to three times before finding a suitable location for her eggs and therefore, on average, we expect a nest one out of three emergences. With this in mind, we expect to see a nest in the very soon on this beach or in the surrounding area.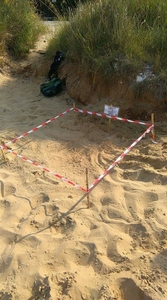 This year we are patrolling several more nesting beaches around the Island so stay tuned for more nesting news!