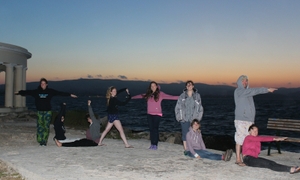 It's that time of year again. We've spent all winter waiting for this moment, lining up the bamboo sticks and gathering marker tape. Summer has begun here in Kefalonia, and with it the sea turtle nesting season! Volunteers of many nationalities including Chinese, Dutch, German, American, French, Irish and British, have flocked to the island to help us kickstart the 2014 turtle season.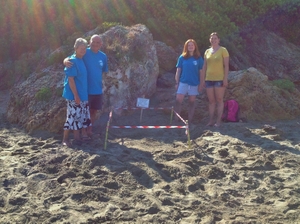 We have returned in force this year and can once again be found performing daily morning surveys on many Kefalonian beaches. We have continued to regularly monitor all 15 beaches from last year, and as a new addition to this year's season we have extended these patrols to include another Lixouri beach, Xi Beach. These daily morning surveys have already yielded great results with volunteers finding evidence of 21 loggerhead emergences onto land, including 5 successful nests. We aim to protect the nests we find as best as we can as it's important to give the developing embryos the best chance of survival. As the nesting season continues we can expect these morning surveys to continue to yield yet more evidence of successful and unsuccessful nests.
We are also continuing with our beach profile shifts, where we measure the physical changes to the nesting beaches between last summer and this summer, as well as the smaller changes that could be observed over the course of the summer season.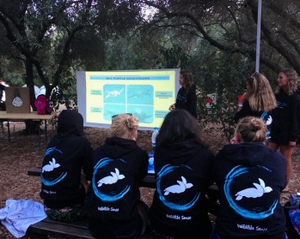 We can also once again be found patrolling the Argostoli Harbour where we record data on the behavioural activities of the resident loggerhead sea turtles. This constitutes a very interesting and exciting part of our research as it is very rare to be able to monitor loggerhead social interaction in the wild. We have also begun the process of photographic identification as a means of calculating how many loggerheads frequent the harbour, and to establish which turtles are more prone to specific behavioural displays.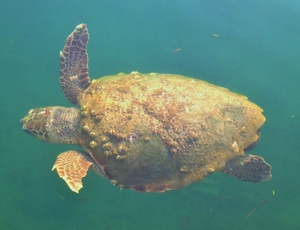 Our light pollution surveys have also been critical to our understanding of how vulnerable nesting females and hatchlings are to beachfront development. On these surveys we measure the intensity of light pollution at various points on the different beaches. By continuing these surveys throughout the summer we hope to be able to detect changes to the intensity of light pollution.
Overall our, first two weeks of conservation here in Kefalonia have set a precedent for the summer to come. We expect the 2014 season to be bigger and better than last year!
Written by: Laura Bartlett-Short