Over 50 nests and still counting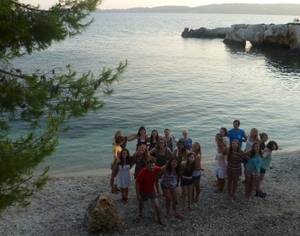 This week has marked a momentous occasion for Wildlife Sense – our fiftieth nest! With exactly 52 nests now located and protected on our beaches, we have exceeded last years' figures and are on our way for setting a new benchmark for next years' nesting season. The Lixourian area has been the most successful nesting region so far, closely followed by the Avithos and Airport areas respectively. With nesting season continuing into August, bets are busy being placed to predict the total number of nests for this year!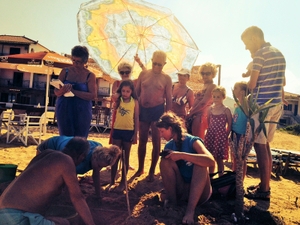 One of the highlights this week has been a relocation performed by the Wildlife Sense team and two of our valuable local volunteers, Mike and Shirley Ogden. Mike and Shirley, whom regularly patrol the beaches around the airport area, successfully identified an extended body pit and possible nest early this week. Together, with the additional support of some local residents, the nest was located before being deemed suitable for an immediate relocation. Whilst Wildlife Senses' main aim is to perform as natural conservation as possible, some particular situations require intervention to give the hatchings the best chance of success. Some examples of when relocations may occur include when the nest is too close to sea and therefore at high risk of inundation, or when we find the top of the egg chamber too close to the beach level. In both of these situations, the conditions may compromise gaseous exchange and embryogenesis, unless the eggs are relocated to an alternative incubation site. However in this particular situation, the relocation was performed due to the sand possessing very high clay content. As shown in a study by Marco et al. (2014), clay content of more than 0.15% can significantly impair embryonic development and reduce consequential hatching success. Therefore an egg chamber of identical dimensions was constructed at a more suitable location and the eggs were swiftly transferred to safely incubate in their new chamber.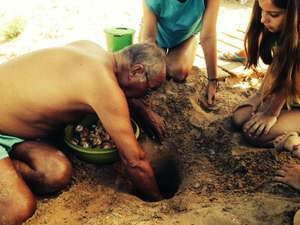 Further news from last week includes the rescue of a large male turtle from Argostoli harbour on Saturday 19th July. With a line found protruding from the turtle's cloaca, the large male is under close examination and care, awaiting the hopeful passing of the line and further assessment. In other news, we have unfortunately been experiencing some vandalism in Lixouri with some removal of nest protection erected by our volunteers on morning survey. However, amazingly we have been finding restoration of the nest signs and bamboo protection. This is a really promising sign and indicates that despite some negativity, we do have great local support on the beaches. Hopefully we will soon begin to see the vandalism decline and the continuation of protection in this incredibly successful nesting area.
Written by Sophie Mayes