Protecting sea turtle nests near Lixouri
I have been volunteering with Wildlife Sense for many weeks now, having made contact with Nikos and after attending an interesting and informative talk by Chanel and Nikos on Caretta caretta conservation earlier in the season.
It had always been my intention to check my local beaches as I visit the area most years and spend some of my time in Lixouri. The remainder of my time is spent teaching science in England.
The first nest found at Xi beach was on June 10th. With the help of two volunteers and Nikos' expertise we located a nest to the back of the beach. Many false swims later and a few abandoned egg chambers, we have found a further three nests to date on Mega Lakkos beach. All the nests are situated at the back of the beach and away from any possible light pollution from local tavernas.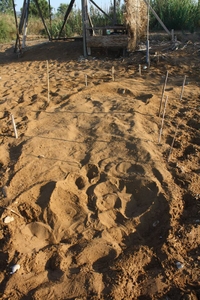 The sea level can be quite changeable here and some of the false crawls and abandoned chambers may be down to the clay extending underneath the sand as the females dig down as well as the changing length of beach.
My time as a volunteer has been very informative and enjoyable. The 'buzz' of uncovering a new nest is great, after all, these females are returning to their natal beach after many years. I have learnt a great deal about the ecology of these animals. It is still a challenge to decide whether a female has actually nested since each crawl and swim is unique. Nikos and Chanel are always on hand to give advice however.
I like to think that we humans are borrowing the beach off these ancient reptiles, it is their natural habitat. With this in mind we need to respect these areas and ensure that future generations can realise how important it is to conserve this species. Education has to be the way forward.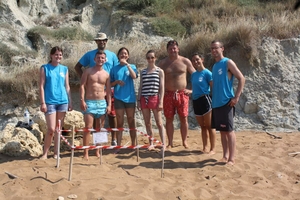 I would recommend any young student to spend some time with Wildlife Sense, although my experience means you are never too old to contribute to the conservation of this endangered species.
by Phill Davison