Rescued sea turtle nest hatched!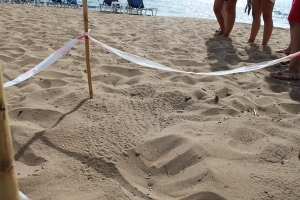 Every time a sea turtle nest is due to hatch, we are all eager with expectation and hope; it is the combined result of the effort of an endangered species migrating to Kefalonia to reproduce, and our team of Wildlife Sense researchers putting an impressive amount of science-backed work to make sure every nest is protected. But for this nest, the eagerness was a little bit stronger.
The last nest for the season in Ammes beach was not found by the surveying team, because it was laid so close to the sea that the tracks had been covered by the waves; It was, however, found by two cousins who informed our team and the nest was relocated to safety.
But how long had the eggs been there? And was the relocation successful? We had to wait for almost two months to find out.
Moving sea turtle eggs to a safer location requires special training and can only be done by licensed researchers. But all relocations must be performed very soon after the nest was laid. After the first morning, all relocations carry a much greater risk, because the embryos have already started developing.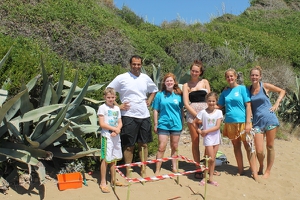 There was no doubt that this emergency relocation was required. The waves were reaching very close to the eggs while our team was placing them into the special relocation container. A few hours later, they would be washed into the sea. Only a few days later, the part of the beach where it was found was simply not there; it had been washed into the sea.
Our waiting ended near the end of September, when our teams first saw little hatchling tracks coming out of the nest and heading into the sea. After a few days of more hatchling tracks, our team excavated the nest to see exactly how many eggs had hatched. It turns out the success was very satisfying: 57 out of 73 eggs had hatched, a rate better than a naturally incubating nest. They made it because Jude and Emmie found them.