Sea turtle Artemis to return to Kefalonia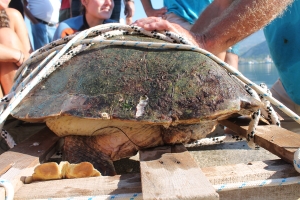 Artemis, the sea turtle that was recently found with a fishing line in her intestines in Argostoli has been successfully rehabilitated at the Sea Turtle Rescue Centre in Athens. She will soon return to Kefalonia to be released back into the sea.
Wildlife Sense volunteers on the turtle observation patrol first observed the turtle having a fishing line near her cloaca on September 27th. Two days later, she was captured for closer examination. The fishing line was not trapped around her cloaca, as it was initially believed, but it was protruding out of her cloaca and possibly ran through a length of her intestines. In contact with staff from the Rescue Centre, it was decided that the fishing line was dangerous for her health and she should be sent to Athens for further examination.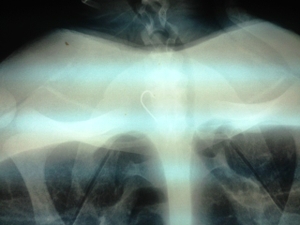 We drove Artemis to ARCHELON's Sea Turtle Rescue Centre and delivered her to the expert hands of Pavlos Tsaros and the Centre's team of volunteers. Soon after, we learned that she not only had a fishing line in her gut, but the x-ray clearly showed that she had swallowed the line together with two fishing hooks, one of which was in her intestine and the other one hooked in her esophagus.
It took two surgical operations to remove the fishing hooks, but both were successful. However, the fishing line remained a danger. The fishing line cannot be seen in an x-ray, so the turtle was fed with special oils in the hope they would help the fishing line move down the turtle's intestine and out of her cloaca.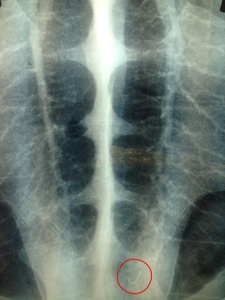 One week later, her care-takers noticed that the line indeed started coming out of the cloaca; they didn't pull it out, as this cause damage to her intestines, but instead waited patiently. Not long after, the fishing line was entirely outside the turtle's intestines, leaving her clear of fishing gear.
Artemis will remain in rehabilitation for a few more days. At the Sea Turtle Rescue Centre, the volunteers feed her daily and keep a close eye for any complications, but so far she has been recovering strongly and will soon be ready to return to the seas. She will be released in one of the beaches of Kefalonia in the first week of December.