Sea turtle beach case goes to European Court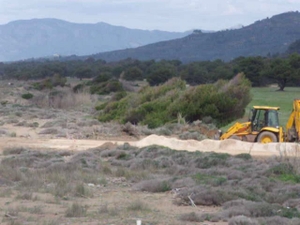 The European Commission is filing a case against the state of Greece to the European Court of Justice for its failure to protect sea turtles. In particular, for its failure to provide effective protection for sea turtles and their nesting habitat in Southern Kyparissia Bay, which is a major sea turtle nesting area in the Mediterranean Sea. This decision was taken after a series of letters and warnings by the Commission to the Greek Government and its Ministry of Environment failed to encourage Greece to fulfill its obligations towards protecting sea turtles.
Although Greek environmental legislation is open to interpretation with regard to the state's obligations, European legislation clearly specifies that member states have to take all action necessary to effectively protect, prevent damage to, or even restore the conservation status of endangered species and protected habitats. Under European Law, the Greek Government is not only responsible for enforcing environmental law; it is also obliged to preven any development or activity that may cause deterioration or damage to the sea turtles' habitat.
Sea turtle nesting beaches are particularly vulnerable, because sea turtles can easily be discouraged from nesting by light pollution, vibrations, vehicles and humans on or near the nesting beaches, speed-boats in the sea and other sources of disturbance. In addition, the alteration of sand dunes can alter their nesting habitat so that it may no longer be suitable for the successful incubation of the eggs, while sea turtle hatchlings may no longer be able to find the sea and swim to the open sea before they dehydrate, their nutrients are exhausted, or they are found and eaten by predators.
While deterioration of the nesting habitat in Southern Kyparissia Bay has been recorded for more than two decades, a large-scale develpment plan, for which conservation groups had not been informed, was uncovered in early 2011. At the time, illegal roads providing access to the nesting beach appeared, and further investigations revealed plans for the construction of more than 50 luxury residences behind the core nesting beach, which is also a protected Natura 2000 zone.
While the development plans were never approved by relevant authorities, illegal works to prepare the area for this construction have continued with informal lobbying and pressure to the Ministry of Environment continuing with the goal to have this destructive construction plan approved.
The European Commission, with reports from several sea turtle conservation groups and interested individuals, is determined to not allow Greece to succumb to pressure that may eventually result in the irreparable deterioration of one of the most important sea turtle nesting areas in the Mediterranean Sea and in Europe. With this move, unless the Greek Government takes clear steps to prevent further damage to Southern Kyparissia Bay, a conviction will result in heavy financial penalties that would surpass the cost of effectively protecting this important habitat. This would make excuses for lack of funds often referenced by the Greek Government irrelevant.
For more information:
http://europa.eu/rapid/press-release_IP-14-324_en.htm?locale=en