Sea turtle cleared of fishing line in Argostoli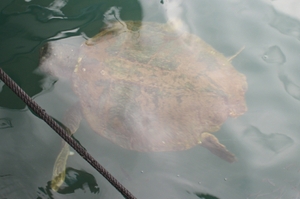 After a long operation involving many volunteers, interested visitors, and local fishermen, a male sea turtle swimming in the bay of Argostoli, named Hercules, was successfully released from a long piece of fishing line and a fishing hook this morning.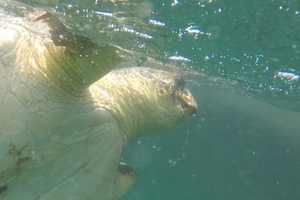 The turtle was initially seen with fishing line trailing behind it two days ago. Our team was initially deployed in the harbour on Wednesday morning to spot it again, but the turtle was one of the shy ones that visit the harbour briefly and then quickly swim away, so members of our team only saw the turtle on two occasions more than two hours apart. Initial observations and photographs showed that the turtle indeed had fishing line wrapped around its flippers. Although the turtle was not in immediate distress, it was not possible to tell whether the turtle had swallowed part of the fishing line. This, along with the danger of the line being trapped on a large object and causing the turtle to be trapped or heavily injured led to our decision to continue looking for the turtle.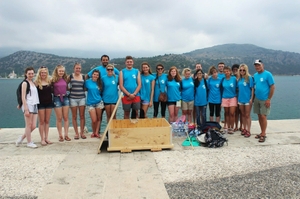 The turtle was spotted again early this morning, and this time our experienced swimmers swam in the water, guided to possible spotting sites by more than fifteen volunteers, visitors, and local fishermen observing the water from the harbour. The turtle was briefly spotted and observed at 9:30am, but was able to quickly swim away and escape.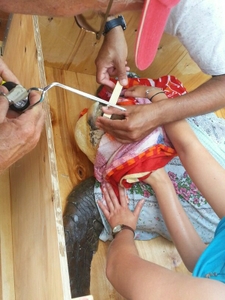 The turtle was spotted again around 11am and no time was spared. Our swimmers quickly caught the turtle and guided it to the surface. There, the turtle was held safely so it could not swim away, and was initially examined in the water. We managed to remove the fishing line that was wrapped around its flippers, but soon observed that one piece of the line was ending inside the turtle's mouth. This part possibly included a fishing hook, so we decided to move the turtle out of the water for further examination.
With the help of our sea turtle transportation container, we moved the turtle to our base. There, our local volunteer and human and animal first aid expert Peter Lee carefully examined the fishing line and managed to remove the fishing hook and the remaining fishing line. Due to the turtle's size and strength, our volunteers named the rescued sea turtle Hercules. After measuring his various dimensions for our biological information system, we transported Hercules back to the Harbour, where a small crowd cheered for his release and wished him many healthy years free of more troubles.