A sea turtle nest on Lourdas beach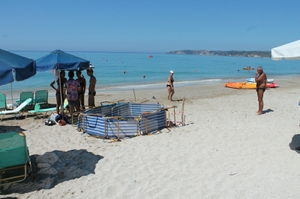 Yesterday morning we found and protected a sea turtle nest on Lourdas beach of Kefalonia with the Wildlife Sense researchers team. Workers on nearby restaurants had seen the turtle during the previous night and observed it from a distance instead of approacing it. The turtle was able to lay her eggs in the sand and return to the sea after about one and a half hour.
On the following morning we arrived at hte spot and were able to quickly identify the exact location of the turtle's eggs in the sand, at a depth of 32cm below the surface. At this depth, the sand has a suitable moderate temperature and moisture for the eggs to incubate until they hatch.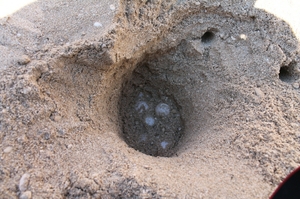 With the help of the father and son who operate the sunbeds near the nest, who placed protective stakes in the sand and removed the closest sunbeds and umbrellas, we marked the nest with red and white tape and an informative sign so that visitors will know this is a sea turtle nest and to prevent accidental damage that could be caused due to the high number of visitors. Thus the nest is safe and we expect the hatchlings to emerge and crawl to the sea in about 55 days.