Sea turtle nest on Makris Gialos, Kefalonia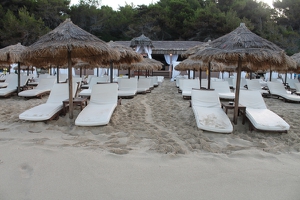 While surveying Makris Gialos, one of the busiest beaches of Kefalonia, our surveying team discovered a very peculiar track. A loggerhead sea turtle had come out on the beach during the previous night and crawled through the narrow corridors among the sunbeds.
The turtle initially crawled through the maze of sunbeds towards the back of the beach, but about halfway up she took a right turn and crawled about 20 metres south. Then she took a left turn and crawled further back, up to the wooden walkway by the beach bar. What she had done there wasn't clear, as there were also human footsteps over the turtle's turning point. After this spot she turned back, took a few more turns and eventually made it back into the sea.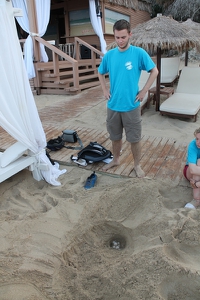 While the possible nesting spot wasn't clear, as part of our procedure, we looked for the eggs on that location to make sure a nest wouldn't be left unprotected on this busy spot. After only a few minutes, and much to our own pleasant surprise, we found her clutch of eggs in the sand, with members of staff from the beach bar also onlooking and taking photographs.
Due to the large number of sunbeds and visitors, the proximity to the beach bar, and its large speakers and spotlights, we decided to relocate the nest to a safer location on the same beach. After creating a replica of the original egg chamber, we transported the eggs to the new location, covered them up, and marked the spot with red & white tape and a nest sign.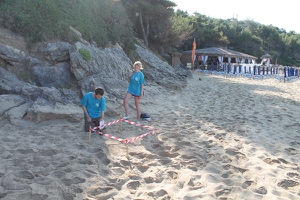 We are looking forward to seeing the hatchling marks going towards the sea in seven to eight weeks!