Sea turtle nest witnessed by tourists in Avithos, Kefalonia
Local and foreign visitors on the beach of Avithos yesterday afternoon had the opportunity to witness the verification and protection of a loggerhead sea turtle nest.
The nest had been laid by a mother turtle during the previous night, and the surveying team of Wildlife Sense had found its tracks the following morning. The nest had to be located and verified so that it could be marked to avoid any accidental damage. The nest area was temporarily marked with bamboo posts and string, and the team returned later during the afternoon to locate the precise location, confirm the presence of sea turtle eggs, and protect them.
With tens of surprised visitors and their cameras watching, and with the narration of the procedure by the team's leader, the researchers located the nest, took the necessary measurements, marked the nest and added a sign with some extra information, so that the incubating nest and the beach visitors can safely share the beach.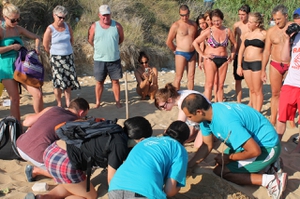 Little hatchlings will emerge from this nest in seven to eight weeks. To make it to the sea, the nest must remain protected and undisturbed, while strong lights and vibrations must be avoided during the nights the hatchlings emerge from the nest.