Sea turtle rescued from fishing line in Sami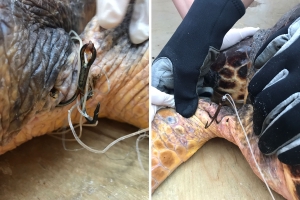 This evening our team rescued a sea turtle trapped on a fishing line with two hooks in Sami. The male loggerhead had one large trebble hook under each flipper and a thick fishing line was keeping the turtle from swimming away. The end of the fishing line was attached to an empty water bottle, which is a common ad-hoc contraption used to catch octopus.
Workers at "Adonis" restaurant observed the turtle struggling and called the authorities, who then notified us. Our team quickly drove there from Argostoli. We caught the turtle and moved it into our specially constructed container, where the team was able to remove both hooks, tag and measure the turtle, and after a thorough examination release it back into the water.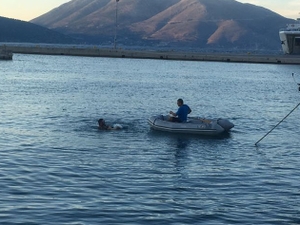 Locals informed us that the port of Sami, like many others, is full of abandoned fishing lines and hooks, which can be a deadly trap. These lines cause multiple sea turtle injuries and deaths each year, so it's important to not use such gear near areas where turtles or humans may swim.
This turtle was lucky and got away with minor injuries. We hope to not see it in trouble again.