Sea turtle stranding on Avithos Beach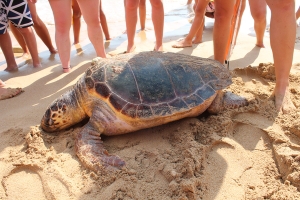 A female loggerhead sea turtle was washed ashore on the busiest section of Avithos beach last Thursday afternoon. The Wildlife Sense team were alerted to the situation by the local lifeguard on duty, and the port police and local municipality were also informed.
Upon arrival we examined the turtle thoroughly and concluded that she had recently died, with the cause of death unclear. She was missing her back right flipper, and although this substantial injury alone may have caused her death, it is also possible that she could have became entangled in fishing gear at sea and drowned prior to the loss of her flipper.
It is not clear whether this was one of the turtles that frequents the Argostoli harbour, however with the aid of our developing identification program we may be able to confirm this which could indicate that she may have been nesting on the surrounding beaches.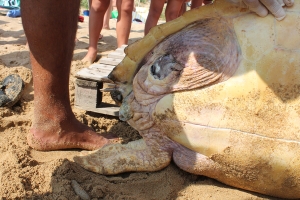 Wildlife Sense would like to thank all of the staff and tourists on Avithos beach for their prompt and helpful nature at the time of the stranding.
Written by Laura Bartlett-Short
Edited by Rachel Byrne