Sea turtle stranding on Fanari Beach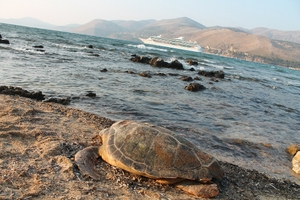 On Thursday afternoon a group of Wildlife Sense volunteers were alerted to the presence of an injured loggerhead sea turtle just off the shores of Fanari Beach, near the Argostoli Harbor. The turtle, a male approximately 40 years old, had a large cut down the left side of its carapace, leaving much of its internal organs exposed to the elements. This type of injury is typically caused by collisions with the propeller blades of boats (boat strikes), and in the Argostoli Bay there is no shortage of these large boats.
The volunteers quickly brought the turtle closer to shore and former paramedic and local volunteer, Peter Lee, raced to the scene to perform a more detailed assessment of the injured animal. It was determined that it had in fact been dead for several hours prior to its discovery. The turtle was brought ashore and measurements of the carapace and head were recorded. The port police were called and they swiftly arrived to conduct their own assessment of the turtle. Its body was later removed from the beach following consultation with the local municipality.
The death of this turtle is especially poignant as it is estimated that only one in one thousand turtle hatchlings will survive to adulthood, therefore every adult death strikes another blow to the already endangered population.
In spite of the tragic nature of the situation the Wildlife Sense team operated swiftly and effectively to ensure all the proper procedures were carried out. Unfortunately, there was not much that could be done for this turtle, but the outstanding teamwork shown by the volunteer team inspires us to believe in a more positive outcome should this happen again. Fingers crossed it won't.
by Laura Bartlett-Short