September 19 hatching update: More inundations as the hatchling season wanes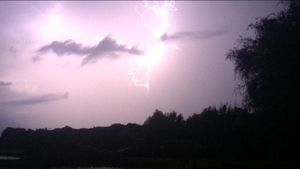 Stormy weather in Lixouri has had a massive impact on nests on all three beach areas. All nests in Megas Lakkos were flooded by storm surges and some nests had to be relocated to move them further away from the high tides. The team members all worked very hard to ensure this could be done as quickly as possible to minimise the impacts of flooding. Sadly, not all relocations were successful as at one nest many turtle hatchlings were drowned in the middle of the night. However, there has been good news concerning hatching nests. As a team we make sure to survey the beaches each morning. We realise how important this is as we occasionally come across wild nests. This was the case last week when two volunteers were surveying Vatsa beach. The nest is now protected and is being monitored each night. When carrying out an inventory on Megas Lakkos, one group came across unhatched turtle eggs which have been successfully relocated. Hopefully these two eggs will hatch in the next week!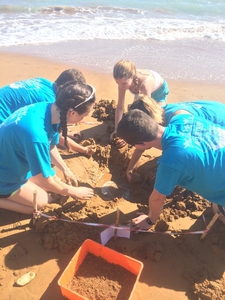 This week in Skala we had a helping hand with morning survey and boxing shifts from Natalie – a field assistant in Argostoli. In return we were more than happy to give her a tour of Skala! During her stay, we also went snorkelling one afternoon where we were lucky enough to see an adult female sea turtle. It was safe to say this made her stay complete.
The previous night was also very eventful. Whilst boxing one of our nests on Skala beach because of the high levels of light pollution, we saw 23 hatchlings emerge at 5.30am. Generally we have seen hatchlings emerge much earlier in the night so it was quite a surprise to see so many so early in the morning!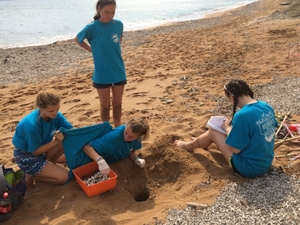 We have also been busy with inventories this week, having two in one day on Spithi beach. Both had plenty of live hatchlings which we placed in our trench in the cool damp sand and helped to sea. All made it down the trench successfully and swam out to sea. This was such a relief to see as it appears neither had been negatively affected by the huge storms last week!
The end of this week finished on a massive high for the team whilst conducting the nest inventory on SK8R. This nest had been relocated as soon as it was identified earlier in the season because the distance to sea was less than 10m, putting it at increased risk of inundation. From the relocation, we knew there were 123 eggs within the eggchamber. Unfortunately this nest had to be boxed due to light pollution on the beach, and we had seen 103 hatchlings emerge from it, some of which we successfully conducted hatchling orientation experiments on. However, when we came to do the inventory, we recorded 123 hatched eggs giving us our first nest with 100% hatching and emergence success! This is very unusual for sea turtle nests and made our team extremely happy!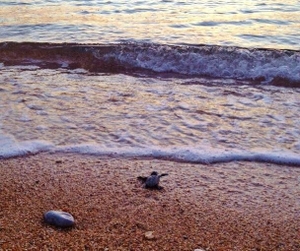 Next week will hopefully see the start of one of our last nests on Skala SK9 beginning to hatch, so the team look forward to the prospect of more hatchlings! Also, we are very excited as many of our family members are visiting in the next couple of weeks and we can't wait to show them the work we are doing and hopefully they can see some turtles!