September 4 nesting update: Rescuing hatchlings from light pollution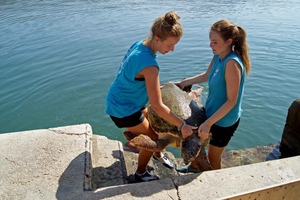 With the nesting season over for another year, we have had a week full of nest inventories and boxing shifts in Argostoli. So far we have assisted 435 hatchlings on their journey to the sea because of artificial light pollution on our beaches. With just under 50% of our nests still incubating this number is sure to rise as we see an increase of bright lights on nesting beaches.
Inventories are well underway here in #TeamArgostoli with 33% of nests already inventoried this season. Not only do inventories allow us to collect important developmental data of the embryos and free trapped hatchlings but also allows us to calculate each nests hatching and emergence success rates. Hatching success of a nest means how many hatchlings hatched out of the total number of eggs within the nest. Whereas emergence success refers to how many hatchlings successfully emerge from the nest, as not all hatchlings that break out of their shell are able to climb out of the sand.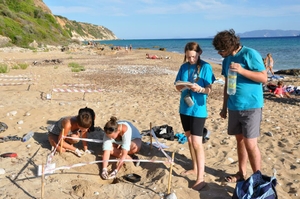 We have also had a stranded turtle wash up on Fanari beach with a large boat strike. This only further stresses the importance of harbour patrols, which allows us to conduct visual health checks every morning. This week Artemis found herself biting off more than she could chew in the form of a fishing net, which was spotted by the team trailing out of her mouth. Thanks to the combined efforts of the crew and a local fisherman the net was removed.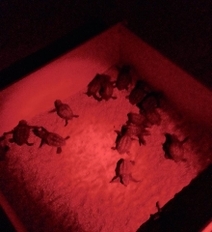 During a scheduled tagging event we were able to remove Argostoli's most infamous females Artemis and Barb to collect updated measurements as well as conduct more thorough health checks, considering both of their fondness for fishing equipment! We are happy to report that they were both given the all clear and are now back to dominating the harbour.
It's an exciting time here in Lixouri as hatching season is now in full swing, with new hatchlings emerging almost every night. We are regularly finding dipping and hatchling tracks during morning surveys and one relocated nest on Megas Lakkos (ML10R) was found with 30 hatchling tracks!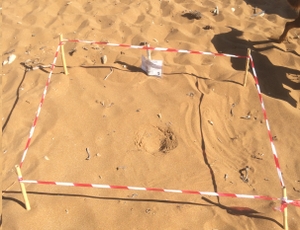 Boxing shifts are taking place nightly on Megas Lakkos and Kounopetra. These involve placing a box over the centre of the nest to catch any emerging hatchlings and any that do emerge are placed into a trench to the sea. This is due to the large amount of light pollution on these beaches and the boxes prevent the hatchlings from heading in the wrong direction towards other bright lights on the beach. One team at Kounopetra had a very busing boxing shift, with a whopping 38 hatchlings emerging all at once!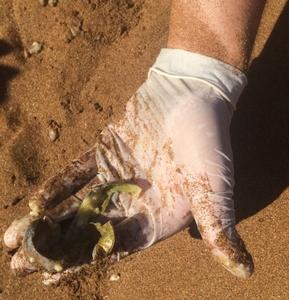 The time for inventories is now also underway. We carry out inventories on nests that have reached the point where they are showing very little activity, which is usually 7 days after hatching. Upon digging up ML7 (a nest on Megas Lakkos), we found 6 live turtles under the sand and were able to help these safely make their way to the sea. We still have plenty more nests that we are waiting to hatch so the excitement should continue for a few more weeks!
The Skala team have been very busy this week with lots of inventories to be done after many of our nests hatching in the last ten days. Each nest has had a high success rate which means that each inventory that's been conducted has been a 7 day inventory. The alternative would be a 70 day inventory which occurs when we have no hatchlings at all emerging from the nests.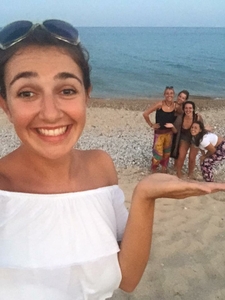 Whilst conducting the inventory on SK6R, many members of the public were present who took a lot of interest in what we were doing and we were more than happy to answer any questions they had. We also had other matters to deal whilst excavating the nest when SK7 started hatching which was an amazing opportunity for the people watching to see babies making their way to sea. They also proved very helpful as they were able to help shade the hatchlings from the burning sun which can sometimes be a challenge.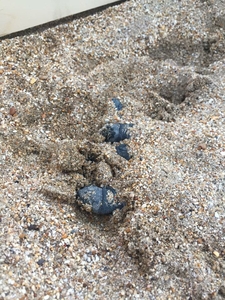 Due to SK7 hatching, this meant boxing shifts occurred all week with hatchlings emerging each night. This was a great opportunity for us to continue the hatchling orientation experiment which we have been conducting where we investigate how much the light pollution from the street lamps affects the direction the baby turtles go once they emerge from the nest!
On Tuesday we had the fantastic opportunity to be involved in a tagging day in Argostoli harbour where we measured the turtles, conducted a health check and microchipped two of our well known turtles Barb and Artemis. The day was very successful and a lot of experience was gained!
On a sadder note, we had to say goodbye to one of our most valued team members Bekki, who has been here since June. She made her mark by discovering a large number of our nests and was fortunate to see them all the way through to hatching in August and the start of September. She will most definitely be missed and we wish her the best of luck on next adventures!