A summary of Argostoli area sea turtle conservation for 2015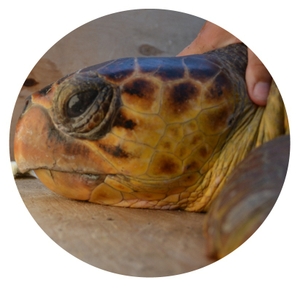 Two species of sea turtles can be found in Kefalonia- the Loggerhead (Caretta caretta) and the green (Chelonia mydas). Only the Loggerhead has been documented to nest on the island whilst both are recorded to forage.
In 2015, #TeamArgostoli had 40 loggerhead sea turtle nests and 137 false crawls. The first nesting activity was documented on the 31st May and the last on the 18th August.
Our surveys
Morning survey- Beaches in the Lassi, Airport and Avithos area were monitored daily from 31st May, 2015. Patrols were completed by bicycle, beginning at dawn. All nests were confirmed by locating the top egg at the nesting site and then protected. Seven days after the first day of hatching, nests were inventoried and all protection removed. If there had not been any emergences report, nests were inventoried seventy days after being laid.
Harbour patrol- Argostoli harbour was monitored daily from 31st May, 2015, beginning 7.30am till 12.30pm. Here patrolling teams recorded foraging and behavioral activity of the sea turtles found in the harbour as well as performing visual health checks. Project coordinators and researchers conducted scheduled tagging events; here 21 loggerhead turtles were tagged by Inconel and passive integrated transponder (PIT) tags. The front left and right flippers were Inconel tags and the front left using a PIT tag.
Light pollution- Light pollution surveys were conducted once a week throughout nesting and hatching season, beginning the 2nd June 2015. Using a monitor produced by Wildlife Sense we were able to record light readings every 40metres along all of our beaches. Individual risk assessments were also carried out for each incubating nest. Although not included in relocation criteria, light pollution was considered when finding a suitable relocation site.
Boxing surveys- Boxing surveys were carried out every night on nests considered at risk to light pollution after 45 days of incubation or the night after the first report of misorientation or disorientation. So far 55% of our nests have had to be boxed which has allowed us to assist over 500 hatchlings on their journey to the sea.
Results
Of the 40 confirmed nests, 1 was in the Lassi area, 23 in the Airport area and 16 in the Avithos area. The first recorded nest was 2nd June on Megali Ammos and the last on the 14th August 2015 on Ammes beach, both in the Airport area. Although nesting occurred throughout this time, the peak nesting activity was between 5th-11th July. 29 of our nests were relocated due to natural threats such as close proximity to the sea and small distance from top egg to beach level.
The mean clutch has been calculated so far at 94 eggs per nest. With an average incubation period was 54 days for nests with known lay dates .
Wildlife Sense would like to thank all of our researchers, island volunteers and locals who tirelessly throughout the season- without your ongoing support we would not be able to protect Kefalonia's sea turtles from extinction. Our final report will be released early 2016.