A summary of Argostoli area sea turtle conservation for 2016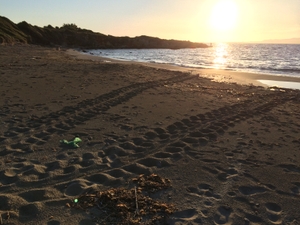 Overview
Two species of sea turtle are found around the island of Kefalonia. So far our nesting population consists of only Loggerhead sea turtles (Caretta caretta), however, Green sea turtles (Chelonia mydas) are known to forage around the island. This year green turtles were spotted foraging in the Argostoli Harbour on 3 separate occasions.
This year, 2016, has been a busy one, #TeamArgostoli have recorded 85 loggerhead sea turtle nests, more than double last year's count! In total, 409 female turtle emergences were recorded. The first nesting activity was recorded on 15th May with the first nest being protected on 17th May. The last nest in the Argostoli area was recorded on 17th August.
Morning Surveys, Nest Protection and Nest Success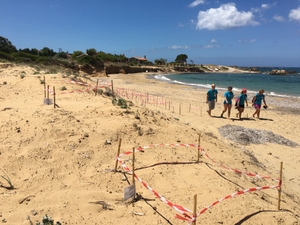 Team Argostoli patrols three nesting areas; Lassi, Airport and Avithos, a total of 11 beaches. These beaches were patrolled daily from mid-May until late October. The team began at dawn, cycling to the beaches in order to record female emergences and to locate and protect nests. Nests were confirmed by finding the top egg at each site and then protected using a 1.2 x 1.2m square area.
Some of our nests had to be relocated due to natural threats such as a nest being too shallow or laid too close to sea. Nests may also be relocated if they are at risk of disturbance, such as when they are laid in the middle of sunbeds! Throughout the season, Kefalonia has also been exposed to several storms. This year many of our nests had to be moved during the storms due to a high sea level and water table but also due to clay run-off and inshore water problems. In total, 65 nests were relocated to offer further protection.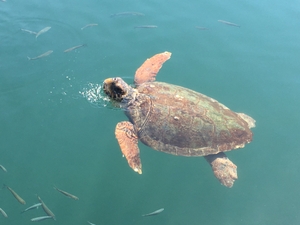 From 1st July, morning survey teams were also on the lookout for hatchling tracks whilst patrolling the beaches. The first hatching activity was recorded on 1st August, from MA1, the first nest laid on Megali Ammos. Seven days after the first hatching activity was recorded, nests were inventoried. Inventories allow the team to assess the success of each nest as well as to interpret why some eggs failed to hatch. If no nesting activity was recorded, nests were inventoried after seventy days. So far, 76 out of 83 nests have successfully hatched, with an average hatching success of 67%. As of 21st October 2016, the Argostoli area has one nest currently hatching and one still to hatch. On average there have been 88 eggs per clutch with an average incubation period of 55 days.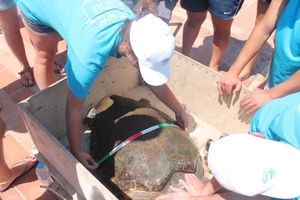 Light Pollution Surveys
Light pollution from nearby hotels, beach bars and restaurants is a big problem for hatching sea turtle nests. Hatchlings will emerge and follow the brightest light in order to get to sea; normally this should be the moon's reflection on the sea, not a spotlight at the back of the beach. To determine whether or not beaches were at risk, light pollution surveys of the whole beach were conducted approximately once a fortnight. Individual risk assessments for nests were calculated at 40 days incubation, determining whether or not a hatchling rescue shift would be required.
Hatchling Rescue
Unfortunately, six of our nesting beaches suffered this year from excess light flooding the nests. Therefore, night shifts were carried out to protect hatchlings and guide them safely to sea. A hatchling rescue team placed a box over a hatching nest to ensure hatchlings emerge in darkness. The boxes were checked every hour, any hatchlings were then moved to a darker section of beach and allowed to complete their important crawl to sea. This year, 37 nests have been protected at night and over 700 hatchlings guided safely to sea.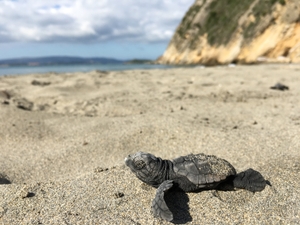 Harbour Patrol
The Argostoli harbour was monitored daily from 31st May until 19th October between 7.30am and 12noon. Whilst at the harbour, team members recorded important data concerning the sea turtles foraging behaviour as well as conducting visual health checks. We conducted 48 full physicals of turtles. Twelve turtles were rescued this year after becoming entangled in fishing lines or suffering from boat strikes. Wildlife Sense also held scheduled tagging events throughout the season in order to tag newcomers to the harbour. During a tagging event, important measurements are taken to assess a turtle's growth, age and sexual maturity. Altogether twenty turtles were tagged in the harbour this year.
We would like to thank all our researchers, island volunteers and locals who have helped throughout the season. Without this support, we wouldn't be able to help so many of Kefalonia's beautiful sea turtles!