A summary of Lixouri area sea turtle conservation for 2015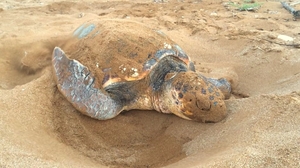 With the final nests in the Lixouri area coming to the end of their incubation period and the last of our hatchlings making their crawl to the sea, it is time to look back at the success of loggerhead sea turtle conservation in Lixouri for 2015.
Teams of between 2 and 6 cycled to the nesting beaches and walked the entire length of the beaches noting any observations on the beaches, tracks from the adult females and protecting nests found for the length of the incubation of the eggs.
Τhree areas within the Paliki region of Kefalonia were monitored every morning by the Lixouri volunteers: Megas Lakkos; which included Megas Lakkos and Xi, Vatsa; which covered both Vatsa bay and Kounopetra and finally Lepeda; which stretched through Lepeda, Kounoupas, Agios Ioannis and Agios Georgios beaches. #TeamLixouri hit the ground running at the beginning of the summer with five emergences recorded on our very first shift at Megas Lakkos. Between 31st May and 5th August 102 emergences were recorded in the Lixouri area, from these emergences 31 nests were found and protected; this means 30% of our emergences from adult females led to a nest. It is typical that not all emergences will lead to a nest as there are many factors that will influence whether a female turtle will choose to lay on each emergence such as light pollution, sand quality, beach width and elevation and any possible disturbances on the beach.
Megas Lakkos proved to be our main nesting beach within the Lixouri area holding 20 loggerhead sea turtle nests which made up 65% of our total nests. To our surprise, and that of the local people in Lixouri, Lepeda beach had 5 nests (16% of the total nests) found over the nesting season. 4 nests (13% of the total nests) were found on Vatsa Bay however just 1 nest (3% of the total nests) was found on Kounopetra beach which lies between Megas Lakkos and Vatsa bay. Nests outside of the Megas Lakkos area created extra excitement as this is the first year these beaches have been surveyed.
Night surveys were also conducted here in Lixouri on Megas Lakkos beach at night in search of nesting female loggerheads. Our primary goals of the night survey shifts were to observe nesting females without causing disturbance; locate and mark their nest, take measurements of their carapace and rear flippers, place tags and take photo identification pictures of the females for scientific research purposes. All turtles were tagged with two external metal tags and microchipped with a passive integrated transponder (PIT) tag. A total of 10 female loggerheads were tagged during night surveys at Megas Lakkos beach. The largest curved carapace length was 86cm and the smallest was 70cm with an average of 80cm. One female was recorded returning to nest on Megas Lakkos for a second time, these nests were laid exactly 2 weeks apart from each other. Two female loggerheads were found on night survey to have been tagged by another conservation group on the Island. As these females had only one external tag placed in their rear flipper, an external metal tag was placed in their front flipper and the turtles were both microchipped.
Upon finding our nests on morning surveys, assessments of the location led to 10 nests being relocated immediately to more suitable locations for incubation. The main reasons for relocations were the distance to sea of less than 10m and the depth of the top egg recorded shallower than 16 cm below beach level, however other reasons for relocation included clay and seaweed within and surrounding the egg chamber and the nest being situated less than 2m to a busy walk way. During the incubation period of the nests a total of 4 required relocating on Megas Lakkos beach due to inundations from storm surges. Nests were identified on morning survey as being at risk and were relocated quickly and efficiently to a higher elevation on the beach where they would not be affected by high waves for the remainder of the incubation period.
Beach profile shifts were conducted by volunteers 3 times a week on Megas Lakkos and Vatsa. The data recorded from these shifts are vital to highlight the extent that our beaches can change due to storms throughout the season such as beach elevation and beach width. The results of this data highlight that although nests may appear to be located suitably on the beach, this suitability can quickly change with storms and high tides and may require relocating.
Not only do our nests require protection from natural weather causes, during the hatching period, the nests also required protection from the anthropogenic problem of artificial light pollution on the beaches at night. On a boxing shift volunteers place a box over the centre of the nest and every hour check for hatchlings that can be placed at a darker part of the beach to crawl at least 12m to sea in a trench that has been dug for them. Volunteers have worked tirelessly on boxing shifts throughout hatching season to ensure 309 hatchlings made it to sea safely and were not affected by light pollution.
Thanks to the hard work of over 70 volunteers this summer in the Lixouri area over 16 weeks of the project, from finding tracks of nesting females to tracks of hatchlings, we currently hold a hatching success rate of 76%. We hope that this high success rate will continue with our 4 remaining nests.