Two dead sea turtles in Lassi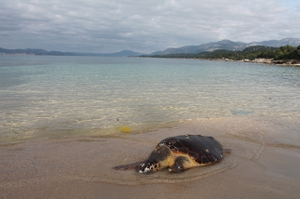 On Monday morning we were came upon the sad sight of two loggerhead sea turtles (Caretta caretta) stranded dead on the beach of Paliostafida of Lassi, Kefalonia.
A local resident informed us about one of the turtles on the beach of Paiostafida. When we arrived at the location to inspect the turtle, though, we found a second dead turtle firhter down the beach. A regular visitor who exercises on the beach every morning informed us that the second turtle had just washed ashore in the last few hours.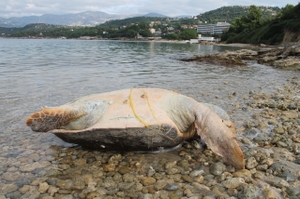 Both turtles belonged to the Caretta caretta species, which is the most commonly found in Greece and the only one that lays nests on the beaches of Kefalonia. They had no sign of injuries on their carapace and plastron or in their mouth and oesophagus. This makes entrapment and suffocation on fishing gillnets the most likely cause of death. One of the two turtles indeed had a piece of torn gillnet stuck on her shell.
Sea turtles swimming in coastal waters often get trapped in fishing gear. According to local fishermen, on nine out of ten occasions the turtle is still alive when the fisherment collect their gillnets and can be released alive. On many occasions though, the turtles are not able to swim to the surface and breathe, and die of suffocation or enter a comatose state.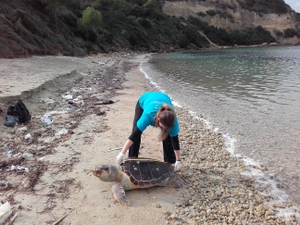 Those turtles could still be resuscitated from the comatose state if kept on board, but many fishermen are not aware of that or are not able to follow the necessary procedure. As a result, together with other less common causes of death, every year more than 400 sea turtles are found stranded dead each year. This is a very significant portion of the regional sea turtle population and makes mortality caused by fishing gear the most significant threat to the survival of sea turtles.
Read this article in Greek at local news sites:
http://www.inkefalonia.gr/koinonia/37575-duo-nekres-thalassies-xelones-stin-paliostafida