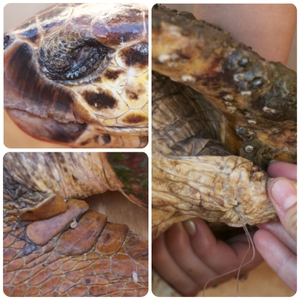 Circe, a small relatively weak turtle found in the Harbor of Argostoli last week (1 September 2014) with a fishing line protruding from of her cloaca. As a reminder, the cloaca is the posterior opening that is serves as a common channel for the intestinal, reproductive, and urinary tracts of all reptiles. When she was taken out of the harbor we noticed immediately that she appeared to be bad condition. Her flippers had leeches on them and she did not have much energy at all. Additionally her carapace had an excess of algae and barnacles on it which can also indicate that the turtle has been moving very slowly and does not feel well.
Upon closer examination, the end of fishing line was not found to simply be coming out of the cloaca; rather it was looped back into her. In all other Wildlife Sense rescues, the end of the fishing line has always been apparent. Additionally, both of Circe's eyes were infected with one not being visible at all.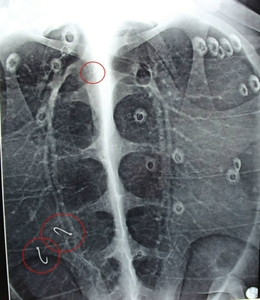 Wildlife Sense contacted their friend Γάκης Μιχάλης from ΙΑΣΙΣ Radiography in Argostoli– who has shown again and again his generosity for the sea turtles of Kefalonia. The x-rays showed three hooks with one in her esophagus and the other two in the lower intestinal track.
She was placed in our freshwater tank donated to us by, Ατσάροσ Παναγήσ Εταιρεια, a local hardware and construction store. This freshwater tank would rid Circe of all marine parasites, such as the leeches on her flippers, as they cannot cope with the difference in salinity for long periods of time.
The next day she was visited by another generous Kefalonian, Dr. Spyridoula Vavasi (Σπυριδούλα Βαβάση), who's veterinary practice is located on Lassis Street in Argostoli (Λάσσης 18, Αργοστόλι). To rehydrate Circe, Dr. Vavasi administered subcutaneous fluids and gave her an antibiotic injection to stem off any bacterial infection Circe may have contracted. Lastly, an antibiotic ointment was applied to both eyes twice a day to cure her eye infection. Upon further examination, Dr. Vavasi, believed that Circe's left eye was in fact atrophic and she would most likely never be able to use it again. With all this news the Wildlife Sense team was ready to turn this poor turtle's luck around and give her the best treatment possible!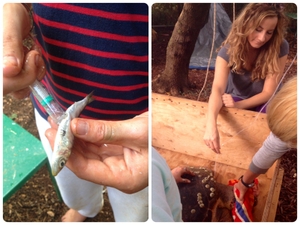 As there was no immediate room for her at the time at the Athens Rescue Centre, we held her for four days. During this time, we medicated her daily and gave her a diet rich in paraffin oil, which would aid in passing the fishing gear Circe ingested. She was easy to please and was happy to have as many Sardines as we could offer her. She was watched around the clock and the line was measure three times a day to see if it was slowly progressing through her digestive system. After two days in the freshwater tank she was parasite free and seemed to be livelier.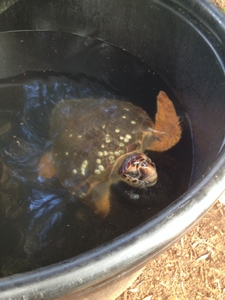 This also gave us time to build a transport box that is a bit smaller than the first turtle rescue box we had built. This smaller box would more easily be admitted by the bus company and allow for her a seamless journey to Athens. By the fourth day the line was longer and she was passing it slowly. She had her last exam and was loaded into the box ready for the KTEL bus journey to the Athens Rescue Centre. She is now at the rescue centre and will hopefully be scheduled for surgery very soon.
As this season comes to an end we would like to thank everyone that has helped with these rescues. It does not go unnoticed and we sincerely appreciate all of your hard work and kindness.