Which way will the hatchlings go?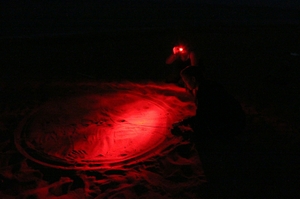 Last night I had the opportunity to spend part of the night on the beach with Rhiannon Grinder and a team of volunteers. Rhiannon is one of our dissertation research students; she is studying the orientation of hatchlings that have just emerged from their nests and are heading for the sea under different levels of light pollution. This is part of Wildlife Sense's continuous research on light pollution and the effects it has on sea turtles.
After hatchlings tear through their eggs and dig up to the surface of the beach, they are looking for the brighest part of the horizon. Under natural conditions, this will lead them straight to the sea where natural ambient light is brightest. Light pollution disrupts this natural cue, and as a result hatchlings from many nests end up lost in the sand dunes instead of crawling to the sea.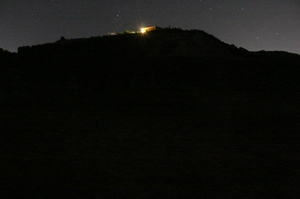 To study their orientation, Rhiannon releases hatchlings at the centre of a cricle drawn on the sand. She then waits for them to crawl to the edge of the circle and measures the direction they crawled to. She also uses our new light measurement instrument to measure light intensity towards that direction. Her data analysis will focus on the correlation of the hatchings' crawling directions and the light intensity on that direction.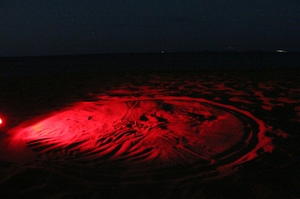 We were able to do the first seven of the experiments just after 1:30am, when the first hatchlings emerged from a nearby nest. We placed the hatchlings in a circular dark container at the centre of the circle drawn on the sand and left them there for three minutes so they could readjust to darkness. We then moved away from the container and carefully lifted it. The location we had chosen last night was one with almost no light pollution at all, which in experimental terminology we would call "control experiment". Because of the darkness we couldn't see the hatchlings and had to wait for another three minutes before we could take a look and see which way they had crawled to. As we expected, the hatchlings had crawled towards the sea.
With these experiments we expect to demonstrate what is already known; that light polluiton causes hatchlings to crawl to the wrong direction. This will help us promote the reduction of light pollution which dominates many of Kefalonia's sea turtle nesting beaches.