Jonny O'Donnell , September 2020
I would like to thank all of the staff at Wildlife Sense for this fantastic opportunity I have undertaken for the past 6 weeks.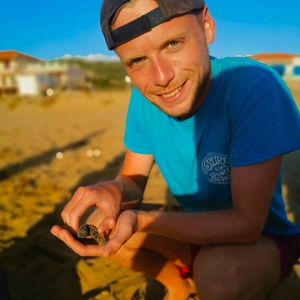 The commitment that is shown to the sea turtle conservation project has enabled me to gain an excellent understanding of the importance of sea turtles, and their interactions with their natural ecosystem, and the need for conservation. I have thoroughly enjoyed every shift in particular; harbour, tagging events, and then successful completion of hatchling rescue, to keep and maintain a healthy and stable population.
I am already looking forward to returning next year and helping to continue with the hard work of conserving the sea turtles.

Pippa Turpin, August 2020
My time here has been more incredible than I would've imagined! I have had many 'firsts' since being here and feel extremely lucky for all the memories. The leaders and other volunteers made me very comfortable and welcome which makes it even harder to leave.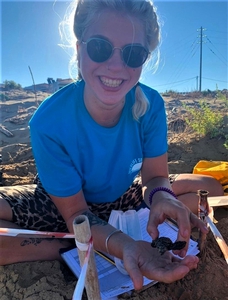 We have enjoyed all aspects of working with Wildlife Sense and hope to go on similar projects in the future. This was my first time abroad flying 'solo', but I couldn't have hoped for a better experience. Getting so close to hatchlings and turtles still feels surreal. I know I have many jealous friends at home! So perhaps some recruits for you next year. I will also miss the complementary fur babies <3
Love, Pip x

Tom Dalton, October 2020
My time at Wildlife Sense has been amazing. I was originally only meant to volunteer for 2 weeks but because of the pivotal work and fantastic team, I decided to stay longer.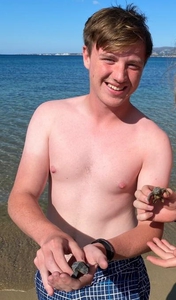 My favourite shift is the light pollution survey. There is something magical about being on a beach during the night, knowing that the research you are conducting will assist in the conservation of this wonderful animal.
My time at Wildlife Sense has really been a journey of education and made even better by friendships.
Thanks, Wildlife Sense!

Abbie Smith, September 2019
I have never enjoyed anything so much in my life. Working with the loggerhead turtles has been amazing and has taught me so much about them and how it also taught me to be a better tourist when visiting these places.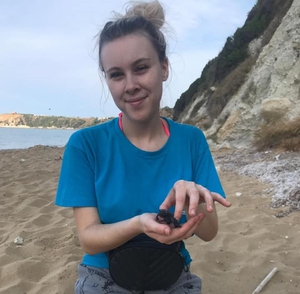 The shift patterns were very good and the hours as well making it not overwhelming in the heat! Everyone is lovely and it makes the journey a lot easier if you were originally nervous.
My highlight of the holiday was swimming a hatchling out to sea and watching it swim into the distance knowing you helped it!
I would like to say a massive thank you to everyone! I will definitely be recommending Wildlife Sense to my university and hopefully, you'll get a lot more volunteers to help with the endless amounts of jobs you have to do!

Kirsty Bryans, August 2019
I can't believe 4 weeks is over and I'm having to leave Lixouri and my hatchling dreams and return to the UK. So much has happened, I've seen so much and I am so grateful to have been part of such an amazing project.
I have met so many incredible people, made some forever friends, and to be able to work with you all has been so much fun. I will never forget my time here and I really hope to be back as soon as possible.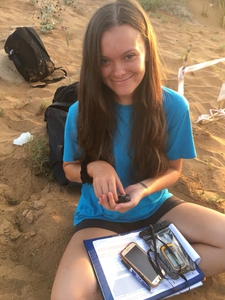 I have loved being able to watch the sunrise over the cliffs whilst looking for hatchling trails on morning shifts, and sleeping on the beaches whilst watching shooting stars and meteor showers on hatchling rescue shifts. I won't be able to recreate anything as special as this experience.
There are so many things from this trip I am going to miss and will always hold close to my heart: the beautiful beaches, the incredible people I have met, jamming to Harry's playlist in the kitchen, Disney and chocolate nights with Sarah and of course the baby turtles!
I am going home knowing I have helped so many hatchlings have the best possible start they can to life, having helped an organisation whose values I truly admire in a field I would love to work in one day! A special thank you to Vatsa as well for showing me I can bike up hills!
Thank you for letting me be part of such a great team. There has been so much laughter through the past month and so many memories made.

Oliva Wiggins, July 2018
I signed up to Wildlife Sense on a whim after seeing volunteers on a past holiday; every day that I have spent here has made me more and more glad that I joined team Lixouri. Choosing a highlight is way too tricky, we've managed to see everything from hatchlings and adult females at night to inventories and tagging events. With each day I have seen and learned something new and this wouldn't have been possible without the help and patience of Harry, Izi and Josh!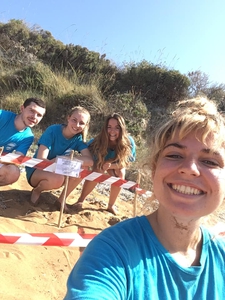 Not only have I had an amazing time working with turtles, but I've also met some wonderful people and explored beautiful Kefalonia. From 'cliff diving' near Assos to being rescued on a group paddling boarding trip. A lot of laughs have been had. I can't wait to hear how the rest of the season goes and how successful the nests we found on morning surveys were!
As sad as I am to leave, I know I'll be back one day (the 5am starts and Vatsa cycles aren't enough to keep me away!)

Kate Morton, Duke University, June 2018
As a biochemistry and political science major, a lot of people have asked me how I ended up here. Honestly, I was looking for conservation volunteer projects and chose this on a whim. Looking back, I've never been happier to take a leap of faith.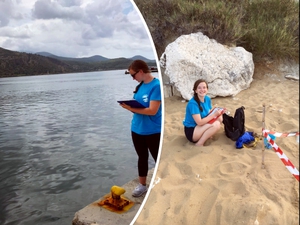 In the past two weeks, I've learned more than I imagined, gained new friends from across the globe, and enjoyed every second of how beautiful Kefalonia and its turtles are.
I think the most memorable day here must have been when I and my team member, David, spotted an entangled turtle from the bridge we could see it was wrapped around his neck and front flipper, preventing him from swimming well. We called it in, kept eyes on him while we waited, and helped perform the disentanglement and health check before letting him go. Nothing felt more rewarding than watching him swim away unrestrained. Even though it was just one turtle, or the nests just seem like one nest, it feels like you're saving the species one step at a time.
Wildlife Sense gave me a once in a lifetime opportunity with people and memories I will never forget. If I could stay I certainly would, but I cannot wait to take everything I learned here home to see who and what I can help there.
To anyone considering coming I would say do it without thinking. You'll have the time of your life and you'll want to come back before you've left.

Jess Dudley, University of Leeds, June 2018
As a medicine student at the University of Leeds, I knew nothing about turtle conservation and decided to do the project as a way to meet new people. However, I feel I gained so much more from the project.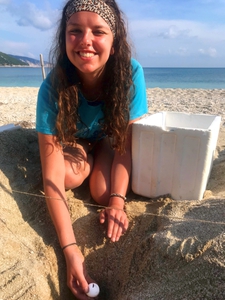 The island and beaches we get to work on are stunning and with lots of sunny days made the project so enjoyable. The people are also fantastic. However, I was surprised by how much I used the conservation part of the project. Digging for nests was really exciting and felt really worthwhile. Not many things would get me up at 5 am! I also loved the harbour shifts and seeing turtles up close. It was also really nice to chat with tourists about the turtles this felt really worthwhile.
My most memorable experience was when I was able to do a nest relocation. This was when a turtle made a nest of a beach a 40-minute car ride away from the beaches we normally work on. The beach was stunning. It was an amazing opportunity to take the eggs our of the nest one by one, move them across the island and build a new nest. It felt very worthwhile and was definitely my favourite part of the project.
I've really loved the project. The people are amazing and I'm already planning trips to visit people. Two weeks went by in a blur and I feel like I've learnt so much. It's made me realise how much I enjoy conservation and I have a newfound love of turtles. I would love to come back again or do a similar project, I've had a cracking time.
THANK YOU! – Just gutted I can't see all the hatchlings get to the sea safely

Alice Bucker, August 2014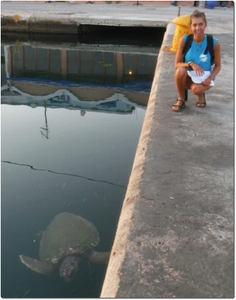 After finishing University I wanted to spend my summer doing something fun and enjoyable that also gave me some conservation experience. Volunteering with Wildlife Sense represented the perfect opportunity to do this and I loved every minute I spent on the island of Kefalonia. Learning about turtle tracks in the sand to locate nests, as well as turtle interactions at the harbour was an amazing experience and it was great to participate in so much fieldwork. I will never forget being woken up by the sound of hatchlings on a boxing shift at the beach at 3 am in the morning and the feeling of satisfaction as I watched them crawl down the trench and reach the sea safely. One of my highlights was finding a nest on morning survey and helping to relocate the eggs to a new, safer location further from the sea. I even enjoyed the early morning cycle rides and a trip to the local bakery for a spinach pie or chocolate brownie was always a great reward after the exercise. I would recommend this experience to everyone, what better way to spend your summer than being active and helping to protect turtles in the beautiful sunshine?

Marie Brandrud, Norway, August 2014
In August 2014 I travelled from the cold north (Norway) and arrived in sunny Kefalonia. I had just finished my master's degree in a genetic study of a northern/arctic plant group. I wanted to try something different and a friend told me of the possibility of volunteering for turtle conservation. I have always been very fascinated by marine biology and I thought it would be a great experience to work with animals.
With Wildlife Sense in Kefalonia I learned a lot about both turtles and conservation. It felt amazing to be part of a project that really means something and work in a team with other volunteers. Lastly, it was wonderful to experience these turtles in their natural habitat, which is the beautiful Greek beaches.

Coralie Bernardet, June 2014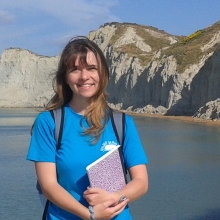 I am a French MSc student in Marine Biology and I came to Kefalonia last summer to carry out a voluntary internship on sea turtles conservation. I was seeking a new experience as part of my courses and I lived an awesome month in the Wildlife Sense team. I already had some knowledge about sea turtle thanks to my studies that I could observe in the field thanks to my work as a volunteer. I also have had the chance to improve my knowledge by working on light pollution impacts on adults and hatchlings sea turtles, which was a very interesting topic. More, I met a lot of wonderful people with who I spent 4 amazing weeks. I wish everyone to live such an experience! I hope to have the opportunity to go back to Kefalonia next summer and work again to protect these fascinating animals.
Coralie Bernardet, MSc student in Oceanography and Marine Environment, Pierre and Marie Curie University (Paris VI), France

Emily Roebuck, University of Liverpool, UK, June and September 2014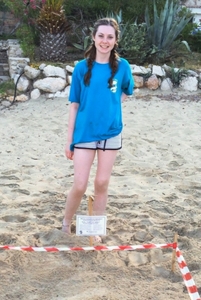 I first travelled to Kefalonia after finishing my University degree, and I was more than ready for a break from textbooks and lectures. I have always been interested in conservation but had never before worked in the field and couldn't wait to experience what the Wildlife Sense project had to offer. The first thing I noticed arriving on the project was the fantastically warm welcome I was given, and I immediately felt like part of the team. One of my favourite parts of the project was answering questions from interested tourists at the harbour on loggerhead turtles and being able to share with them all of the knowledge I had been taught. Meeting so many like-minded people from all over the world was definitely a highlight of my time on the project, and I have shared once-in-a-lifetime experiences with many new friends. Working with the project leaders and volunteers I feel lucky to have seen and participated in such active conservation with real hands-on experience, rather than learning about it from books. I had such an amazing time volunteering with Wildlife Sense I decided to return at the end of the season. I really enjoyed seeing the project full circle, starting off with finding and locating nests and finishing with calculating the success of nests after they had hatched. From finding tracks of a nesting turtle and watching the sunrise on the beach during morning surveys, to see hatchlings make it safely to sea and helping out with turtle rescues, volunteering with Wildlife Sense has definitely been the best thing I have ever done.
If you're looking for exciting hands-on conservation experience, to be part of a great team and make lifelong friends, and all set in a beautiful environment, this is the project for you! I know I'm counting down the days until I head back out to Kefalonia to have another turtle-y awesome time.

Dana Kolba, Canada, June 2013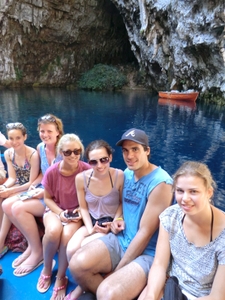 I came to volunteer with Wildlife sense from Canada. I am passionate about animal welfare and the environment, and love to travel and learn about different cultures, which is what made me decide to volunteer with Wildlife Sense. Going down to Kefalonia, I didn't have any prior knowledge of sea turtles or marine wildlife. Wildlife Sense taught everyone everything I needed to know, plus some more. We got so much hands-on experience, and in our spare time we went on an amazing tour of the island (which is truly breathtaking), were able to visit all the beaches, try all the food, and shop at the markets. It was a once in a lifetime opportunity that I am so grateful for, and if I ever get the chance, I will be back!

Emma Eteen, University of East Anglia, UK, June/July 2013
Working with wild sea turtles in Greece is an amazing experience that I will never forget. I went to Greece because I wanted more experience in marine field research and volunteering with Wildlife Sense has given me so much more.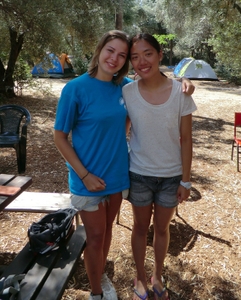 I spent a month working with sea turtles in Greece two summers ago and it was one of the best decisions I have made. I heard about Wildlife Sense though my Uni and I booked on for a month, not knowing anyone and not sure what to expect. As soon as I got there everyone was really welcoming. There was always someone around to help out if you had any questions about anything and everything- and I had a lot! I have made friends from all over the world.
Observing turtle behavior in the harbor was really interesting. Not only were you able to watch the turtles feed and interact, it gave you the opportunity to talk to tourists and locals about turtles. From little kids to adults, everyone was interested in what we were doing and genuinely wanted to help. We also conducted beach patrols to look for and identify nests. Sometimes the nests are dangerously close to the sea or were laid under sunbeds and have to be relocated. The likelihood of turtle eggs reaching maturity is very slim so being able to give them the best chance possible is something I will never forget. Overall, Wildlife Sense was a brilliant opportunity that has taught me so much. Everyone I know who has been there loved it and couldn't wait to go back. Thank you Nikos and Chanel for a brilliant time!

Mila Garfalska, University of East Anglia, Norwich, UK, September 2013
Hello, my name is Mila and I am an Ecology graduate from the University of East Anglia. Last year I was searching for a meaningful summer volunteering opportunity when I found out about Wildlife Sense. Their cause became extremely interesting and important to me and as an addition to my volunteering work with them, I decided to collect data for my dissertation project. Its topic was "The effect of human-caused disturbance on the nest position, clutch size, emergence success and hatching success of Loggerhead sea turtle (Caretta caretta) on the island of Kefalonia, Greece."
I spent one month during the summer of 2013 with Wildlife Sense and this turned out to be the best summer in my life so far. I enjoyed every single shift as a volunteer, especially the early morning harbour shifts during which I experienced the best encounters with grown-up sea turtles. I also met amazing people who later became my friends. Additionally, for the first time in my life I slept on the beach, not one, but 4 or 5 nights in a row, which was one of the peaks of my stay there. Our team leaders, teachers and friends Nikos and Chanel were always so cheerful, helpful, understanding, and inspirational. They taught me so many things about the turtles, beaches, ways of conserving both nests and adults, and even how to educate and spread the concern for sea turtles around natives and tourists not only in Greece but in the UK as well. I am truly impressed by their work and so happy that I had the opportunity to be part of their team. I will remember this summer as the time when I did so many things for the first time, such as seeing alive adult sea turtle, hatchlings and sea turtle nests, talking to the coast guard about illegal fishing, sleeping on the beach while monitoring nest for any new hatchlings, being part of an excavation of a nest and holding multiple hatchlings and of course camping!
Volunteering with Wildlife Sense gave me more than knowledge and an amazing experience. It gave me cause to believe in and fight for and an example that if you want something truly and deeply, you will succeed in it one day. Thank you Wildlife Sense!
---