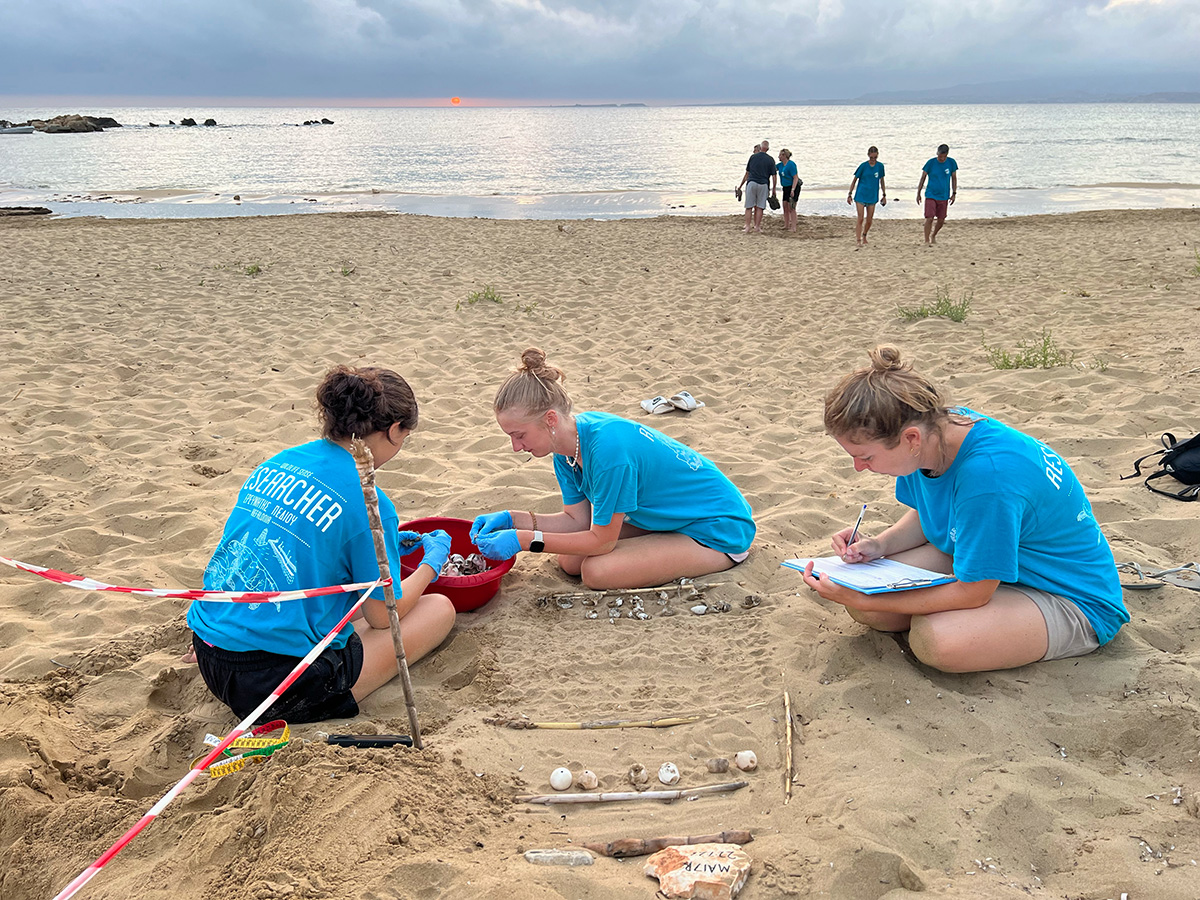 Our Latest News – September 18, 2022
Argostoli Field Station
This week we welcomed a new group of fabulous volunteers and have continued to have many very busy nights on our nesting beaches. Megali Ammos witnessed an impressive number of mass hatching events this week. In the early hours of Tuesday morning, our hatchling rescue team helped an astonishing total of 134 hatchlings to sea after 73 emerged from one nest, and 61 from another. In the following days, we have seen an additional 268 hatchlings arrive with as many as 114 hatching from just one nest early on Monday morning. Overall, our team of volunteers have helped over 400 hatchlings make it safely to sea on Megali Ammos, highlighting the importance of their nights spent sleeping on the beach preventing hatchlings crawling towards artificial light at the back of the beach. Amazing work guys!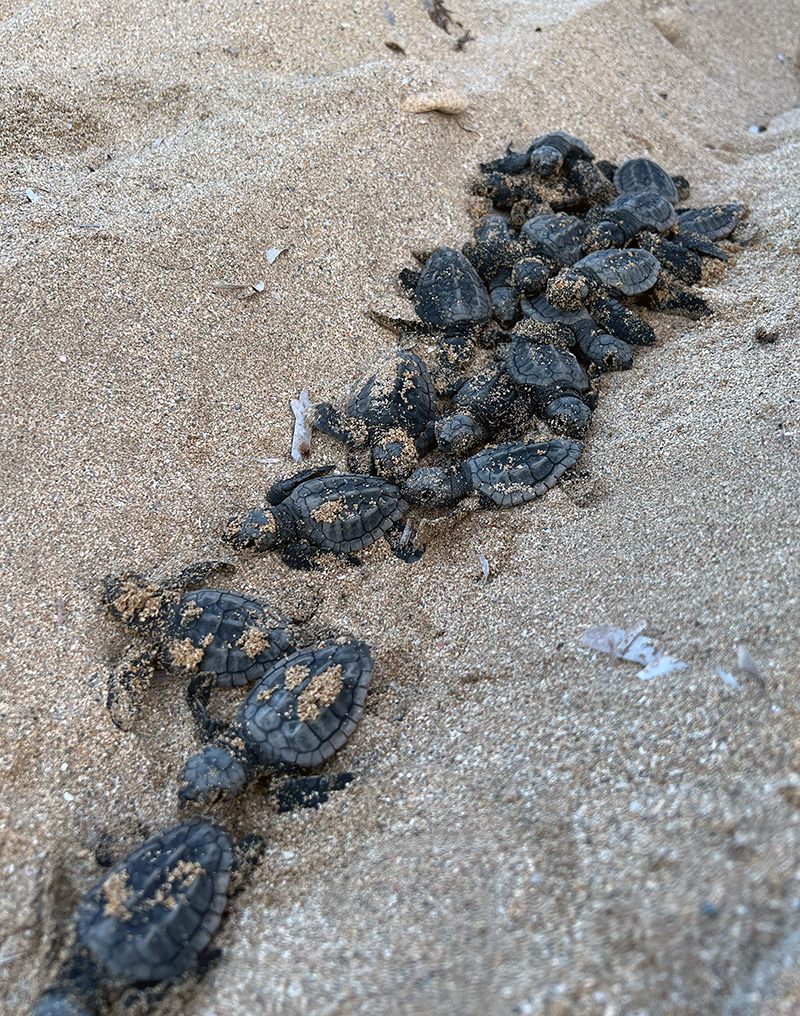 As the last of our three nests incubating on Cape St. Nicks hatched this week, we no longer have any nests remaining on this beach! The third and final nest had a success rate of 98% after 49 of 50 hatchlings made it safely to sea. With the completion of the remaining eggs from our final nest on Avithos, we are closing the week with just 21 nests remaining, all within the airport survey area. We look forward to seeing these nests hatch and evaluating their success through inventories.
This week, the teams in the harbour have continued monitoring the foraging behaviours and interactions between the turtles. Many of our regulars have been observed this week with numerous sightings of Barb, Artemis, and Syna. We are very pleased (and relieved) to report that throughout the week Syna has been spotted several times looking well and behaving like her usual self following her fishing net entanglement incident last week!
With the new arrival and frequent encounters of a few untagged turtles within the harbour, the team is itching to resume tagging. During tagging events, we have the opportunity to tag new individuals and check them for injuries and take important measurements to monitor their growth.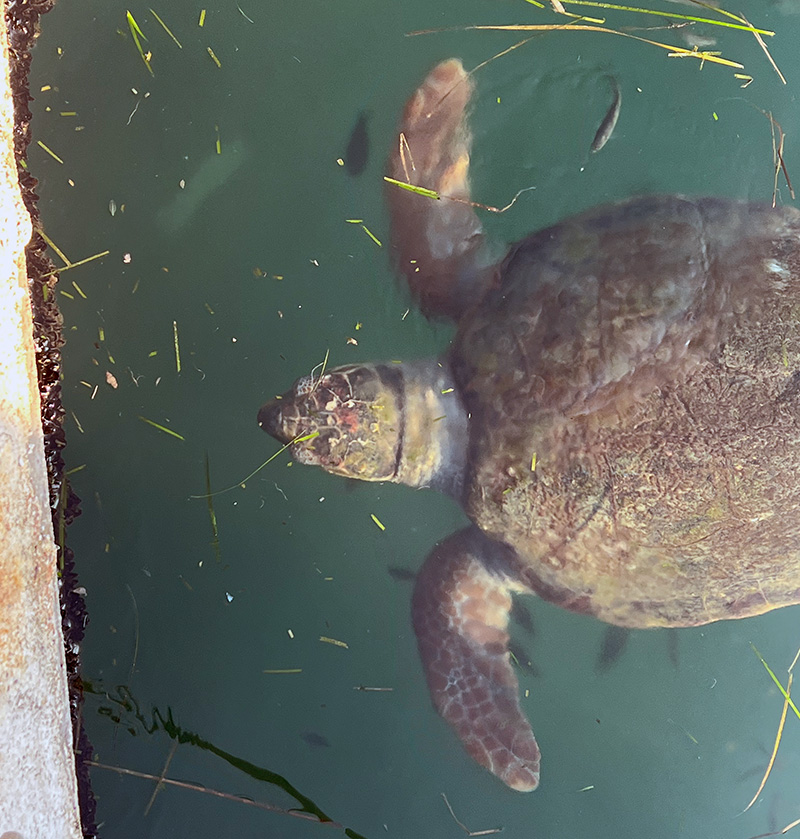 This week our new group of volunteers have been very enthusiastic so far! After working hard on shift, they have enjoyed some games of both volleyball and beach rounders, along with the popular henna and movie nights!
Written by Annabel Bradley and Claire Roche
Lixouri Field Station
The end of the season is definitely in sight here at Lixouri with nests remaining on only two of our nesting beaches. We may only have 9 nests left, but we still have lots to do! Our volunteers continue to patrol all of our nesting beaches each morning, keeping an eye out for hatchling tracks coming from unprotected nests, which may have been missed during nesting season for a variety of reasons, including storms and beach raking. We've had just two nests found by hatching this year, but there is still the possibility of more.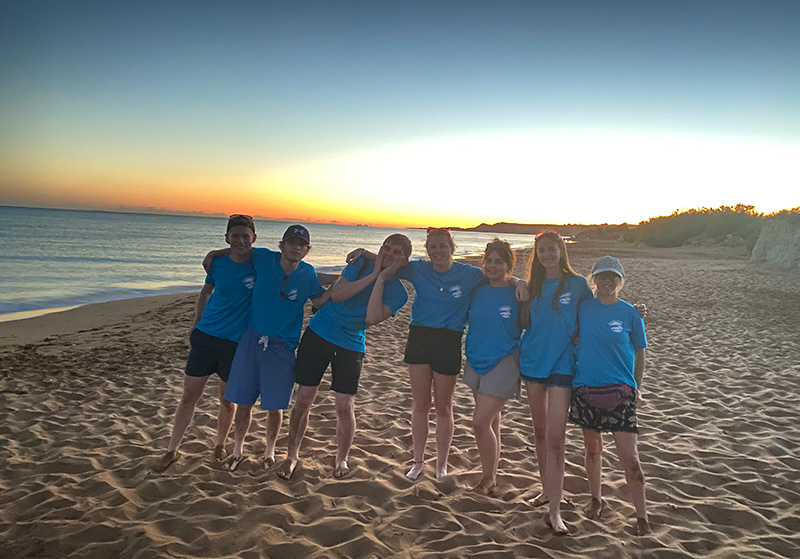 Three of our nests had their first hatching event this week. VR4R and VR5R began hatching on 57 and 55 days respectively, continuing the trend of longer incubation times on Vrahinari. VR5R has had a total of 19 tracks from it in the last four days, and VR4R has had 8 over the last three days. These nests are shaded to minimize the effects of light pollution, and this has ensured that hatchlings go straight to the sea, following the reflection of the moon, instead of being misorientated by the light pollution of nearby houses.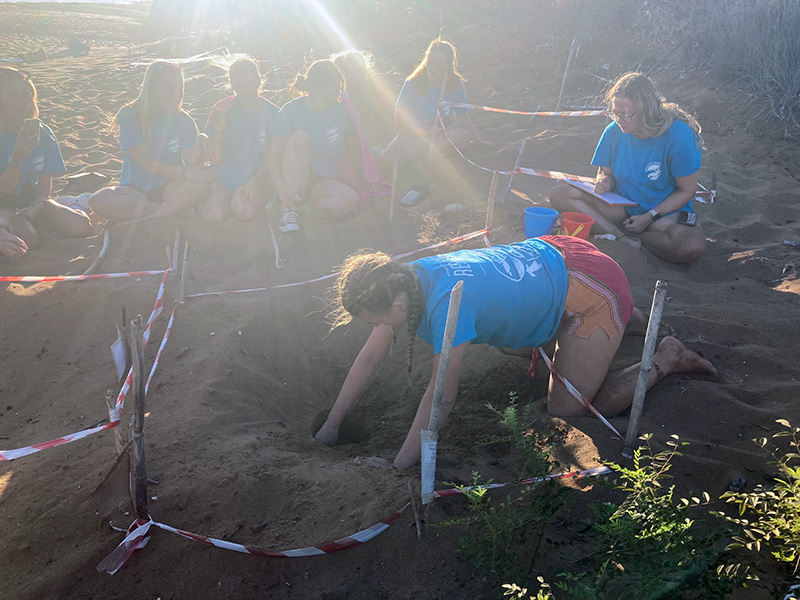 On Thursday we resumed hatchling rescue shifts on Cape in anticipation of CG5R hatching. Our hatchling rescue team on Friday night were very lucky to see the first 3 hatchlings from this nest making their way to the sea in the early evening. Hatchling rescue on this beach aims to deter predators- particularly pine martins, which tend to frequent this area. In the morning a total of 29 tracks were counted to sea.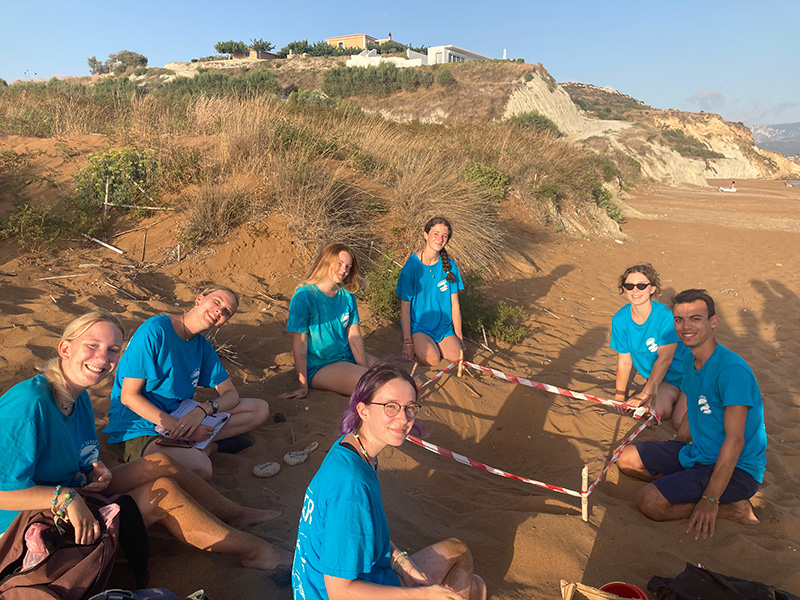 Five nests had full inventories this week, enabling us to gain data on the success of these nests. Non-viable eggs, determined by the absence of blood vessels when a light is shone through, are opened and the stage of development of the embryo is recorded. KP10R and KP9R both had hatchlings within the nest, and so these were sent down the trench, completing their 12m walk to the sea, warming up their flippers, and imprinting the beach's location so that they know where to come back to lay their own nests in 15-25 years. The last nest of Megas Lakkos was inventoried on Friday, leaving us with no more nests on Megas Lakkos Beach. After having a total of 34 nests either laid or relocated onto Megas Lakkos this season it's strange to see the hatchery area empty until next year! Many of the nests which have been inventoried recently have had temperature loggers either within the egg chamber or in the sand next to the nest. This is the first year that we have used these loggers and we are very excited to extract the data to find out the temperatures at which these nests were incubating, giving us a better indication of the sex ratios of the nests. At 29⁰C the nest should have an equal proportion of males and females, however above this temperature we get more females being born than males.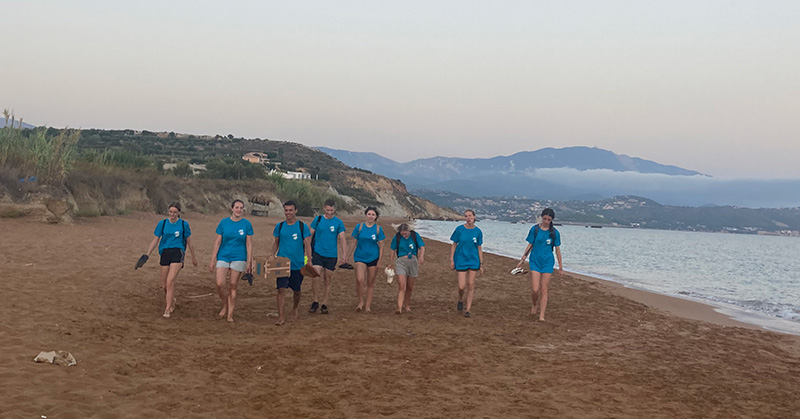 The remainder of our nests hit their 45-day incubation period within the next week, however as all these nests are on Vrahinari they will likely take longer to incubate due to the lighter-coloured sand of this beach, in addition to being laid later in the season.
Aside from morning surveys and inventories, our volunteers have also been taking part in beach profile shifts, which provide us with important data on how our beaches change throughout the season, spotting turtles on harbour shifts, and keeping our beaches clean on sand sifting and beach clean shifts.
Our new volunteers are settling in well and have been attending each shift with enthusiasm. Not only have they been working hard they've also had a lovely time doing evening activities such as beach games, henna night, and many games of cards. As we approach the end of the season we are trying to savour every moment, and we're all looking forwards to another week of counting tracks and helping hatchlings to sea!
Written by Kathryn Skazick