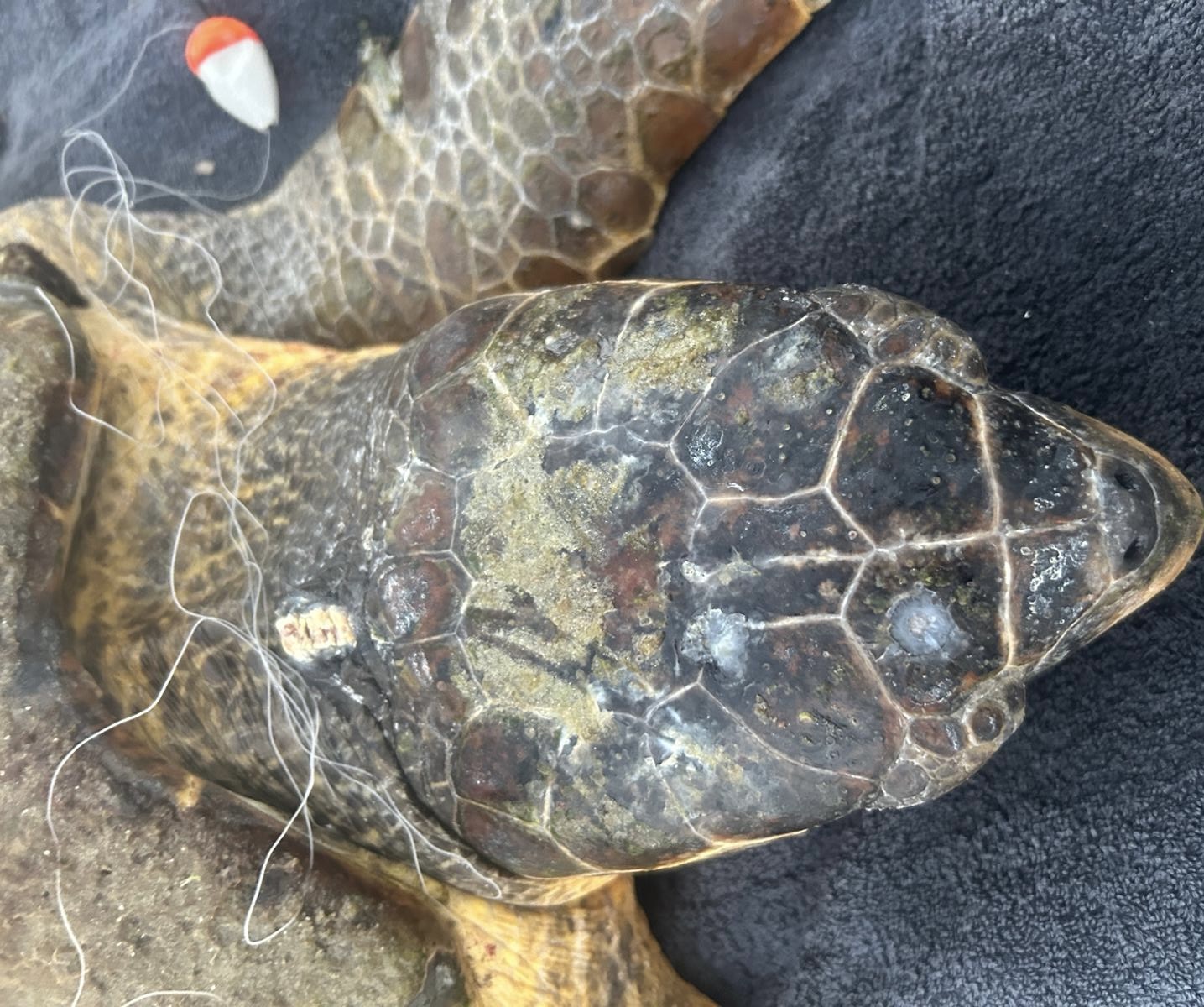 OUR LATEST NEWS – August 2, 2023
Argostoli Field Station
Things have been very busy here at the Argostoli Field station in the past two weeks. We have had 35 new nests bringing our total number of nests to 148. Twenty-seven of those nests reach 45 days meaning our beaches will be very busy with hatchlings any day. Earlier on in the week the wind had picked up meaning 7 nests had to be relocated in one morning due to the wind causing high waves. These high waves mean that there is a risk that the nests will be inundated which is why it is more beneficial for these nests to be relocated.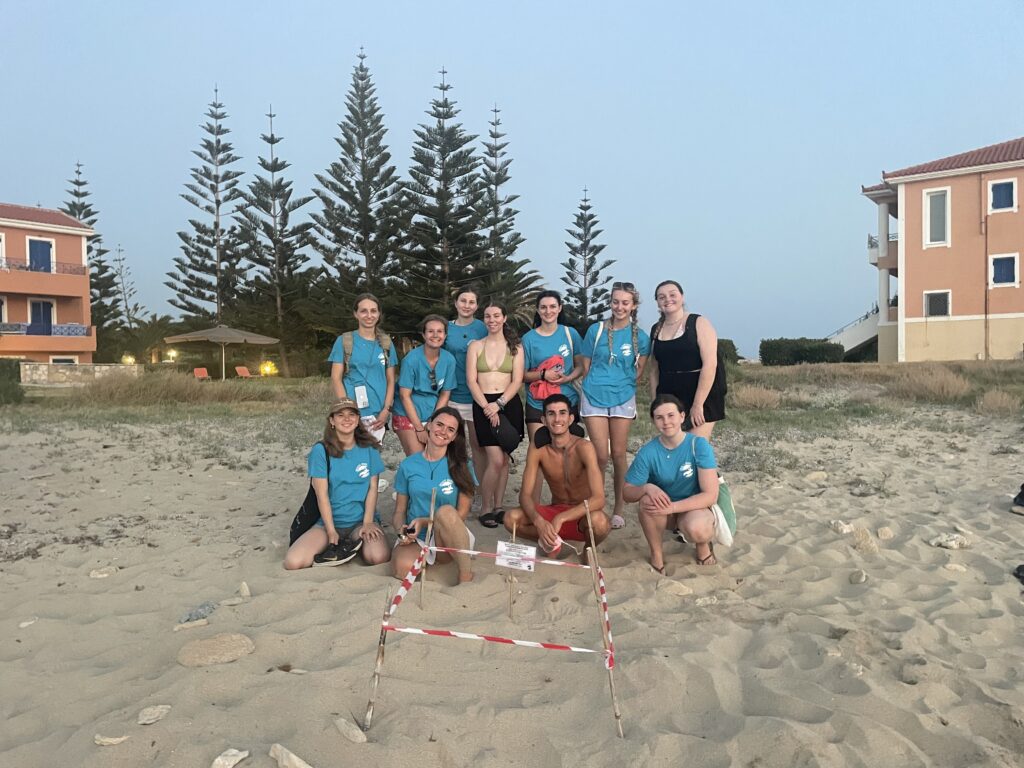 Hatching season has officially started! On Saturday night hatchling rescue saw our first hatchling of the season here in Argostoli. Everyone here is so excited and prepared for a busy season of hatchlings. During the Hatchling Rescue shifts, 3 nesting turtles have been spotted on beaches in the past week. Megali was spotted on Megali Ammos, the beach on which she was originally tagged in 2020. Another turtle was spotted that was originally tagged in 2017 so it was exciting to see this turtle again as well.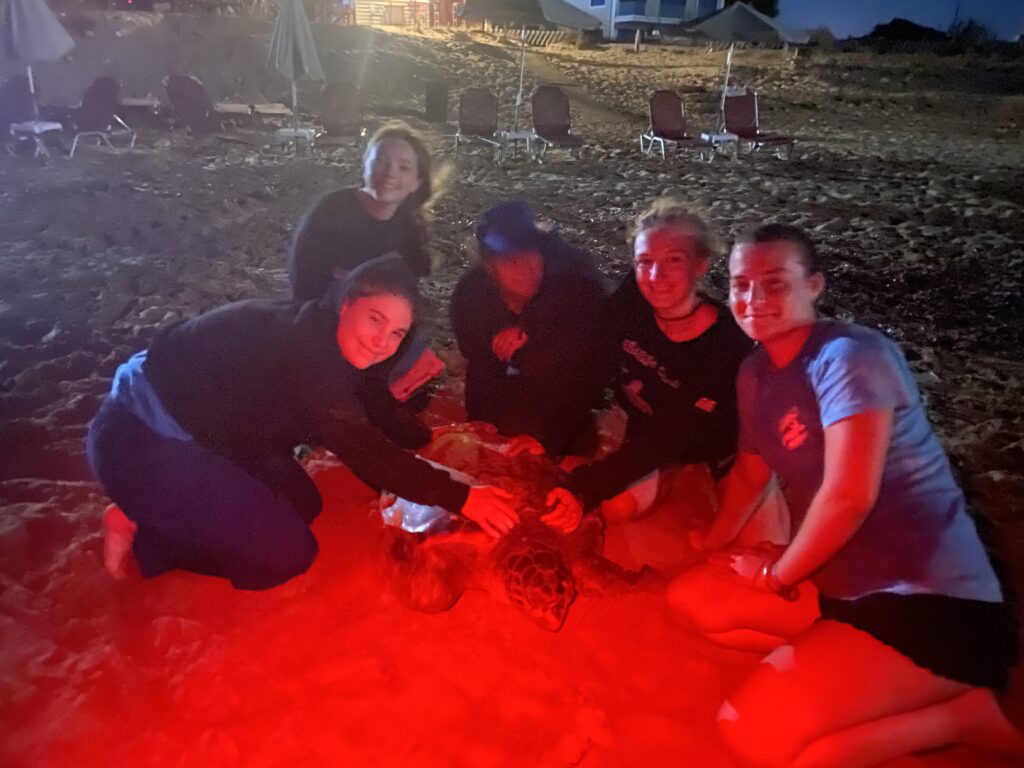 Volunteers have been working hard at the beaches but also have been busy with snorkelling and visiting different parts of the island on their days off.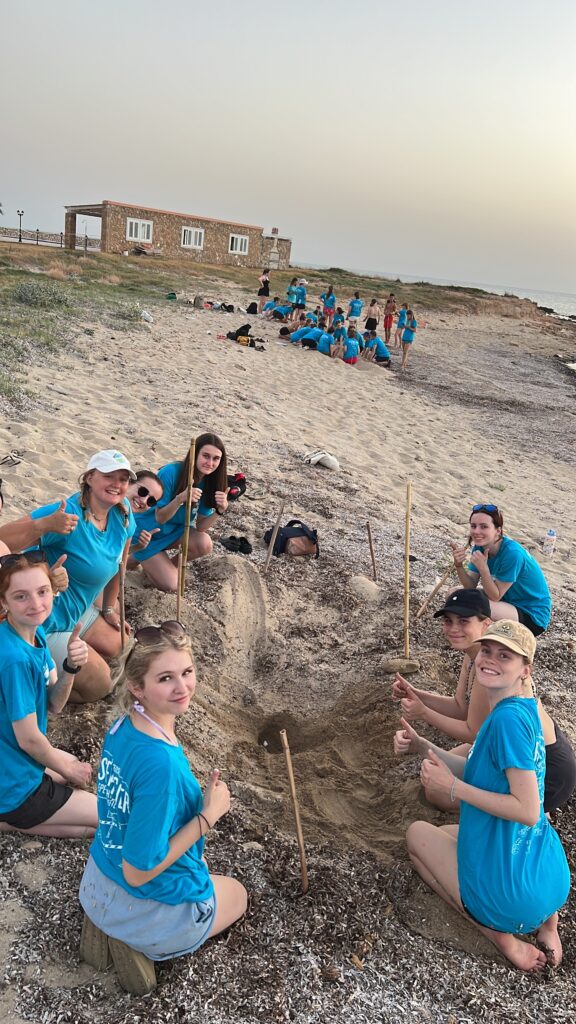 Lixouri Field Station
There is now a total of 85 protected nests across the Lixouri beaches after an additional 15 were located over the past 2 weeks. Ten nests were relocated, 2 of which were emergency relocated further up the beach, after windy weather resulted in high tides, increasing the nest's vulnerability to flooding.
During night surveys, returning females Stephanie and Mildred were both observed laying their 3rd clutch of the season. The team also newly tagged a female who laid the 27th nest on Megas Lakkos beach this year.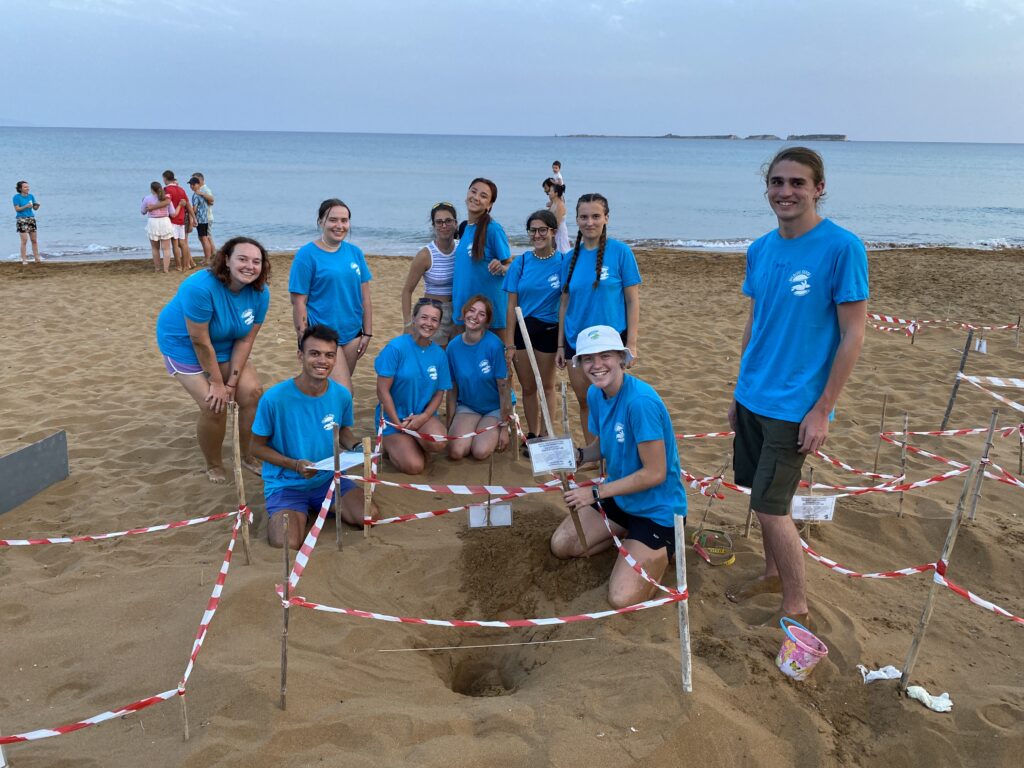 Hatching has also begun and is in full swing! On the 19th of July, a few volunteers were lucky enough to see the first hatchlings of the year crawling to sea during their morning survey of Megas Lakkos beach. At present, 7 nests have started hatching across all 3 survey areas, Megas Lakkos, Lepeda and Vatsa. 4 of these nests have been fully inventoried, with around 300-400 hatchlings making it to the sea thus far.
On the 24th of July, the team received a call about a turtle caught in a line just north of the Lixouri harbour. Luckily this turtle was quickly located and upon inspection, a fishing hook was found embedded in the front right flipper, with over 5m of line attached and entangled around the turtle's neck and flippers, which was safely removed before it caused further harm. This turtle, named Crackles, was previously tagged in 2022 after he was found with a rear carapace injury likely caused by a boat propeller. To the relief of the whole team, this injury appeared to be healing well and Crackles was released back to sea that evening.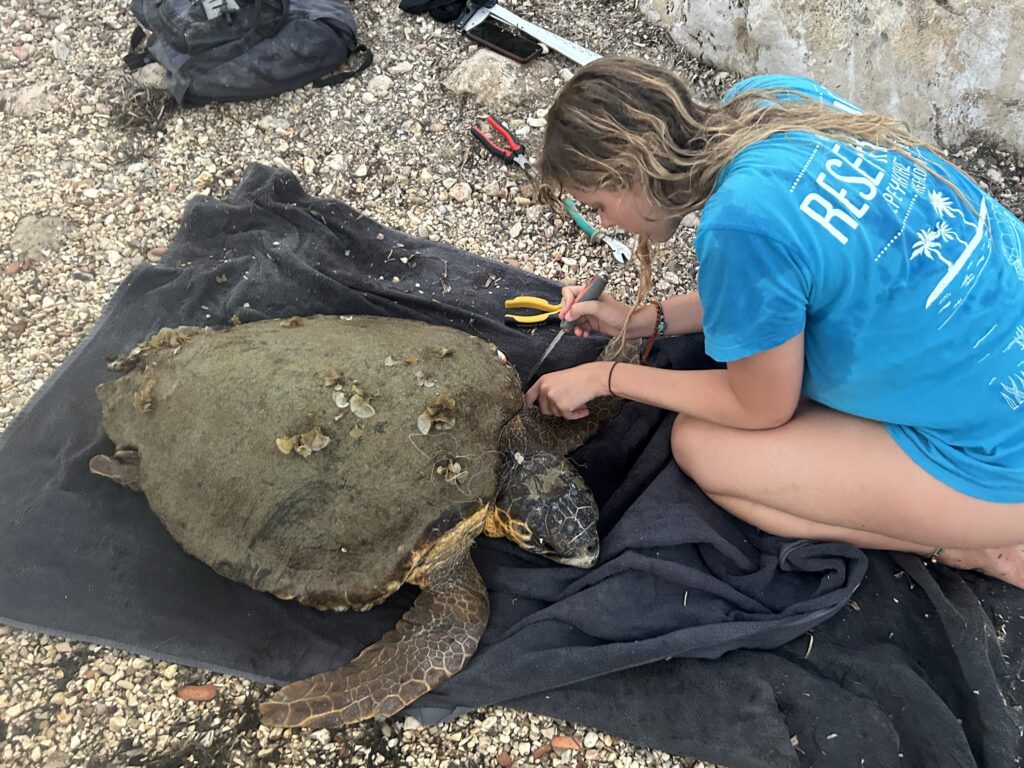 Education Programme
July has been a busy month for the education programme, with 2 groups running alongside each other every week! We have welcomed schools from the USA and the UK finishing up this month with 2 schools from England. On one of our Snorkel Surveys, our group that survey the Fanari coastline spotted a turtle, a few monk seals and a pod of dolphins whilst another group in the last few days have spotted a brightly coloured starfish (believed to be a Red Starfish) and a rare sighting of a juvenile Green sea turtle!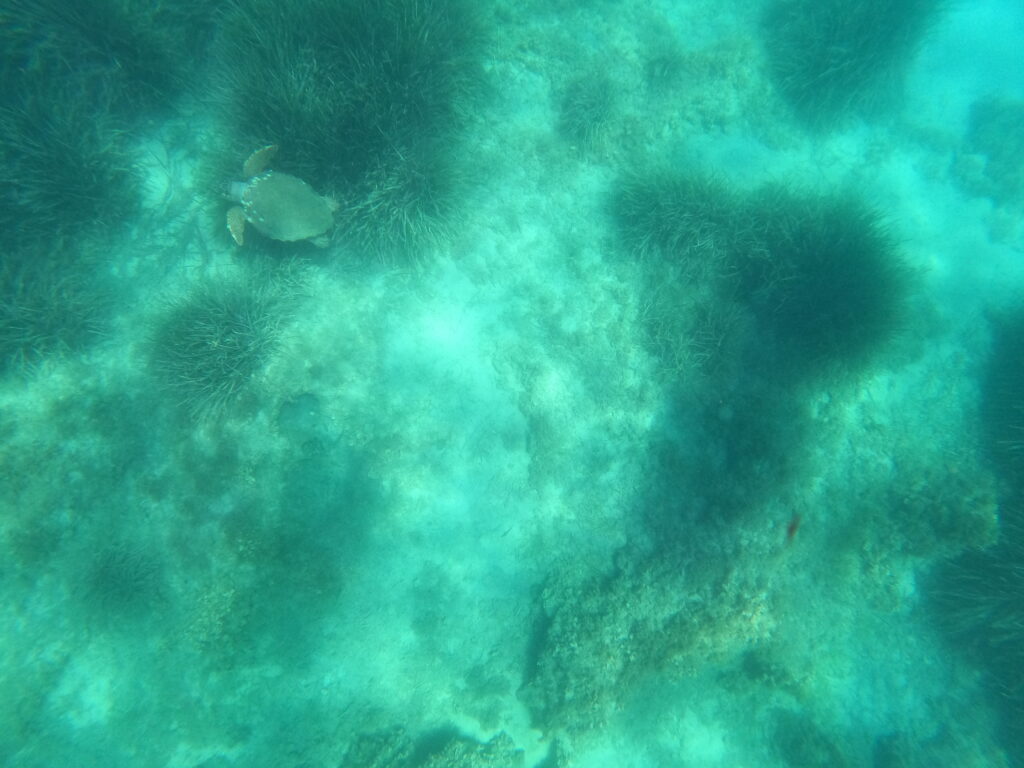 When not doing snorkel surveys they have been walking our beaches for Morning Survey helping to find and protect our new nests. The groups have also been on Argostoli harbour monitoring our turtle population and noting down key behaviours and interactions. And that's not all with a very keen group working hard on a beach clean to remove all the rubbish and managing to remove a large bundle of rope from within the rocks!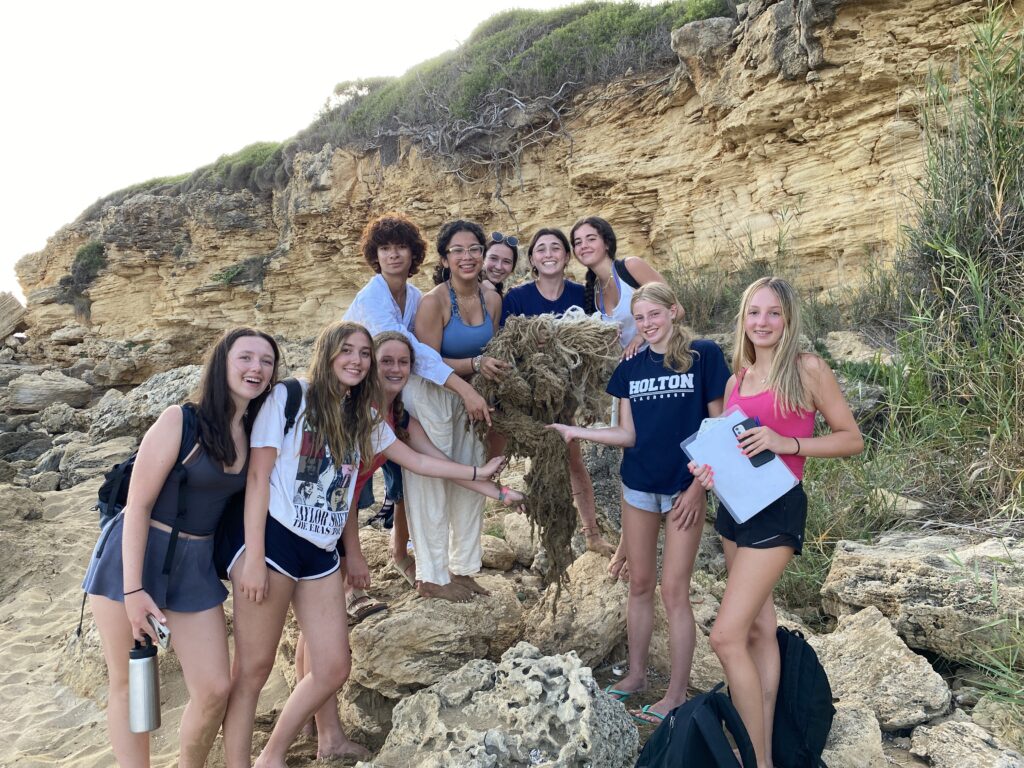 Lourdas Field Station
Lourdas has seen many new nests being laid week on week with the total count now reaching 65 nests. There have been 20 new nests within the last 2 weeks, with many more still expected as well as quite a few relocations, especially during the high winds and waves resulting in a few inundated nests. If these nests had not been moved during their emergency relocations they sadly would not have survived as each one had a lot of water within the egg chamber. Thankfully though this was all protected and moved to a safer location (in our hatchery on Kanali) by our Lourdas team with the help of the Education core team that morning with all hands on deck!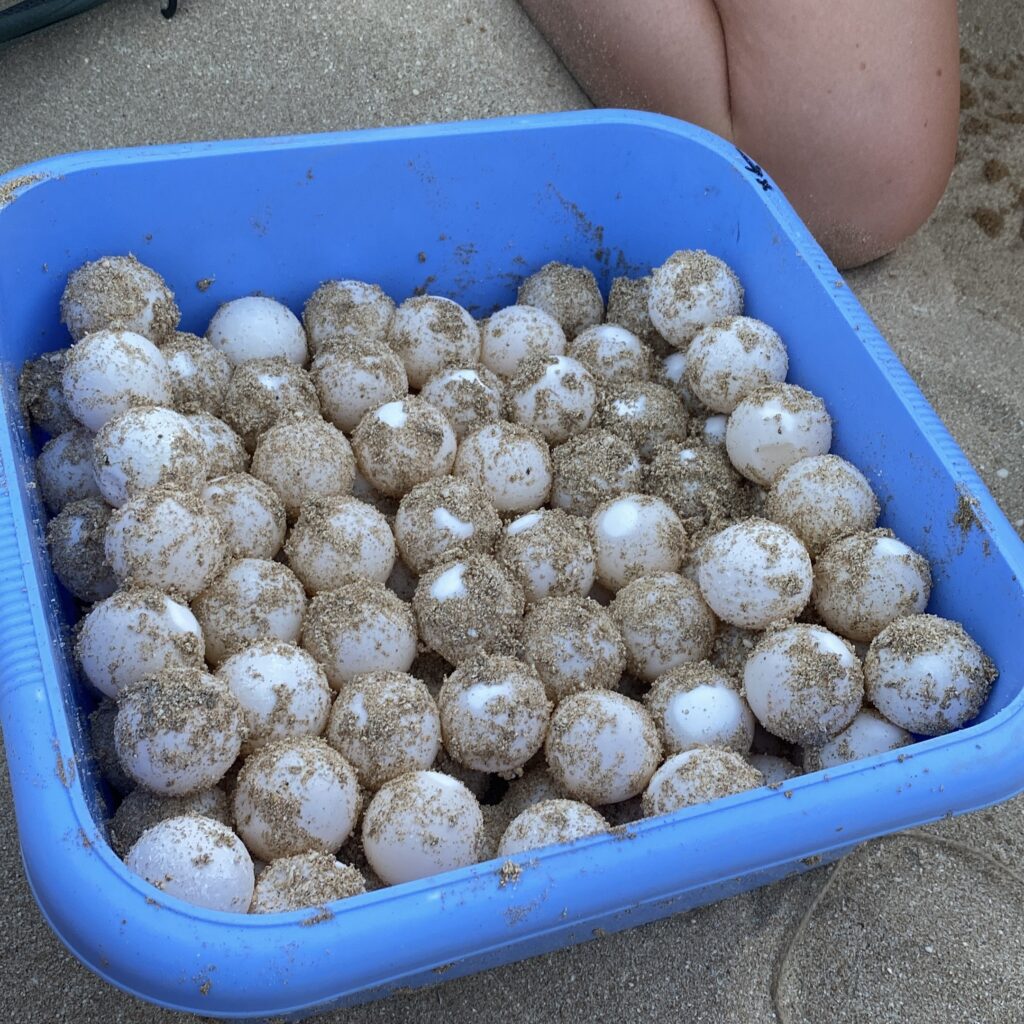 Skala Field Station
It's been a successful 2 weeks in Skala with our volunteers and new core team members! Everyone has adapted well, and the new core team have delved straight into the project with their first group of volunteers! We are fortunate that 6 of our volunteers will be staying with us for a further two weeks and continuing their work to help us survey the beaches. Their passion for the project is infectious as the new volunteers are already thriving and enjoying their time completing their surveys! Within our sand dune research, another new plant species has been identified as Hedypnois rhagadioloides which is growing extensively within the dune systems on both Mounda and Skala beach. We are also starting to see one of our most popular plants Pancratium maritimum begin to flower for the first time this season!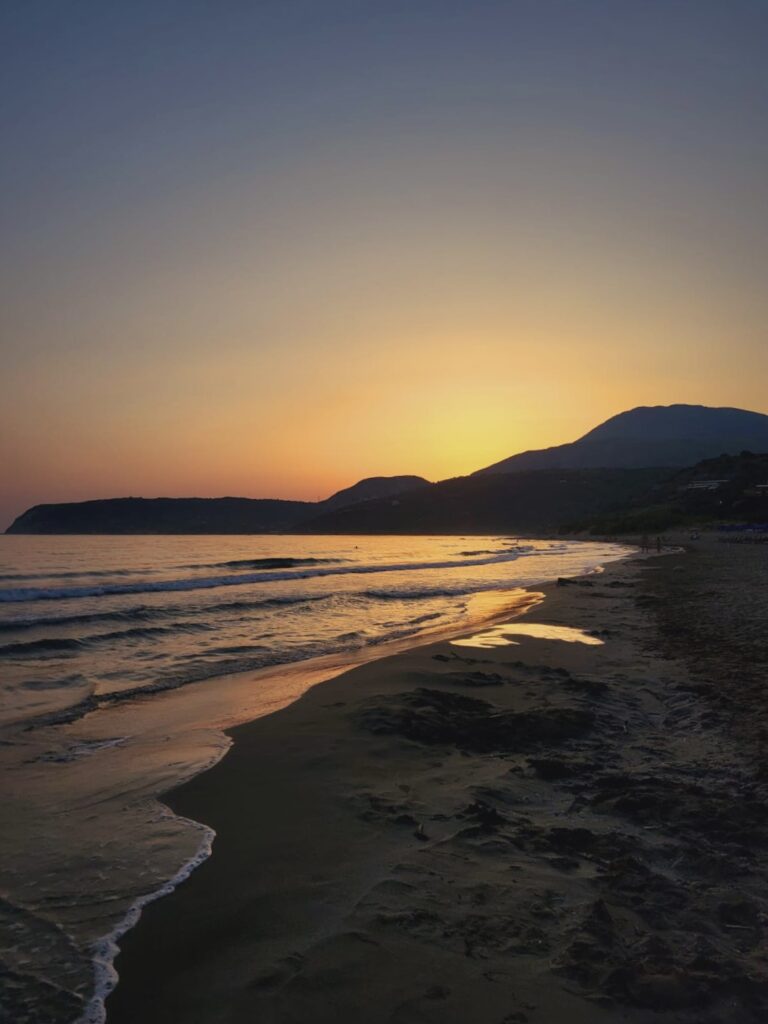 On their days off our volunteers have been enjoying various trips including destinations such as the Melissani caves and Fiskardo. They continue to explore the island and enjoy everything that it has to offer!
Our previous group completed a morning survey on the Lourdas beaches and discovered a new nest which our volunteers were able to collect measurements for and protect in preparation for hatching season.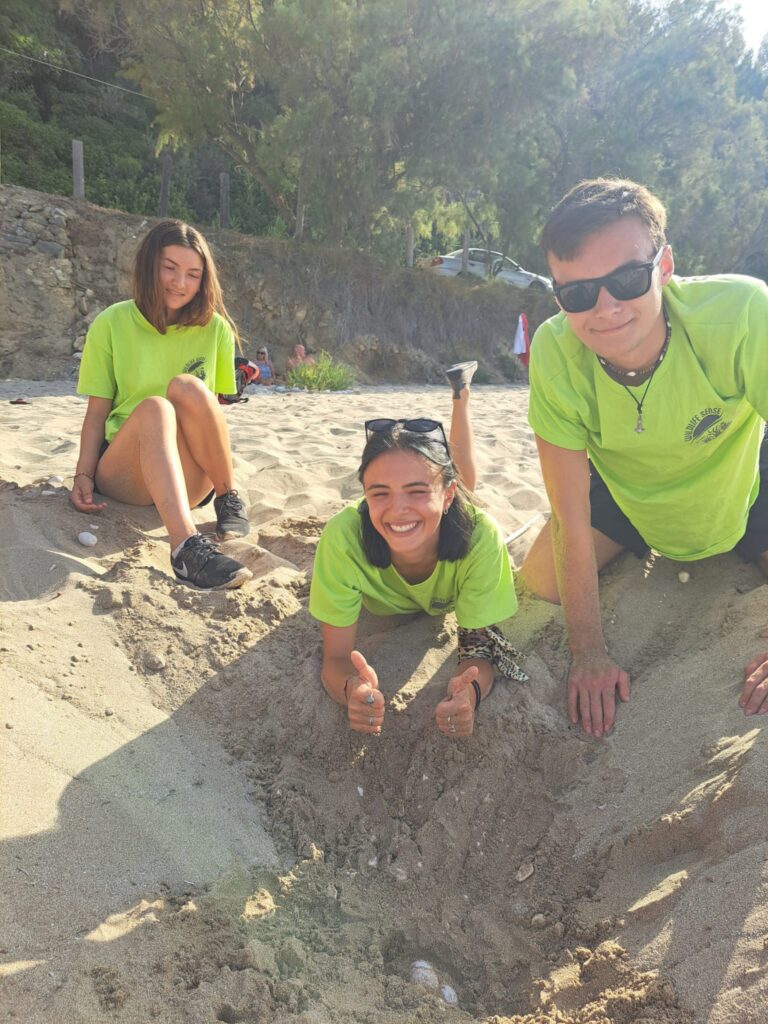 Our snorkel bingo activity continues to be a huge success with only 2 species remaining to be encountered by our volunteers after a cuttlefish was recently spotted near Mounda beach. Our volunteers have also had more success spotting sea turtles whilst snorkelling in their free time from the beaches nearby.