Our latest news - October 10, 2022
.
Argostoli Field Station
After another exciting week full of hatching events and inventories, we now have just six nests remaining here in Argostoli!
This week has seen incredible hatching success percentages from AV19R and MA23R, which both had mass hatching events on the same day. Firstly, on AV19R, the team noticed that a dip was starting to form in the nest which continued to grow for a few days. We expect to see dipping once the eggs begin to hatch as the soft sand begins to collapse into this space within the nest. On Wednesday, this dip became so significant we were concerned that the hatchlings were going to emerge during the day. When the nest began to hatch, our volunteers helped shade and protect 63 hatchlings from the midday heat on their journey to the sea. We cannot wait to see the remaining eggs hatch from this nest.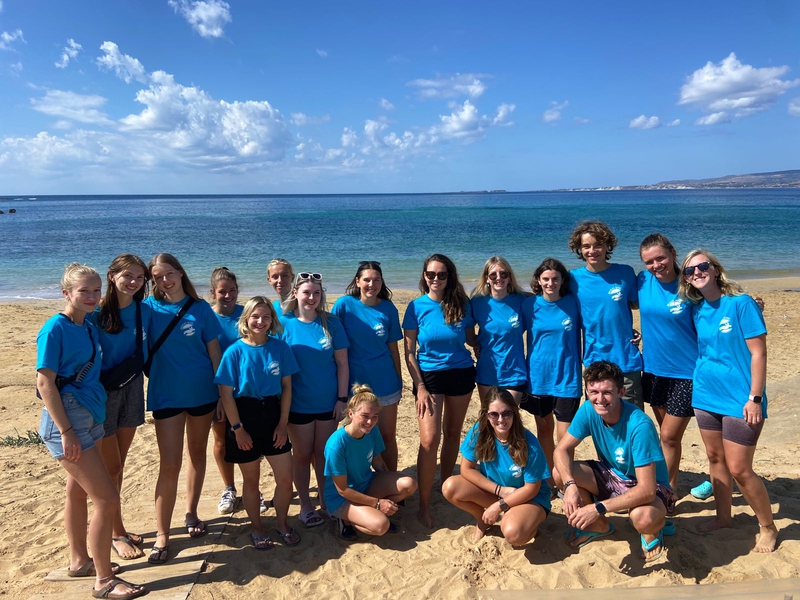 On the same evening, we performed an inventory on MA23R after a greater-than-average incubation period with no sign of life. Amazingly, we had 72 hatchlings alive above the egg chamber which our volunteers helped to reach the sea safely. We expect this extended incubation period most likely occurred due to the storms last week and cooler temperatures as Autumn begins to arrive. Within this nest, only 10 eggs remained unhatched, resulting in a hatching success of 88%.
Our Hatchling Rescue shifts have been fairly quiet this week, but our volunteers have carried on working exceptionally hard and keeping positive. Just last night, much to our departing volunteers' joy, 4 hatchlings emerged from KA17R. We are eager to welcome the arrival of more hatchlings from other soon-to-be hatching nests and are keeping our fingers crossed for HR to see more hatchlings on their shifts in the coming weeks!
Our harbour shifts have continued to be busy for our volunteers this week. Reflecting on last week's news of seeing a few Green turtles, we have managed to spot a couple more and get some good photos of them. This is in the hope we can identify them and monitor whether they continue to return to the Argostoli Harbour area.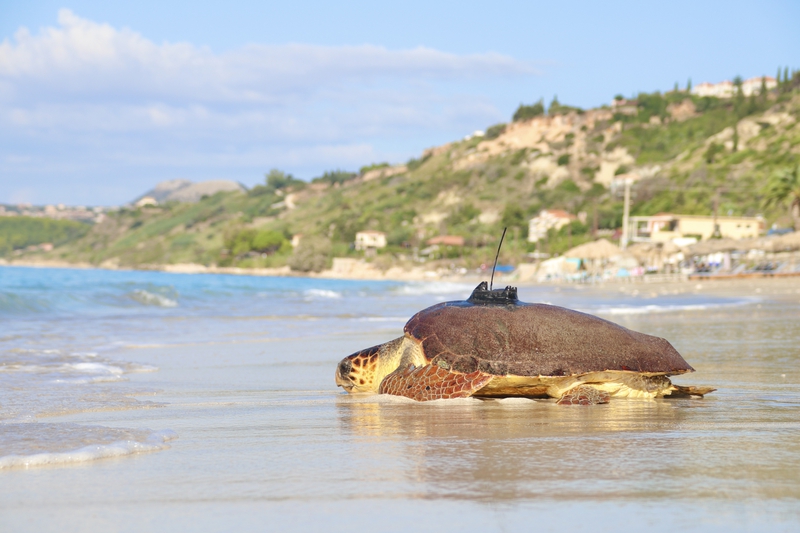 As the hatching season draws to a close, we anticipate that we will have some exciting tagging events to take place on the harbour. By tagging the turtles we see in the harbour, it becomes easier for our team to identify which turtles stay in the harbour area as we can distinguish individual turtles easier.
This week our team caught, tagged and put a satellite tracker on a female turtle that was caught in the Fanari area of the island. These transmitters were placed by Wildlife Sense in collaboration with the Aenos National Park Management Body - Εθνικός Δρυμός Αίνου and colleagues at the Department of Biology at Aristotle University of Thessaloniki.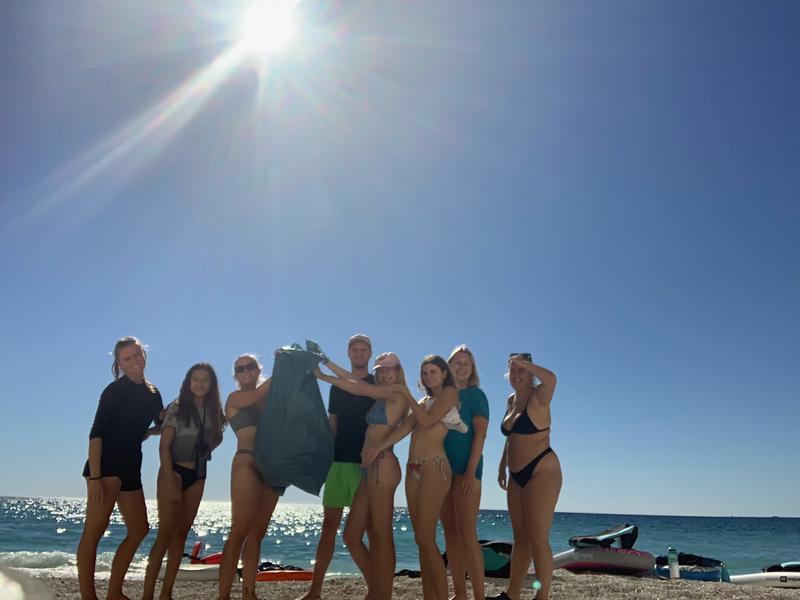 By attaching satellite trackers, we can track the movements of individual turtles, giving us a greater understanding of their movements and migration patterns. Scute was released at Lourdas beach and we received our first satellite signal from her transmitter indicating that she was swimming deeper into the ocean. We hope to see a lot more of Scute in the future and look forward to seeing where she will travel too!
In other news, our core team members gave new interesting presentations and workshops to provide our volunteers with extra knowledge. One presentation detailed the effects of the 2020 Medicane event that struck Kefalonia, and another interesting workshop gave our volunteers the chance to practice photo identification of turtles as well as using drone footage to identify turtles with injuries. On Friday, we also gained some insight into how important Posidonia seagrass is and we learnt a little about the work we do at the project in Skala.
Our paddle boarding beach clean shifts were also reintroduced this week. Three groups of volunteers headed over to White Rocks Beach and collectively brought back three bags of rubbish. This beach is only accessible by boat and therefore often won't be cleaned, explaining why we found so much litter each time. After cleaning the beach up, there was also some time for our volunteers to enjoy the crystal blue waters.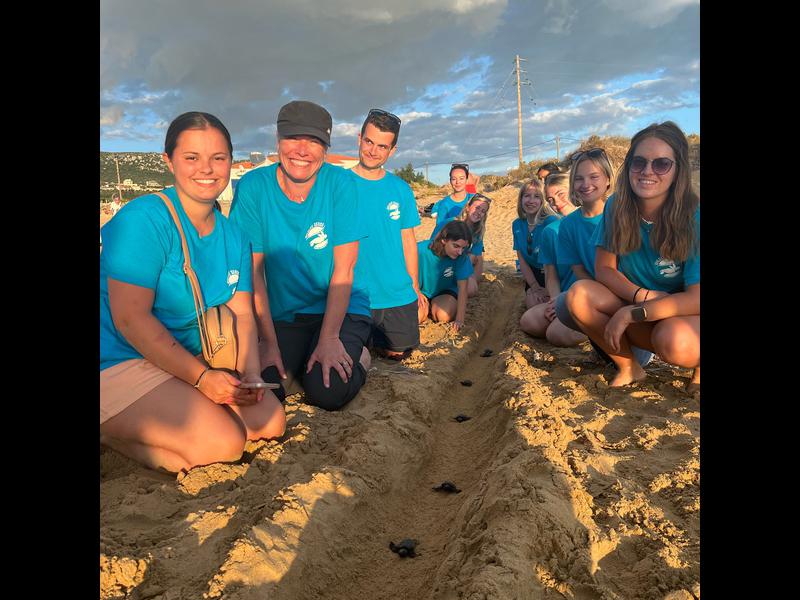 This week is the closing week for this group of volunteers but we have still enjoyed a mix of activities including movie nights, a code breaker evening, souvlaki night and quiz night. As a team, we also had a sunset swim on Wednesday following the release of the 72 hatchlings. With a beautiful sunset, there was no better way to end a busy but brilliant day.
Written by Annabel Bradley, Emma Hawkes and Claire Roche
Lixouri Field Station
We started the week with 5 nests, all left in our hatchery area on Vrahinari, and by the end of the week, they were all gone! Our final week here in Lixouri has been nonstop, with our volunteers being incredibly busy. Morning surveys in the Vatsa area have been particularly eventful, with 25 hatchlings being found trapped in the sea grass, which was built up by the strong waves on Vrahinari, across the week. We're super grateful for our volunteers' vigilant efforts in searching through the seagrass and checking the nearby rock pools. Despite a difficult start, these hatchlings all swam out to sea successfully all thanks to our brilliant volunteers.
On Monday, during the morning survey, 4 out of our 5 nests were hatching, leaving the beach decorated with tracks. However, this included a lot of misoriented and disorientated tracks that stretched quite far over the beach. Our volunteers searched high and low for any hatchlings lost on the beach and found one hatchling, which they assisted to sea. In addition to this, 15 hatchlings were found trapped in the sea grass, but our quick-thinking volunteers helped them safely to sea, before carving out a space in the seagrass for future hatchlings to have an easier start to life. Whilst doing this, a hatchling started coming out of VA11R, so our team witnessed three more hatchlings whilst doing so.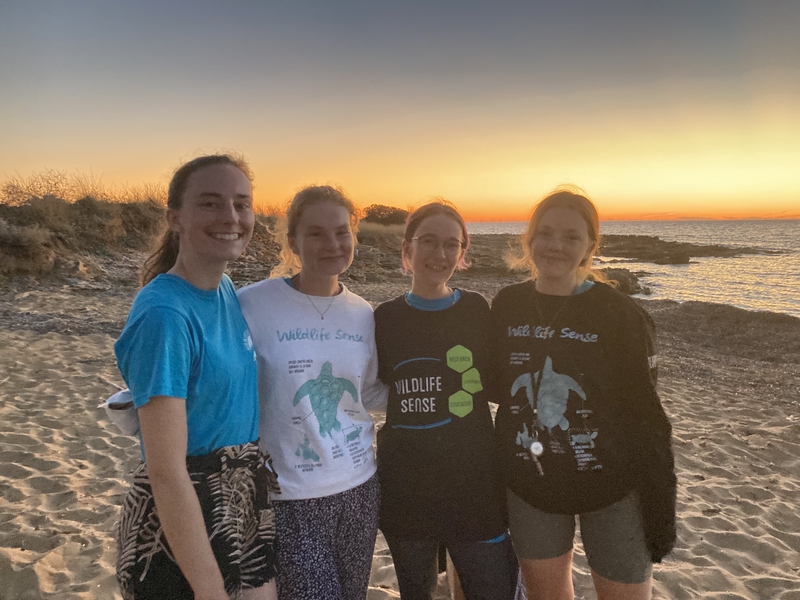 In the evening we conducted an inventory on VA10R, a small but successful clutch with 62 hatched eggs out of a total of 66. On Tuesday more hatchlings were found in the seagrass from VR10R, and whilst we were dealing with these hatchlings, again one popped out from VA11R! But there were no more hatchlings about to surface, however, none were found.
In the evening VR8R was inventoried. We were expecting only to conduct a partial, however with 70 hatched eggs, and no more viable eggs to rebury we said goodbye to yet another nest, bringing our nest count down to just 3. VR8R also had two temperature loggers, both within the egg chamber and in the sand to the side of the chamber. These temperature loggers were placed by Wildlife Sense in collaboration with the Aenos National Park Management Body - Εθνικός Δρυμός Αίνου and colleagues at the Department of Biology at Aristotle University of Thessaloniki. Measuring temperature within our nests will help us to understand more about development and incubation periods, as well as sex ratios, which are determined by temperature. It will be especially interesting to see how the data from VR8R, one of our latest incubating nests, compares to nests from earlier in the season.
VR7R was inventoried on Thursday, due to it being 7 days since it had its partial inventory. During the partial 51 unhatched eggs were reburied, of which 11 had hatched. Sadly, the rest of the eggs were non-viable, with 38 showing no signs of embryo development at all. Neither of our two remaining nests hatched on Thursday morning but we were very lucky to be heading over to Argostoli on the ferry to attend a tagging event. The moment we showed up, a turtle was already being brought out of the water, ready to be measured. Our volunteers helped keep the turtle secured but calm, whilst measurements were collected and recorded.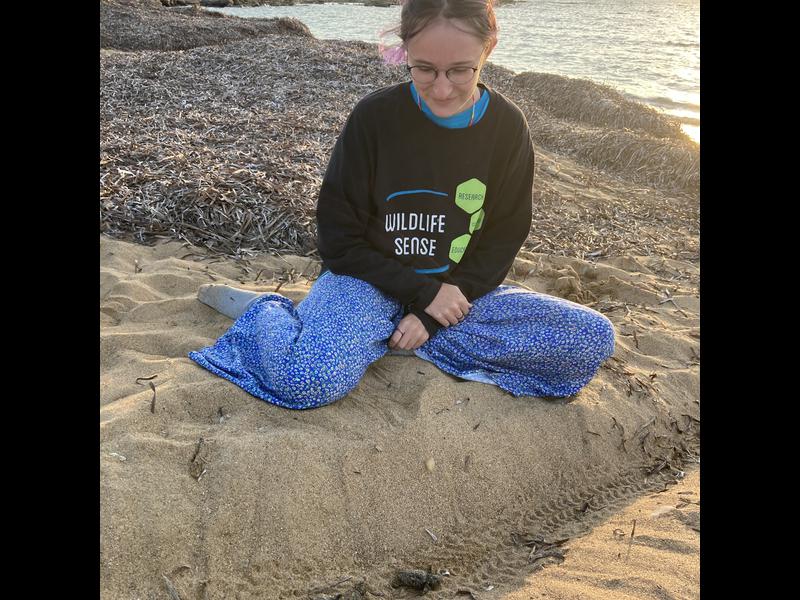 The first turtle we met, Bruno, was already tagged, we could hence use old data to see his growth changes. Shortly after, a smaller but untagged turtle was brought out. This was very exciting as it was the first time these volunteers got to see a turtle being tagged. Following this, we tagged two more new turtles and took new measurements of another previously tagged turtle. This turtle had an old injury to its carapace, which we were able to measure to ensure that it had been healing well since the last time we had seen it. This was a wonderful experience for our volunteers, after getting to work with so many hatchlings, they were all very excited about getting to be up close with adults, and learning lots about the anatomy of turtles, including how to identify the sex. Tagging turtles enables us to better understand the population dynamics in the harbour. The Argostoli team have also recently made use of satellites to gain information about the movements of the turtles.
Once the excitement of tagging was over, we returned back to our nests in Lixouri. A little concerned that VA11R had not hatched that morning we decided to investigate, conducting an inventory on Thursday evening. 8 hatchlings were found within the nest, which were sent down the trench and off to sea. We were very excited to find that the nest had been incredibly successful- 72 hatched eggs out of a total of 75, giving it a hatching success rate of 96%!!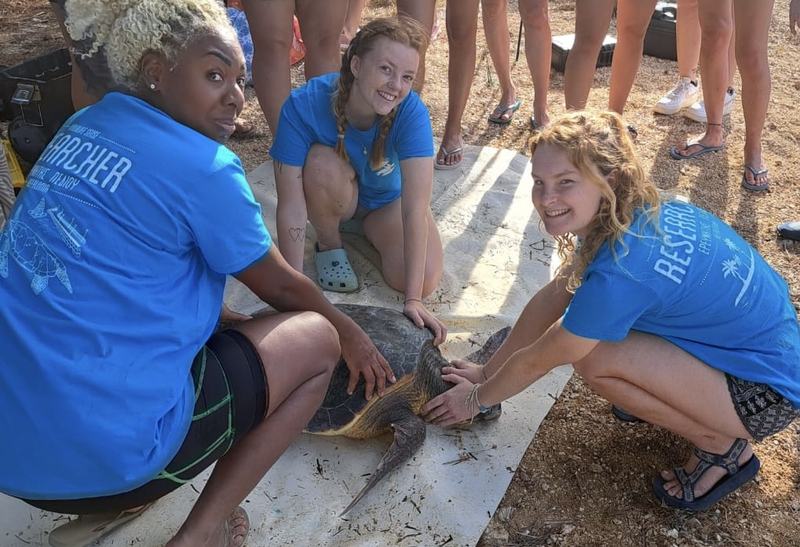 This week, to further educate our volunteers about Wildlife Sense and Kefalonia, we have run a series of talks throughout the week. Popular amongst our volunteers, they learnt about how we use drones to take photo identification pictures of turtles and their scute patterns and how we use this to identify individuals. They also had a thrilling talk about the 2020 Medicane, how this affected Kefalonia, the nests and how the Wildlife Sense team and volunteers had to deal with the impact of the storm. Adding to this fun, we held a movie night in which we, of course, watched Mamma Mia. We can still recall, our whole summer, walks along the sand, laughing in the rain, memories that remain, which have now come to an emotional end, with our final inventory.
The entire team headed over to Vrahinari- it had been 7 days since VR10R first started hatching, and so it was time for its inventory. It had been hatching really well all week so we were excited to find out just how successful it had been, not to mention hopefull for one last chance to see some hatchlings. We were not disappointed! 4 hatchlings and a hatching success of 93%. As we watched our final four hatchlings crawl along the beach and swim off into the sunset, we reflected on what a wonderful season we had. It was an emotional moment, a few tears were shed, but we remind ourselves, this season may be over, but we're one day closer to nesting season starting again.
Written by Kathryn Skazick and Laura Hartshorn
---