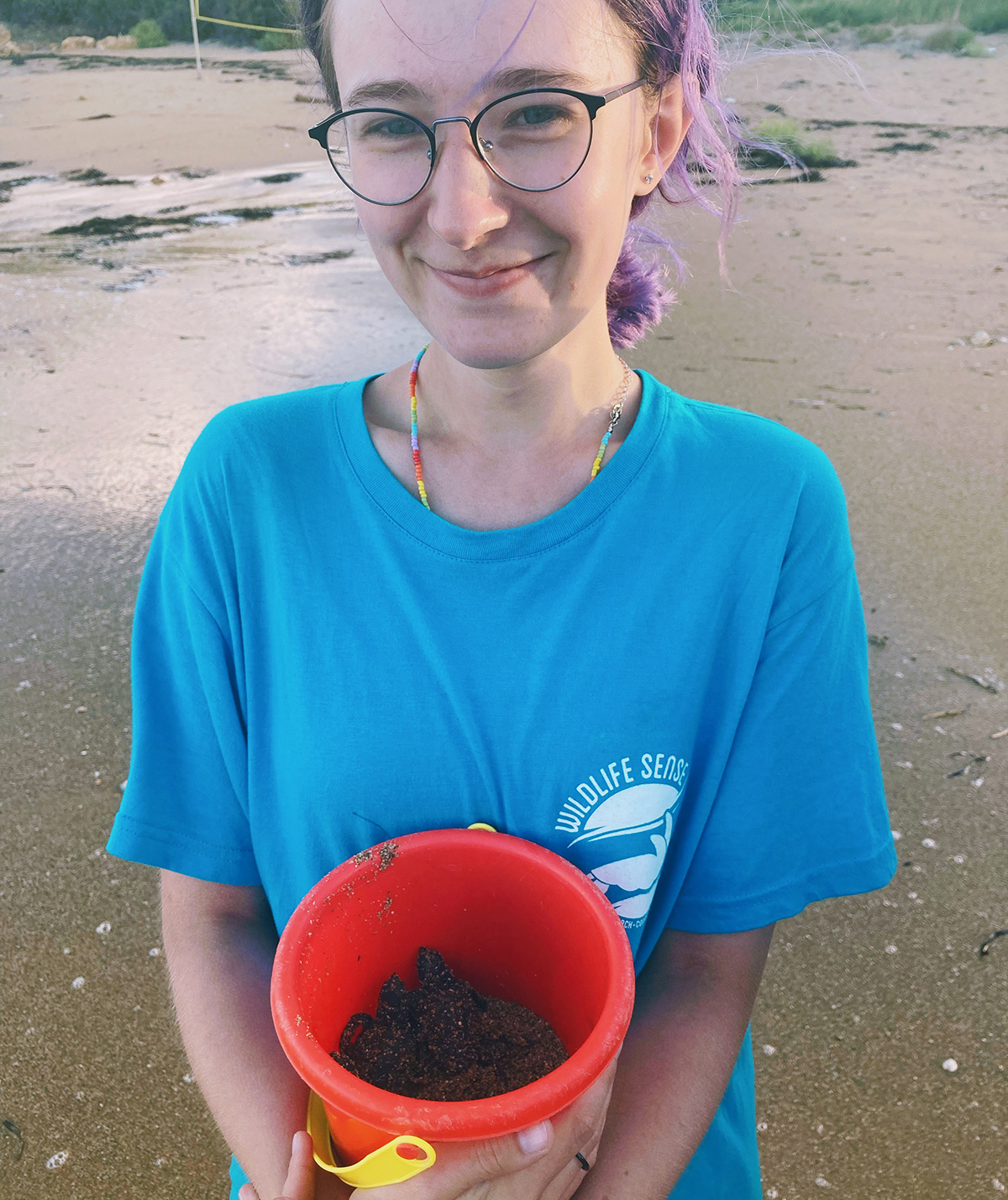 Our Latest News – October 2 2022
Argostoli Field Station
As we welcome a new month and say goodbye to September, we are beginning to see the end of the hatching season for 2022. Over the last couple of weeks, we have had a lot of nests hatch and we are now left with only 9 nests on Megali Ammos – some of which are still yet to hatch. Given this, we are continuing our hatching rescue shifts overnight. This is to ensure that as many hatchlings make it to sea as possible and are not influenced by any light pollution. Hatching rescue shifts are no longer needed on Ammes as there are no longer nests on this beach, meaning it is all hands on deck on Megali Ammos.
The new volunteers had an amazing first night at the project as the team carried out three inventories. Whilst the team were on the beach, there was a weather warning informing us that a storm was due to pass through the island. As we can never predict how this will affect the nests, our core team and volunteers carried out two nest checks on the nests that were due to hatch – MA22R and AV18R. Doing this before a storm can help to ensure that any hatchlings that may have hatched that night make it to sea before they struggle in the wind, rain and high tides. This proved to be very successful as our team helped 77 hatchlings to the sea.
Storms can cause high waves and rough seas and can therefore cause some nests to become inundated with water. When the nests become inundated, it can prevent further development of embryos due to a lack of oxygen and cause hatchlings to struggle to dig out of the nest, unfortunately meaning that some die in the process of doing so. After the storm, we carried out inventories on MA22R and AV18R and found 46 more hatchlings within the nests – which is amazing considering the high winds and rain we had. The more hatchlings our teams help to sea, maximises the chances of them reaching adulthood and conserving the Loggerhead species of Kefalonia.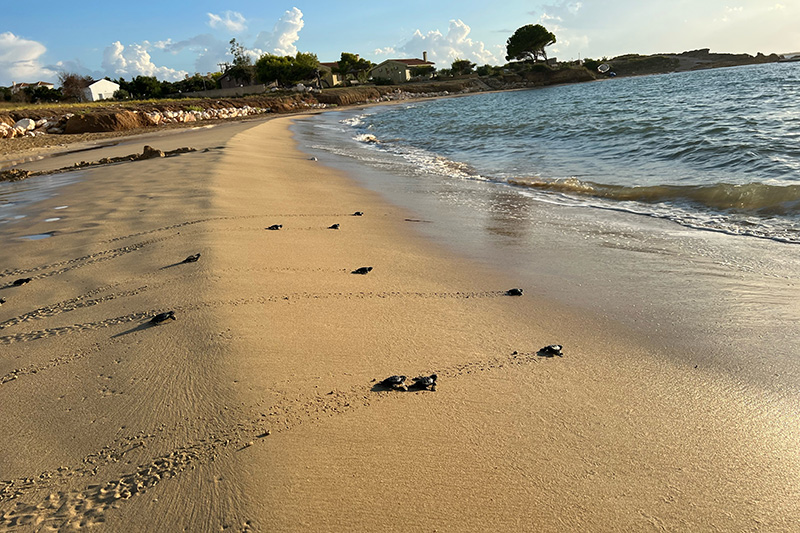 Despite the storms earlier in the week, our new team of volunteers were able to get straight out and enjoy spotting some of our regular turtles in the harbour – including Barb and Tilly. After the storms, the harbour water appeared a lot calmer and allowed us to re-introduce our evening harbour shifts. This shift gives our team a chance to monitor the behaviour of the turtles in the early evening, as well as seeing how many turtles will stay in the lagoon after foraging in the harbour. Many turtles are still spotted at this time of day, so it is a good chance to collect some extra data.
Over the last couple of weeks, our volunteers and core team have regularly spotted an untagged, small Green sea turtle in the bridge area. Although it is untagged, our team has managed to get some good headshot photos which can be used for our photo-identification catalogue. We hope to be able to monitor this turtle's whereabouts and hope to see it more frequently in the future. Although Green sea turtles are not known to nest on the beaches of Kefalonia, we have spotted a lot more in the harbour this year than in previous years, suggesting a shift in their foraging grounds. Green sea turtles are usually more concentrated further East of the Mediterranean Sea, nonetheless, our team and volunteers are very excited to hopefully see more Green sea turtles in the harbour.
This week, our volunteers have enjoyed a whole host of activities, including a s'mores night, a quiz night and a movie night watching Central Intelligence. As we go into the final week with most of these volunteers, we look forward to more fun with lots more activities planned.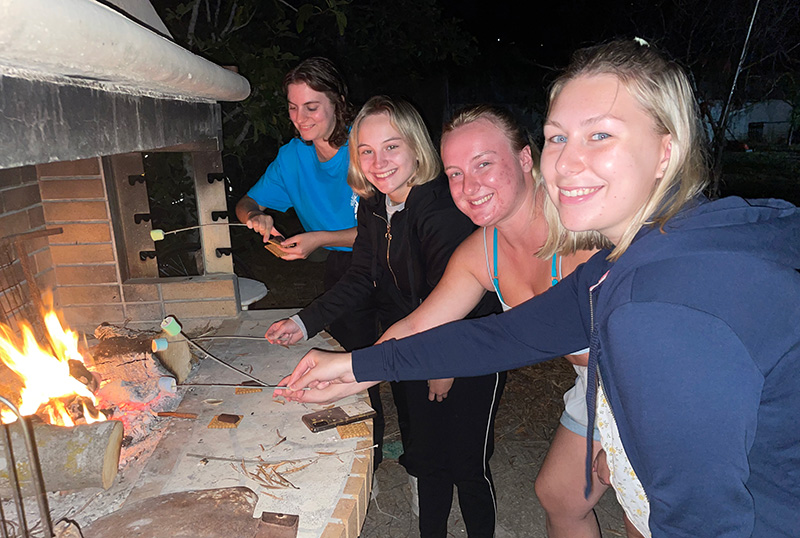 We can't believe that it is already October and that our Argostoli site will only welcome two more groups of volunteers before the end of the season. As mentioned over on our Instagram, our 2022 Argostoli volunteers have collectively helped over 1000 hatchlings to get safely to sea from inventories alone! We look forward to seeing what the rest of October will bring and we are excited to see how successful our remaining 9 nests will be.
Written by Emma Hawkes and Claire Roche
Lixouri Field Station
With a soggy start to changeover, spirits were still high as we welcomed our new group. Meanwhile, our volunteers remaining here for a second 2 weeks ventured out into the rain to check on our nests, we are so grateful for our amazing volunteers! The weather quickly reflected our mood with the sun shining bright!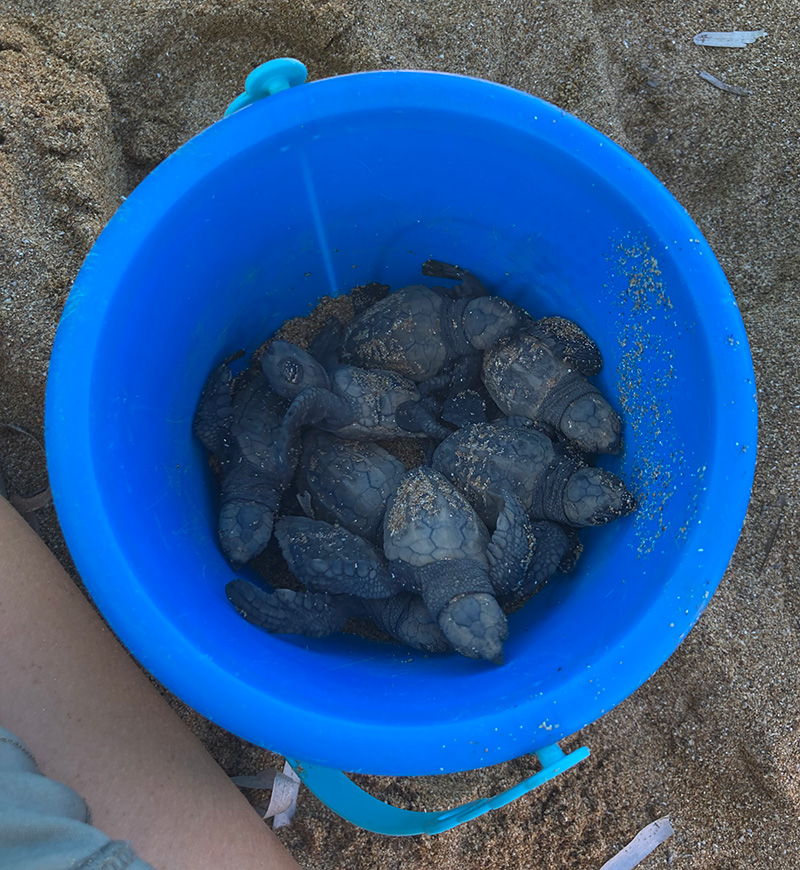 As the new volunteers started their time here with a scavenger hunt around Lixouri, checking out our favourite takeaways and ice cream shop, the nests were getting ready to welcome them.
The week with our new volunteers started with a bang- and by a bang, I mean hatchling, hatchlings, hatchlings! Their first morning survey of Vatsa area was an eventful one, with the volunteers seeing hatchlings for the first time. An inventory was conducted on VR7R due to it having 3 tracks on Tuesday morning, but none on Wednesday or Thursday. As we had torrential rain and high seas on Tuesday and Wednesday night, we were worried about hatchlings being trapped in the nest due to the wet compact sand. Therefore, we went into the nest, and there they were: 54 hatchlings! What an amazing first morning for these volunteers, who couldn't contain their excitement! Following this, our volunteers the next day were eager to get on their bikes for the morning survey. When arriving at Vrahinari they found 9 hatchings going to sea, shortly followed by another few hatching out of VR10R- its first hatching! It was already bright daylight and quite warm, so we were concerned about more hatchlings coming out during the day. The core team came to help out and completed a nest check on VA10R, finding 14 hatchlings above the egg chamber, 12 of which were helped safely to sea, and 2 were reburied as they still had their yolk attached and needed to absorb more nutrients before starting their journey into the big wide world. VA10R also had tracks coming from it, another first hatching!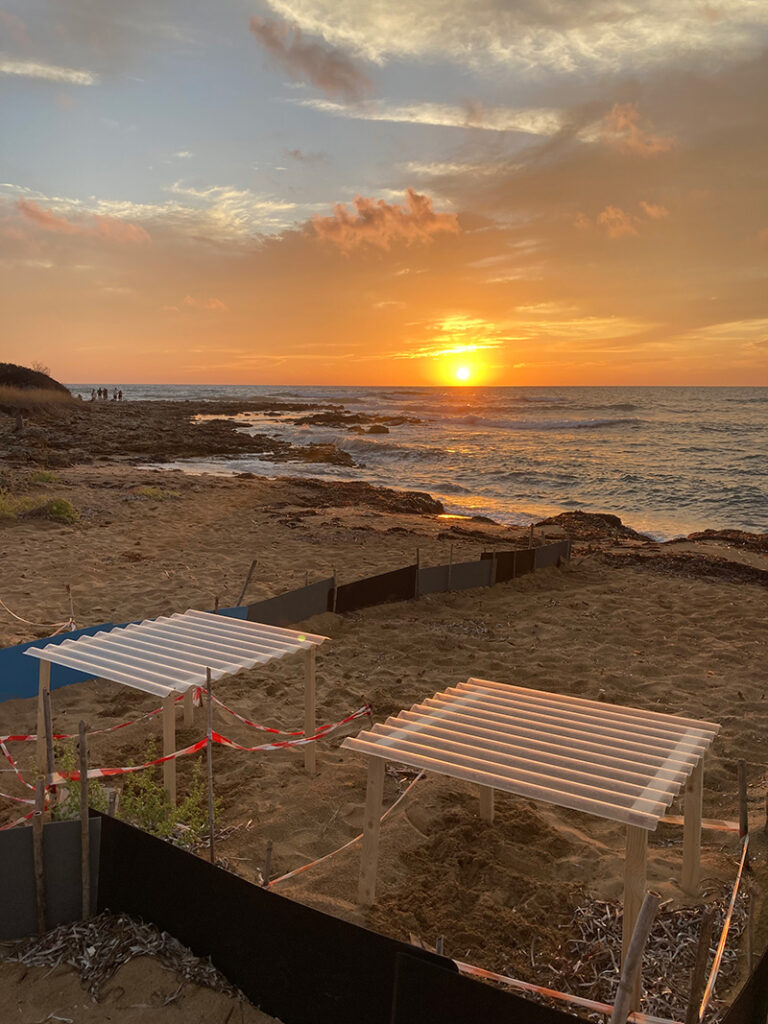 Four of our five final nests are now hatching, as VA11R hatched for the first time on Saturday, with the final nest, VR8R, due to start hatching any day now! On this morning's survey, all 4 hatching nests had tracks which were very exciting, our volunteers had a lovely time trying to figure out which tracks came from which nest- a near-impossible puzzle! However, they still did an excellent job and were a great help in collecting the data which helps us work out how well a nest is hatching and gives us an idea of if/when we need to conduct an inventory.
Whilst the stormy weather subsided, it left our sea levels high, meaning that our beaches are now shorter in width. On Sunday morning the waves on Vrahinari were incredibly high, and after our eagle-eyed volunteers spotted 5 hatchlings washed up in the seagrass it was decided that the hatchlings should be transported to a calmer beach where they could be released more safely. The volunteers took them over to the neighbouring beach, Kounopetra, where they had a much easier swim than getting thrown around in the waves on Vrahinari.
On our other nesting beaches, we power on, searching high and low for tracks. Xi Beach has disappeared under the waves at the moment, but we are hopeful that we will be able to get onto the beach again soon! Walking past where the hatchery was on Megas Lakkos is bittersweet, fond memories of sunset inventories warm our hearts on these cooler mornings, and whilst we miss the nests and are sad that the season is coming to a close, we cannot wait for next year.
Written by Laura Hartshorn and Kathryn Skazick